Technology has made it possible for us to maintain contact with participants and counselees
Even though UPI – Žalec Adult Education Institution is a modern adult education centre, we needed a sociological momentum in order to use ICT potentials in the field of education, just like most educational institutions in Slovenia. And the momentum we got was a significant one. We found ourselves in circumstances where distance learning is the only possibility.
Considering that UPI Žalec has been working towards ensuring a systematic and high-quality introduction of digital tools or combined learning since 2018, our endeavours went hand in glove with the Erasmus+ Quality Blended Learning international project, which made our transfer to e-learning easier that it would have been otherwise. Last year, we successfully introduced the combined learning method into educational programmes in the framework of the ESF project " Strengthening Basic and Vocational Competences« in the region of Savinjska Valley 2018-2022" and into language courses. Furthermore, we also set up online classrooms in the Moodle learning environment, and conducted workshops for our colleagues and teachers. We never did get any further than that, however, regardless of how much we tried. Until 16 March of this year. After that date, everything changed in the blink of an eye. Immediately after the coronavirus epidemic was announced and the educational institutions closed, the team of UPI Žalec decided that we wished to offer our enrollees the possibility of distance education and help them to pass their time in isolation, to preserve their "learning fitness" and, of course, to conclude the school year in a manner that would allow our participants to take the planned exams and conclude their educational process with a general or vocational diploma and graduation examination.
As a result, we are currently performing informal and formal educational programmes at a distance, and even provide counselling and individual learning. As part of our leisure activities, our enrollees can also take a flamenco course or take courses in the adult school of music. Well, let's not get ahead of ourselves. 
Technology did not crush us. But we did crush it thanks to technology.
In the framework of the ESF project " Strengthening Basic and Vocational Competences  in the region of Savinjska Valley 2018-2022", our transfer to e-learning was something that took place almost as a natural process. After 16 March, all three educational programmes that we were implementing at the time that the epidemic was declared (Use of computer and digital technology for professional purposes, Use of smartphones/tablets in everyday life, and "Challenges of the Countryside" life performance training) continued online. This was implemented, of course, after careful consideration, a meeting with the teachers to discuss how to carry out these classes, and verifying whether our enrollees had the suitable equipment and at least a minimum level of knowledge necessary in order to be able to follow the e-learning process. For the implementation of distance education, we use Arnes online classrooms in the Moodle learning environment, the Teams tool enabling virtual meetings and synchronous communication, and Google Hangouts. The participants of all these courses took e-learning as an opportunity to learn something new, and as a chance to "benefit from the time well spent while staying home"; they were not in the least bit embarrassed if the screen froze from time to time, if somebody was unable to connect to the group, or if a participant inadvertently deleted one of their colleagues from the group. All of these situations simply became anecdotes of "learning in the time of coronavirus".
Not even coronavirus can stop us, the enrollees over 45 years of age, to continue with our course on how to use smartphones. Since the end of January, we have spent just enough time together during our classes at UPI Žalec in the framework of the course "Obtaining basic and professional competencies" that we have got to know one another really well, and learned a lot of useful things, not only how to call someone or send a text message. With the excellent lectures and superb materials prepared by our wonderful teacher, Mr Andrej Slonjšek, and UPI Žalec, our classes can safely continue from home. Using our online classroom and a modern method of communication – Hangouts, the mobile web chatroom by Google, we see and speak to each other every Thursday as we safely remain at home, be it over the computer or over the phone. The wonderfully prepared materials we receive via e-mail or in our online classroom are complemented by "live" classes where we learn all about different applications and settings proposed by our smartphones, various mobile applications and tools, the correct use of our cameras, modern communication methods, and so much more, in order to use this knowledge in our everyday life and in a professional setting. Now that we're home, our time is really well spent. Regardless of your age, I highly recommend you participate in the next course on the use of smartphones. If Mr Slonjšak is your teacher, you will be rewarded with a treasure trove of useful knowledge and information. Our group anxiously looks forward to "seeing" each other on Thursday, to show the others what we have done, and to learn something new. Thank you so much, Mr Slonjšek, and good luck!
Klavdija Kač, enrollee of the course on the use of tablets/smartphones in everyday life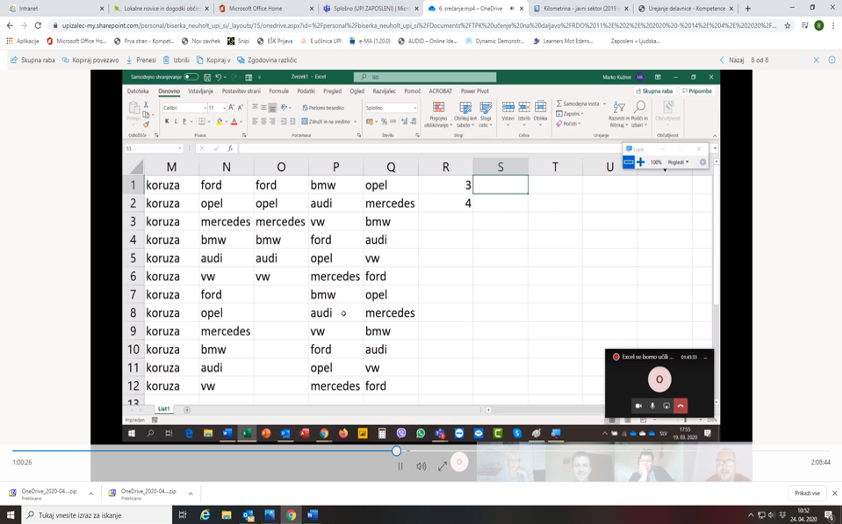 Remote work in the group Use of computer and digital technology for professional purposes
I would like to take my graduation exams in May – what should I do now?
With that same zeal, but a higher degree of reticence and systematicity, UPI Žalec approached distance learning in high-school and adult elementary school programmes. In this respect, we turned to the circular letters sent by the Ministry of Education, Science and Sport, and the guidelines periodically provided by competent institutions (National Examinations Centre, Centre of the Republic of Slovenia for Vocational Education, Slovenian Institute for Adult Education) which gave us a framework on how to organise our work. In this area, our first step was to set up Moodle online classrooms where participants were provided with online materials and various learning activities. In order to offer our participants the highest possible quality of e-learning while also providing our teachers with help and assistance, we conducted the first webinar for teachers on the use of online classrooms on 2 April. The webinar was attended by 19 teachers and the organisers of the UPI Žalec educational process. Such an interest of our teachers in terms of learning and new forms of work inspired us, which is why webinars were thereafter conducted on a weekly basis (every Thursday afternoon), and individual consultations for teachers were also established. What made the entire situation all the more interesting was the fact that we learned together, made mistakes together, and complemented one another, thus creating an incredible collaborational atmosphere which made us believe that we were doing okay and that we would make it. One day at a time, we were becoming more competent, and as the weeks went by, the online activities prepared by teachers were multiplying, and becoming more complex and more focussed on the participant of the adult education programme. However, we were still concerned with what to do about tests and evaluations. Before we approached this subject in practice, we held numerous discussions and collaboration sessions. We exchanged information with our colleagues from other people's universities and high schools, examined the interest, knowledge, and technical capacities of our enrollees, and adapted to them as much as possible when it came to choosing the technology. It is hard to tell who was more stressed when the time came to carry out the first examination, the participants or the teacher and organiser of the educational programme, but it is also hard to define who was more satisfied with the first successes. Once again, it turned out that good cooperation and genuine interest in the progress of the participant are key elements of the adult education programme.
Online classrooms in high school programmes
Remote counselling – a challenge and an opportunity
Even though some time ago, counsellors were rather sceptical about online counselling sessions and thought that the personal touch cannot be replaced by ICT technology, our opinion changed during the coronavirus epidemic. The reason for this change of paradigm was our desire to maintain contact with our counsellees and help them as best we can. This is why we rolled up our sleeves, became familiar with the directions of the competent institutions, especially the Slovenian Institute for Adult Education, and read a lot of material about it, before starting with remote counselling. In the ISIO Counselling Centre and in the framework of the ESF project " Employee Guidance 2016–2022 project ", we mostly communicated with our counsellees through e-mail and by using various talk programmes. If we wanted to approach older counsellees and people with less developed digital literacy skills, we used good old mobile phones. The responses of our counsellees were incredibly positive. They were genuinely happy to receive our calls or e-mails, and were glad that we were paying attention to them and taking care of them. Otherwise, the counsellors spent most of their time doing individual developmental and professional work, promoting adult education counselling (the Zaznanje.si portal), monitoring counsellees and providing advice related to e-learning, examining professional literature and accessories, examining the situation in the field of local economy, and preparing for autumn.
Online multi-generational centre "Planet generacij" of the UPI
The project of the "Planet generacij" UPI intergenerational centre addresses different generations, mainly older people, people with less opportunities, and vulnerable target groups. At first glance, we might quickly decide that distance education is not an appropriate solution for such an activity and for these target groups. But as we dug deeper together, we found several solutions. We knew that distance education must be based on something that the users of the "Planet generacij" UPI intergenerational centre are already familiar with; something they use every day. Which is why Facebook seemed like an ideal choice. Ever since 16 March, we have been publishing cooking, baking, calligraphy, creating, exploring, and reading ideas on the "Planet generacij" Facebook account every day, thus making sure that even the most vulnerable and lonely groups get the care they deserve. We also make it possible for them to participate in individual e-discussions in the framework of the Sensus Institute (info@institut-sensus.si), as we believe that even a discussion can help relieve the physical and mental consequences of isolation, insecurity, and a change in routine.In addition, we also carry out an e-cooking class on Facebook with Andrej Slonjšek, and have also created a closed Facebook group "Distance Seamstresses", where its leader reports live every Wednesday and creates new sewing products with its members.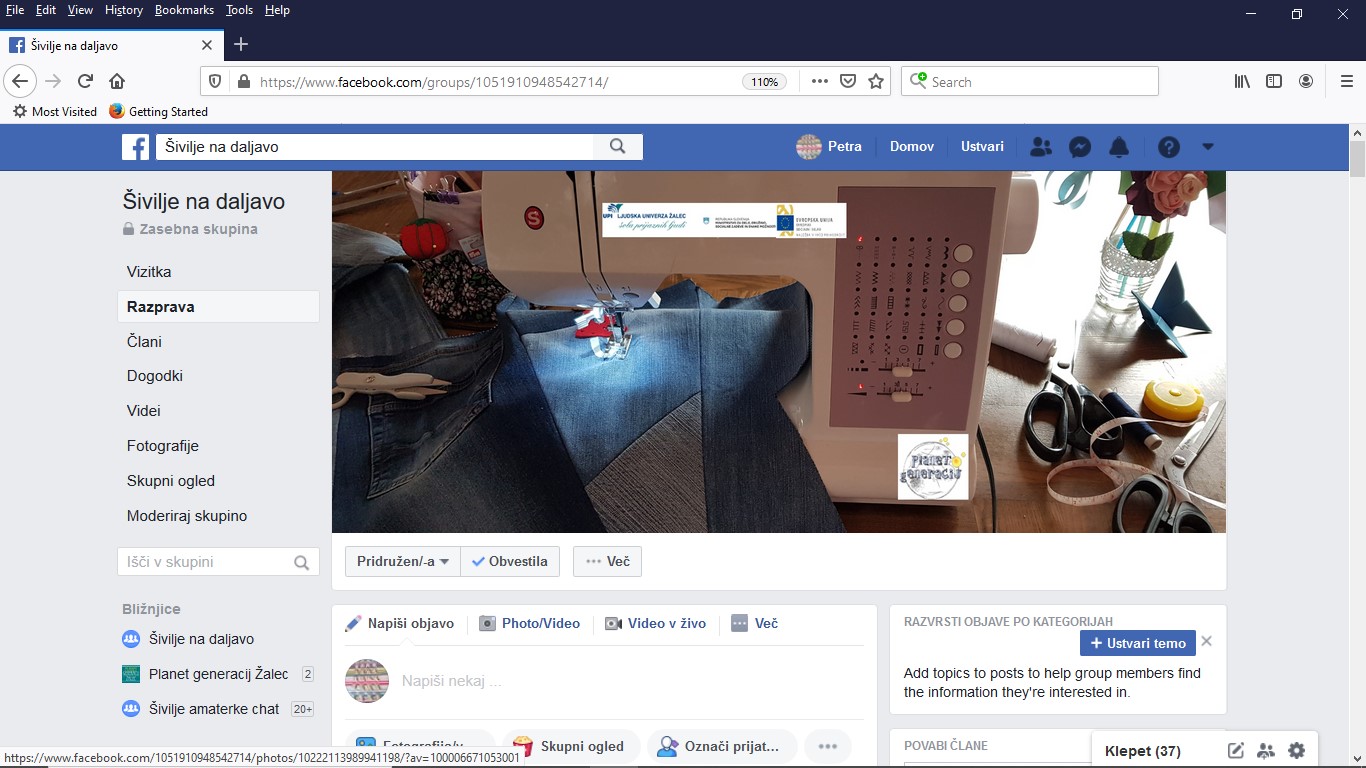 The closed Facebook group "Distance Seamstresses"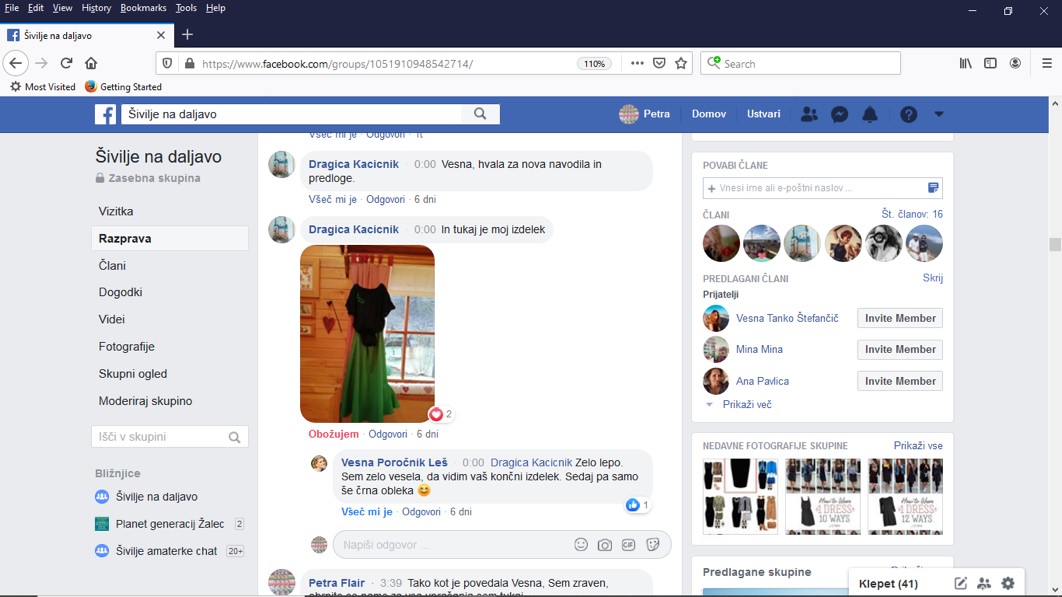 The sewing creation of one of the participants
They even created little black dresses. Together with Mojca Čretnik, the creator of the Facebook page "Amateur Seamstresses", and fashion designer Maja Štamol Drolc, we will choose the 3 most beautiful little black dresses sewn at home, and present them during the "Planet generacij" fashion show by Maja Štamoj Droljc entitled "Courageous Creators on their Path towards a Successful Story" which will be taking place in autumn. Through fashion clothes and runway walks, we will show how something small, courageous and amateurish can become big and recognisable. Just as recognisable as the fashion designer Maja Štamol Droljc who took her first sewing class at the UPI – Žalec Adult Education Institute.
Will adult education change from now on?
Regardless of whether you are a "traditionalist" who cannot imagine education and counselling without a personal touch, or a person who feels that the future lies in distance education, you must be happy that technology is available to us in these trying times. Of course, it has its weaknesses, but it also benefits from numerous advantages. In this difficult time, however, it mostly turned out to be a powerful tool and a bridge between educators, counsellors, participants, and counsellees.
For the small but extremely engaged UPI collective, the transfer to a new method of work was off to a rocky start, just like in other collectives all over Slovenia. But we knew that we must immediately roll up our sleeves, move our classrooms to a digital environment, and continue with our mission (providing high-quality education and counselling) in another way. It is understandable that the new method of work first had to be adopted by UPI employees who then prepared protocols, instructions and guidelines for our excellent teachers to start understanding and loving distance education. We believe that together we achieved the best possible outcome in the short turnaround time provided for us. In any case, we can now safely say that a high-quality implementation of distance education first requires a lot of individual study work and learning, studying and adapting materials, studying examples of good practices, professional discussions, and everyday coordination between employees and teachers. At the UPI – Žalec Adult Education Institute, the entire collective (management, professional workers and teachers) was included in the implementation of distance education. We learned as we went along. This was a life-long learning process that taught us a lot, both in theory and in practice. As we learned together, we became even more closely connected with one another and with our teachers. We have reinforced the awareness that every single element counts when it comes to adult education; at the same time, we also know that we could not have done it without our teachers who have turned out to be extremely collaborative, assiduous, motivated individuals who were ready to learn.
The UPI employees and teachers are leaving this demanding period with newly acquired knowledge, reinforced digital competencies, and concrete experience in the field of distance education and counselling. We made an important step (or maybe even two or three) forward, and we believe many more are to come. Therefore, we are confident about the new education season, since distance education allows for numerous new possibilities and opportunities for adult participants. And our mission is to make these possibilities and opportunities possible for them.
Biserka Neuholt Hlastec is a professional in the field of general informal education and projects at the UPI – Žalec. Adult Education Institution She is the coordinator of the project " Strengthening Basic and Vocational Competences  in the region of Savinjska Valley 2018-2022". She is extremely interested in quality in terms of adult education in relation to ISO standards, in public relations, and in promotion.