Technology can change the lives of persons with learning disability: insights from expert organisations in the UK
Authors: Karin Astegger and Monika Daoudi-Rosenhammer
We already reported earlier this year (see: Making technology work for everybody: a successful learning experience at AIAS Bologna) that Lebenshilfe organisations throughout Austria (service providers for persons with learning disability) adopted systematic implementation of person centred technology in service provision as an important goal for organisational development. In November 2017 the Erasmus+ funded project "Better lives through person centred technology" gave us the opportunity to learn from AIAS Bologna about the importance of independent information and advice to make technology work for everybody.
Since then we visited two expert organisations in the UK who tailored trainings according to our specific interests and learning needs.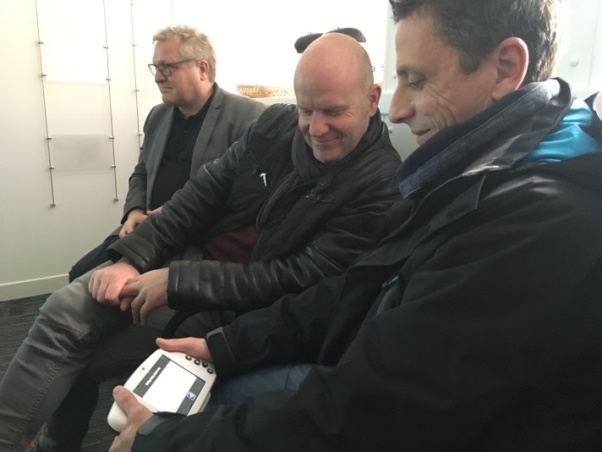 In March 2018 eleven delegates participated in a three days training organised by hft. Experts from hft and their partners gave us an overview of person centred technology approaches, a wide range of possibilities for implementation, success factors and challenges. During site visits to the Liverpool Telehealth hub and supported living services in Cheshire and Merseyside we could learn about the views of staff and service users, and we had the opportunity to try out assistive devices and/ or see how they were used.
Although Lebenshilfe organisations don't work directly with health services, we were impressed by the concept of the NHS telehealth in Liverpool, and its great impact for the citizens as measured by empirical studies. Emergency admissions decreased by 30% and 90% of the patients feel more in control and can continue living at home. One of our most impressive experiences were not the technological solutions themselves, but the deeply person centred way in which they were tailored to the needs and wishes of every single person and his/ her lifestyle preferences, and thus achieving positive outcomes for people's lives.
In June 2018 ten delegates visited Learning Disability Wales in Cardiff, a self-advocate with learning disability among them. The course focused on awareness-raising and training for persons with learning disability, their families and staff.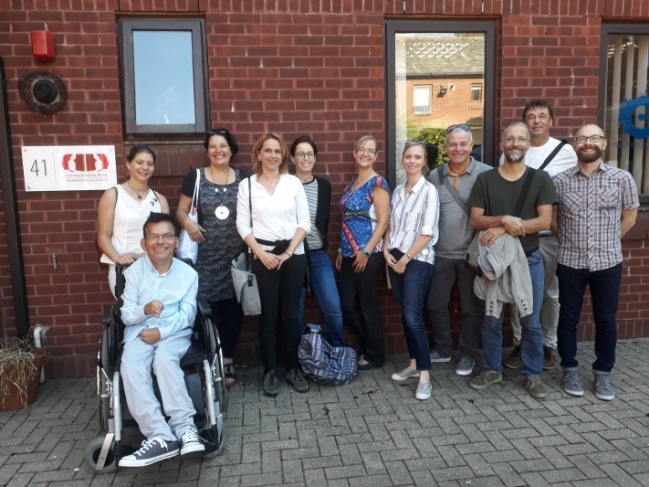 Through expert inputs, site visits and exchanges with service users and staff the participants got a strong message on how essential it is to work on attitudes and awareness regarding technical aids. Fears and reluctance in use must be challenged proactively. Story telling is one of the best ways to achieve this goal. Success stories encourage and inspire creativity for implementing individual and person centred solutions. Awareness-raising is key to successful use of technology increasing quality of life of service users.
Lessons learnt
Reflecting on the lessons learnt in the UK, the delegates consider the following issues among the most important ones:
Successful implementation of person centred technology is about "service design" not about "product design". PCT is just one of the tools supporting a person, and it has to be tailored to his/ her lifestyle.
We have to work with a broad definition of PCT ranging from simple devices to complex technological solutions.
We need a dedicated expert team within the organisation as well as cooperation with a network of external experts.
We should also use technical solutions to enhance service users' influence on service and organisational development e.g. by designing accessible digital solutions for documentation and evaluation.
Awareness raising and training for all stakeholders have to be taken very seriously – within our organisations and by influencing curriculum development in vocational training centres.
At the end of September delegates from all mobilities met in Salzburg to discuss what has been learnt and how it can be used to change our organisations and make better use of person centred technology to improve the quality of life of our service users. One week later the results of these reflections have already been taken up by the CEOs of all Lebenshilfe organisations in a strategic meeting for shaping future directions.
---
About the organisation:
Lebenshilfe Salzburg provides a broad range of services for persons with learning disabilities locally in the communities (early intervention, therapies, housing, employment, and adult education) throughout the Salzburg region in more than 80 locations. Currently, the organisation employs 700 staff supporting 370 users in housing and 740 in occupational services, providing therapies (e.g. speech, occupational…) for 1900 persons and early intervention services for 300 families financed by the authorities of the Salzburg region. Volunteers also play an important role for participation and inclusion.
Lebenshilfe service providers operate in all Federal States of Austria except Burgenland. They have been established in the 1960ies by parents of persons with learning disabilities improving opportunities and quality of life for their sons and daughters. They offer a similar range of services according to regional laws and regulations focused on housing and work related services. Regional specificities lead to partly different structures and service landscapes. Certain types of services are rendered in some, but not all regions, e.g. early childhood intervention (e.g. Salzburg, Tyrol, Styria, Upper Austria), therapies (e.g. Salzburg, Vorarlberg, Styria), counselling (e.g. Salzburg, Styria), vocational training (e.g. Styria, Tyrol), adult education (e.g. Vorarlberg through an academy, Salzburg, Österreich). Several organisations are the largest service providers for the target group in their region (e.g. Salzburg, Vorarlberg, Tyrol, Upper Austria, LHSD (Styria)); others have smaller structures (e.g. Carinthia, Vienna). Together they render services for 11 000 users with learning disabilities by 7500 staff.
---
Copyright:
Picture 1: Lebenshilfe Salzburg
Picture 2: Lebenshilfe Vorarlberg