"As technology advances, content quickly becomes obsolete"

Izabela Walczak is an academic lecturer and trainer from Poland. She spent most of her professional life working in the corporate world in different roles in management, projects and consulting. Now she uses her practical experience and background in English Language and Literature to teach international students at Academy of Humanities and Economics in Lodz. She is the co-author of a book on learning English, French and Dutch. AHE offers multiple higher educational programs, graduate and post graduate like Dance, Graphics, Political Science, Law, Psychology and many more. Izabela is working with us at the two-year long project FIDO (from the English acronym: "Fighting Fake News and Disinformation"), funded by the European Commission under the Erasmus Plus programme.
While discussing with Izabela I was curious about the handbook they had created during the project, where she was a main operational and vocational advisor of the process while partners contributed with the content. She also told us more about the challenges she saw during the creation of the manual and her intake on the fake news.
So, Izabela, together with partners you started with the FIDO project last year in March 2021, how do you find it so far?
Well, it has been interesting and intellectually stimulating. Although I am and I am a linguist and I am interested in politics, I had to read and learn a lot about the subject..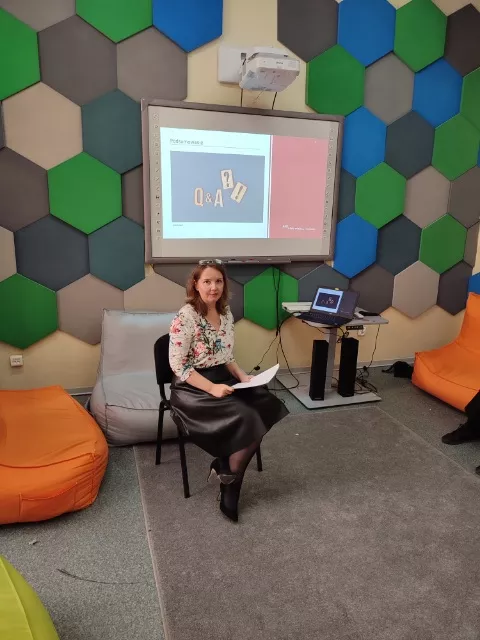 Your organisation was responsible for challenging tool: IO2 (Manual). Please tell us more about it!
Indeed, this was, as it seems the most complex and time-consuming output in the project. First, I worked on assumptions and the initial concept of the document, then it was discussed with the project leader and the partners. Next, we all worked on the content in three stages, which in turn resulted in two draft versions of the document and the third, the final one. Thanks to good cooperation, the manual was actually finished before the deadline. 
The manual combines the chapters of theoretical knowledge. Would it be beneficial also for the public? For what kind of groups specially?
In fact it seems to be universal in terms of things one should know or at least be aware of, when focusing on the subject. I would say it is a very sound basis and a source for inspiration for anyone who is interested in or is going to address the topic of fake news professionally.
Will it be translated into other languages? To which ones? Yes, it will be available in in all project partner countries, i.e. Polish, Slovenian, Italian and Greek.In general Izabela, do you think there is a need to develop this type of content (on fake news, disinformation etc.) in the current digital information age?
To be honest, there is  quite a lot of content available already, it has been a hot topic for quite some time now; the question is, if and how it is going to be used by educators. One of the challenges is also the fact that with the progress in technology some of the content becomes obsolete very fast. The example here is deep fake, which is getting practically impossible to detect without the support of proper tools.
How do you interact with the partners? How does the cooperation work?
We brainstormed ideas in online meetings and live during the project meeting in Italy; the project administration tool Admin Project enabled managing tasks and conversations around them.  
What do you consider to be the biggest success at the end of the FIDO project?
Well, apart from the fact that that we work according to or ahead of schedule, it seems that FI.DO combined different perspectives on the subject of fake news. For example, I had a different vision of what the partner inputs for the manual will be, to what we actually included there. But this is very good and makes it even a more interesting read.
 Would you like to add something?
The real danger we seem to be facing now, is not some crazy conspiracy stories or false information that you can recognize pretty easily. The real issue, is that on one hand mainstream media are using the same 'tools' as fake news producers, but more worryingly, the apply very subtle manipulation techniques to steer public opinion. At the same time the term 'fake news', similarly to 'political correctness', is used as justification for hiding important information or silencing the uncomfortable criticism with blatant censorship. I personally prefer to accept some reasonable amount of silly misinformation rather than end up being exposed only to propaganda, which is what mainstream media are becoming. To make things worse, both private social media and debunking organizations seem to be biased, too. This is a serious threat to freedom of speech and expression.
Izabela Walczak was interviewed by Katja Lihtenvalner, PhD candidate in adult education, media analyst, journalist and producer. She works as a media content researcher, educational content design consultant, journalist and videographer in the FIDO project under the Ljubljana-based video production company Rusaalka.