Susana Silva, a Community Story from Portugal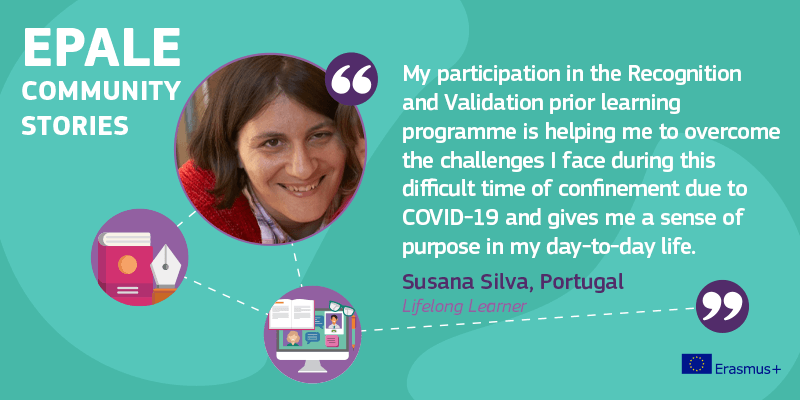 I have no doubt that my participation in the RVCC – Recognition and Validation prior learning - process at Centro Qualifica Arrábida Qualification Center - is helping me to overcome the challenges I face during this difficult time of confinement due to COVID-19. Not just because it means that I am not isolated, but also because trying to reach the relevant goals gives me a sense of purpose in my day-to-day life, in addition to taking care of my daughters.
The Skills Recognition, Validation and Certification process is allowing me to go further than I ever imagined! I have started to realise the importance of lifelong learning much more consciously.
Will it be worth it?
I knew it was not going to be easy, but it was something I really wanted to do and I told myself  that if I wanted to be with my daughters, I would have to do everything in my power to make this plan work. Before starting the process, I often thought or said to myself: "Will it be worth it?" or "You are too old, it will take a long time and nothing will come of it..." However, what is certain, is that along the way I have gained a new perspective on life. This is helping me to get through this hard time.
Starting on the RVCC process and working through it has helped me to tackle every problem and challenge, and to overcome this hard situation where we are cooped up at home because of COVID-19.
Employment qualifications
This time has been a period of intense work, but it has also been challenging. It has opened up new possibilities of growth and of independence, as previously I knew that I did not have enough qualifications to even find a job and give my daughters a stable life.
Re-believe
At a time in my life when everything was an obstacle and tomorrow was always more difficult than today, the RVCC, the work developed with the Centro Qualifica Arrábida, helped me to once again believe that it was still possible to change my life and give it the direction I really want. It allows me to face the future from a new perspective with my daughters.
---
We're looking forward to hearing your story. Share your story today!