Successful projects from the EPALE event on workplace learning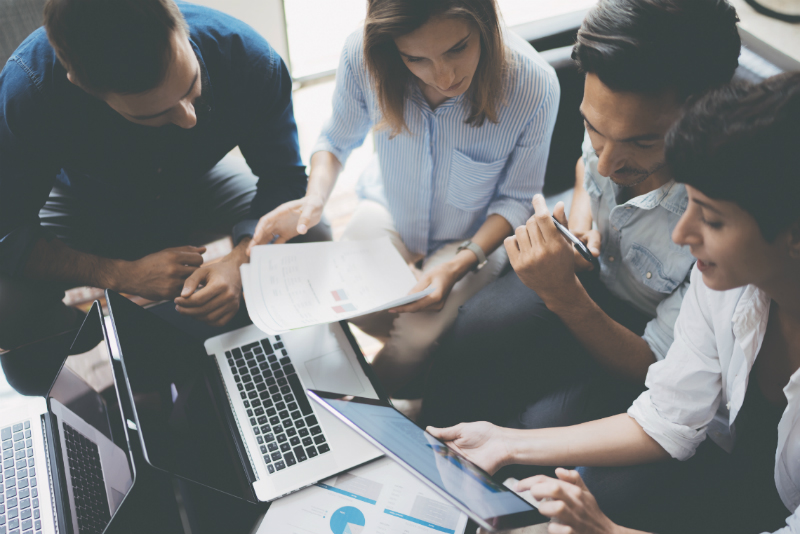 Between 11-13 November, EPALE organised an online event for successful projects from workplace learning. We had various contributions from a wide range of adult learning professionals from 20 European countries. The online sharing of projects showed the wide range of issues tackled and approaches undertaken to adult learning in the workplace. A broad mix of projects and schemes were posted, carried out both by national and international groups of partners. They provide inspiring examples for others in Europe. A number of themes emerged, which are identified below, illustrated with examples. It's important to note that each project addressed several themes and not just the one picked out below.
Focusing on different types of skills development
Basic skills
The provision of learning for basic skills in the workplace was a common theme. The Slovenian model of literacy programmes addresses the challenge that many people with low levels of basic skills also have negative perceptions of formal education. It first addresses the fundamental practical needs of adults before trying to form a new, positive experience that provides the basis for new/further demand for learning.  Although specific goals differ from programme to programme, and duration ranges from 50–350 hours, all programmes have the same core aim of improving basic literacy skills (reading, writing, communicating and mathematics), and transversal competences (ICT, learning to learn, social competences and active citizenship, and sometimes foreign languages, basic science and technology).
In Austria, the Campus Basisbildung modular and competence-oriented project targets individuals who have very low literacy and maths skills. Five Austrian associations are developing a modular and competence-oriented model in which different content is offered in six different modules. For instance, Kunstlabor uniT is working on a module for nursing staff focusing on nursing documentation. Participants work with educators on the learning goals for their modules and can then choose how they want to learn (different methods, such as in the course, at home, in groups, alone, etc.), what they want to learn (different offers, exercises) and the intensity. A particularly important goal for participants is to learn how to learn.
Transversal skills development
Many posts highlighted the importance of workplace learning in developing not just technical but also 'transversal' or 'social skills' and attitudes and behaviours. This is a particular focus of the second level adult education course of the State Technical Institute Aterno-Manthonè of Pescara, which works for the development of life skills like self-awareness and teamwork. The Institute has undertaken many initiatives on reading and writing, on various occasions involving students of both evening and prison classes, stimulating skills of comprehension as well as greater knowledge of the self.
Learning in different contexts
Apprenticeships
Apprenticeships were mentioned in several posts. Attention was drawn to the Work-Based Learning & Apprenticeships Network and freely available European tools like the Work-Based Learning Toolkit.  A country-specific example came from Cyprus, where graduates of the Apprenticeship Scheme are entitled to attend the Evening Schools of Technical and Vocational Education, which operate as second chance schools. Here, part of their education and training (prior learning) acquired in the context of the Apprenticeship Scheme can be recognised and transferred. As a result, they are given the opportunity to complete upper secondary education in one or two years.
Providing learning in workplaces that are challenging for conventional learning
There was a reminder that some workplaces make it difficult to provide learning. The project PRODOME (PROfessionalising DOMestic Housekeepers in Europe) showed the challenges faced by domestic housekeepers working in the private households of their employers who are not used to offering training and where there are additional requirements in terms of privacy.  The project has developed outputs that include a toolkit to help provide training to people in such occupations.
The new opportunities of digital learning
There was a strong emphasis in many posts on how digitalisation is leading to new learning opportunities in the workplace.  For instance, the Campus Basisbildung project I mentioned above uses blended learning through 60 e-learning units. Another project, the Erasmus+ project YouDigIT, showed how it had tried out 28 apps in six countries, on a target of European educators working with adult students, and identified six of the most usable and entertaining apps.
Sectoral approaches were highlighted in some posts. The EULIFT project showcased the app it had developed to teach caregivers how to physically handle patients properly to avoid musculoskeletal problems. The app includes: a tool to assess patients' needs and select the optimum patient handling technique; 3D animations of basic postures and movements; and 3D avatars - Nina (caregiver) and Jacob (patient). In the creative sector, the CO-Design project has developed a Train-the-Trainer Handbook, Online Educational Learning Resources and CO.Design Essentials which set out how to learn to 'co-create'.
Partners in Berlin highlighted the importance of social blended learning. This involves looking for a question, problem or challenge in the context of one's own work and solving it together with others (e.g. including people from outside the company) with the help of social software. This constitutes a form of 'learning out loud' across company boundaries, as illustrated by a short video.
The importance of skills reviews
The UK's Unionlearn reminded us of the importance of helping people to review their skills throughout their working lives. The organisation has been leading a Mid-Life Skills Review project funded by Erasmus+. The European partners have produced a digitally supported mid-life skills review to help workers explore how they can be more resistant to labour market challenges they face in the future.
Developing skills of educators
Several posts focused on the need to develop skills of educators, often through the mechanism of sending staff to other countries to take people out of the comfort zone of their normal environment to experience other practices; and through trans-national cooperation projects to develop methods for developing teacher competences such as the Erasmus+ project Training Educators Training Course.
One project, The Future Teacher: Focus on the ICT Competencies of Teachers, has developed:
a 'digital thermometer' questionnaire which assesses teachers' competences based on the European framework DigCompEdu both before and after following online modules;
a "Digital Compass" which provides an individual learning path of online modules to be followed;
Digital Journeys (online e-modules) which can be re-purposed and re-shared rather than just shared for consumption (19 modules at each of three levels – beginner, intermediate and advanced).
The need for systematic approaches that are also tailored to individual company needs
A development in Iceland reminded us of the importance of being systematic in workplace learning, whilst also being flexible enough to meet the needs of different businesses. In 2017, the Tourism Skills Centre Iceland was founded, steered by relevant stakeholders including the Ministry of Industries and Innovation, and social partners.  Since then the Centre has focused on: influencing and cooperating with the formal school system to better adapt current and future study programmes to the needs of the industry; and increasing training within tourism companies. Activities have included Centre staff working with lifelong learning centres to approach tourism companies in a systematic and strategic way to increase on-site training. 
Opportunities for public administrations to set an example
Others participants highlighted the ways public administrations might show leadership in workplace learning.  The #PAT4YOUNG project, which started in January 2018 is a 'reverse-mentoring' programme designed and realised by Fondazione Demarchi (Trento, Italy) in collaboration with the Public Administration of the Autonomous Province of Trento (PAT). It aims at the exchange of skills between senior and junior public sector employees, in particular concerning the issues of digitalisation and the transmission of organisational culture. Moreover, the project's innovative format addresses generational diversity in the organisational reality of the PAT through the creation of a model that is replicable in other organisations.   
Don't forget volunteering and non-profit organisations!
Some participants drew attention to the fact that it is important to make sure there are learning opportunities for volunteers and not-for-profit organisations.  For example, one not-for-profit organisation working in the field of prevention and treatment of drug and other addictions is a member of the European Companionship in Education, Training by Travelling. This is a network based on the model of the 'journeymen': training through travel, exchanges with peers and building a repository of good practices together. Each trainee chooses and observes one specific approach, technique or system and they describe it in the form of a good practice. We also heard from FireVall – Volunteering Firefighting for All, which seeks to tackle the issue of how to recruit and train volunteer firefighters throughout Europe through trans-national exchange.
---
Andrew McCoshan has worked in education and training in Europe for over 30 years as an academic researcher and consultant. He is the main author, for the European Commission, of the Centres of Vocational Excellence mapping study referred to in this blog. He is currently a Senior Research Associate at the Educational Disadvantage Centre at Dublin City University in Ireland.