Speed VET-ucating for Erasmus+ Opportunities
Speed VET-ucating is a workshop for education providers to learn about the Erasmus+ program and to create a space for connecting with potential partners. It's presented by EPALE Ireland as part of the Limerick Lifelong Learning Festival, and is joined by:
Manika-Nia Dixon from the EPALE Ireland Team at Léargas

Tomás Bulnes and Elva Duggan from the Erasmus+ VET Team at Léargas

Special guest Clíona O'Kelly, Deputy Principal of Limerick College of Further Education
Education providers can find partners through EPALE
While today's workshop creates opportunities to match with partners, anyone who missed it can use EPALE's partner search tool to find partners.

Manika-Nia Dixon from the EPALE Ireland Team at Léargas introduces the session and explains that adult education professionals use EPALE to connect, collaborate, and innovate with peers across Europe. With over 90,000 members, EPALE is the largest hub in Europe for adult learning and you can become a member here for free.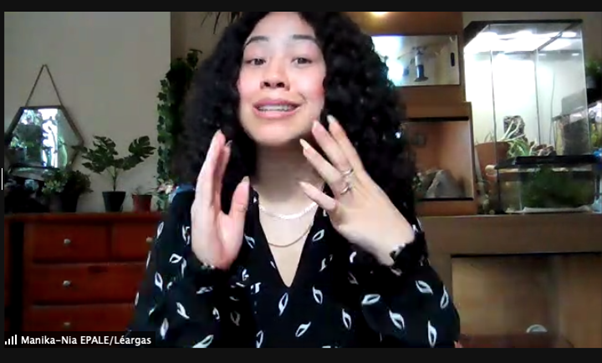 EPALE focuses on core themes every year. The 2021 themes are:
Life and work skills for empowering adults to learn and participate

Digital transition and opportunities for blended learning

Inclusive social change
Today's workshop falls under the first theme. There are lots more events happening throughout the year. See all upcoming events.
Educational providers would like to address more topics like inclusion, biodiversity, and climate justice
Tomás from the Erasmus+ VET (Vocational Education and Training) Team at Léargas takes participants through a live interactive poll on Menti.com to find out more about their backgrounds. The attendees share feedback in real time about the sectors they work with and the topic areas they're most interested in.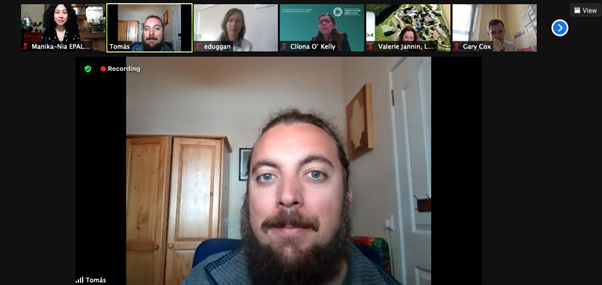 The first two questions find out how much experience the group has with VET Erasmus projects and EPALE. There's a wide range of experience across the group, from newcomers to those with years of experience.
Next, we find out which VET sectors the participants are working with. The answers reveal a real mix, with sectors such as business, art, childcare, accountancy, marketing, mental wellness, tourism, inclusion, landscaping and more popping up in the Menti word cloud.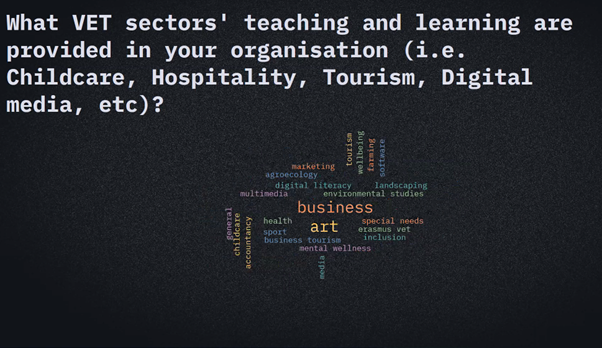 Tómas points out that in the last year there has been an increased interest in the digital media and ICT sectors, which reflects the context of people working from home. There has also been an increase in inclusion and mental wellness projects.
Tomás tells the group that EPALE has projects in all the sectors mentioned and encourages everyone to look at these projects to get a real taste of what has been successful, and what best practices have been learned. Take a look at these projects here.
When Tomás asks the group to share which topics they'd like to address, it's interesting that inclusion comes up as being the most popular answer. Tomás comments on the value that diversity brings to our programs, and the importance of creating events and opportunities for participants from disadvantaged backgrounds.
We also see areas such as biodiversity, climate justice, health, and wellbeing coming up.
Erasmus+ broadens horizons and opportunities
Elva tells us about ERAMUS+, which is a program for enriching lives and opening minds. Elva explains that it's one of the most successful European Commission programs that has ever been run. It's so successful, in fact, that funding has been increased this year. The total budget for all participating countries combined is €26.2 billion for a period of 7 years from 2021 to 2027.
70% of the funding goes to mobility projects and 30% is for outcome-oriented projects. The new program has a very strong emphasis on inclusion, diversity, accessibility, and sustainability. This focus makes sure that programs facilitate all participants and foster inclusive approaches.
ERAMUS+ has opportunities for both learners and staff
Opportunities include job shadowing, courses + training for staff, and inviting experts to your organisation to share their knowledge. For anyone involved in the management and delivery of training, opportunities can be created in relation to a particular topic like childcare, hospitality, culinary, agriculture, IT etc. Opportunities can also be created in a topic area that is not sector-specific, such as mental health.
Some of the opportunities that are new to ERAMUS+ are learner and staff mobility. An example of learner mobility could be seen when dance students in Ireland's Inchicore College did a three-week work placement in Austria, and when students who were doing motor maintenance worked in a garage in Romania. We saw staff mobility in action when childcare tutors went to Norway and another group went abroad to expand their IT knowledge.
If you have questions about where your project might fit, feel free to contact Elva.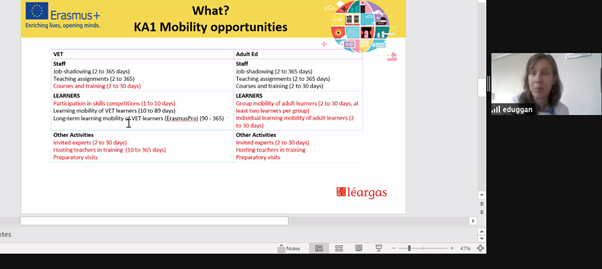 Projects fit within different funding categories
Erasmus+ is usually associated with the higher education sector but it's actually much broader than that. Adult education, VET, youth, schools, and sport all fall under the ERAMUS plus banner.
Elva points out that in Ireland we say FET meaning 'further education and training', but for Erasmus plus purposes there's a differentiation between the two. An organisation might deal with both adult education and vocational education training depending on the outcomes and the target group that they're dealing with. This means that they might want to apply for funding under adult education or under vocational education training.
First time applicants should consider short-term projects for mobility
Elva recommends that anyone entering the ERAMUS+ programme for the first time should consider short-term projects for mobility. Short-term mobility projects are also best for anyone who wishes to apply for a limited number of activities.
Those with a little bit more experience can take a longer-term strategic approach, which involves creating an Erasmus plan. This gives you an accreditation and it enables you to regularly apply for funding that will contribute to the gradual implementation of your plan. Note that having an accreditation does not automatically give you the funding; you still need to apply for funding.
Your Erasmus plan can be for between two and five years. If you want it to be for longer, you can submit an updated Erasmus plan once your initial period is up. By doing it with the long-term approach, you look at each project as a building block to achieving your strategic aims over a longer period.
It's good to know that you can be accredited in more than one field. For example, if you're involved in both adult education and VET activities, you submit a separate accreditation application in each field. Reach out to Elva to learn more about the process.
Clíona O'Kelly shares her real-world experience of Erasmus+
Limerick College of Further Education (LCFE) offers full-time and part-time provision and has over 1,000 full-time learners. Before the pandemic, they also had approximately 3,000 part-time learners in their evening programs. They are active participants in the Erasmus+ program. Clíona O'Kelly, Deputy Principal of Limerick College of Further Education, shares her experience of the program.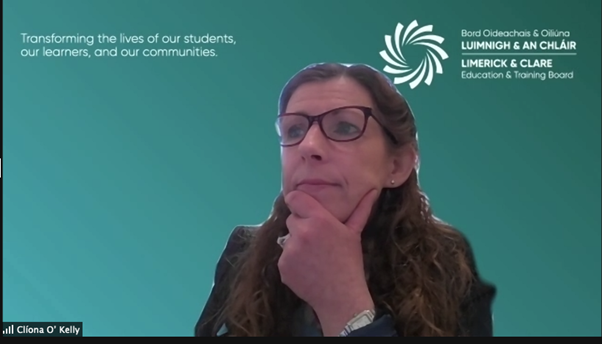 LCFE has been sending learners and staff abroad since 1999. Clíona talks about the difference she sees in learners before and after their experience. They return from the trip with a visible transformation, and this is because it's not just their vocational and language skills that are developed, but their interpersonal skills too. For many, it's their first time living away from home living independently. When they return, they are more motivated, focused, and confident.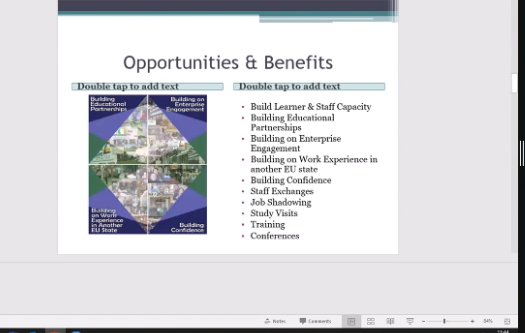 LCFE has also engaged in some staff mobilities, for example they have sent people abroad for a few days to do job shadowing in the areas of marketing, PR, media, and guidance counselling.
They've had students placed all over France, mainly for three-week placements in business or tourism, and they are now expanding their project. They're hoping to send learners to Spain because learners who do not have French-speaking skills can do English-speaking programs in Spain.
Clíona says to anyone who is thinking about engaging in an Erasmus+ project that the benefits for learners and staff, and even for the college, are phenomenal.
Find a partner on EPALE
The session ends with a speed matching session through an online app called Glimpse where participants are matched with one another to exchange knowledge, opportunities, and potentially partner on an upcoming project. Anyone who missed the session can use EPALE's partner search tool to find partners and can contact the team for further opportunities. Find a partner on EPALE.