Some thoughts on Adult literacy in Ireland in 2019
Some thoughts on Adult literacy in Ireland in 2019
Earlier this year I and some fellow students from the Higher Diploma of Further Education attended the adult literacy course in the Dublin Adult learning centre (D.A.L.C.)
The induction to the course included testimonials from two students hearing how literacy has changed and broadened their lives immeasurably. We were humbled and inspired. They explained some of their background and previous life experiences prior to commencing their studies at DALC. Their journey in DALC has opened their world through literacy. It started with small things like being able to sign their name, read and understand a prescription given by their doctor, read a legal summons or a note from their children's teacher. After the induction that evening our discussion turned to how we as adult educators can make an impact on learners attending adult education courses. Adults returning to education very often have had difficult journeys through the education system for a variety of reasons (Watch: One's woman's moving adult literacy journey)
We have focused on three areas in the community to where we feel we can improve on adult literacy, how literacy effects our family dynamic, literacy in our prisons, and literacy in our health care.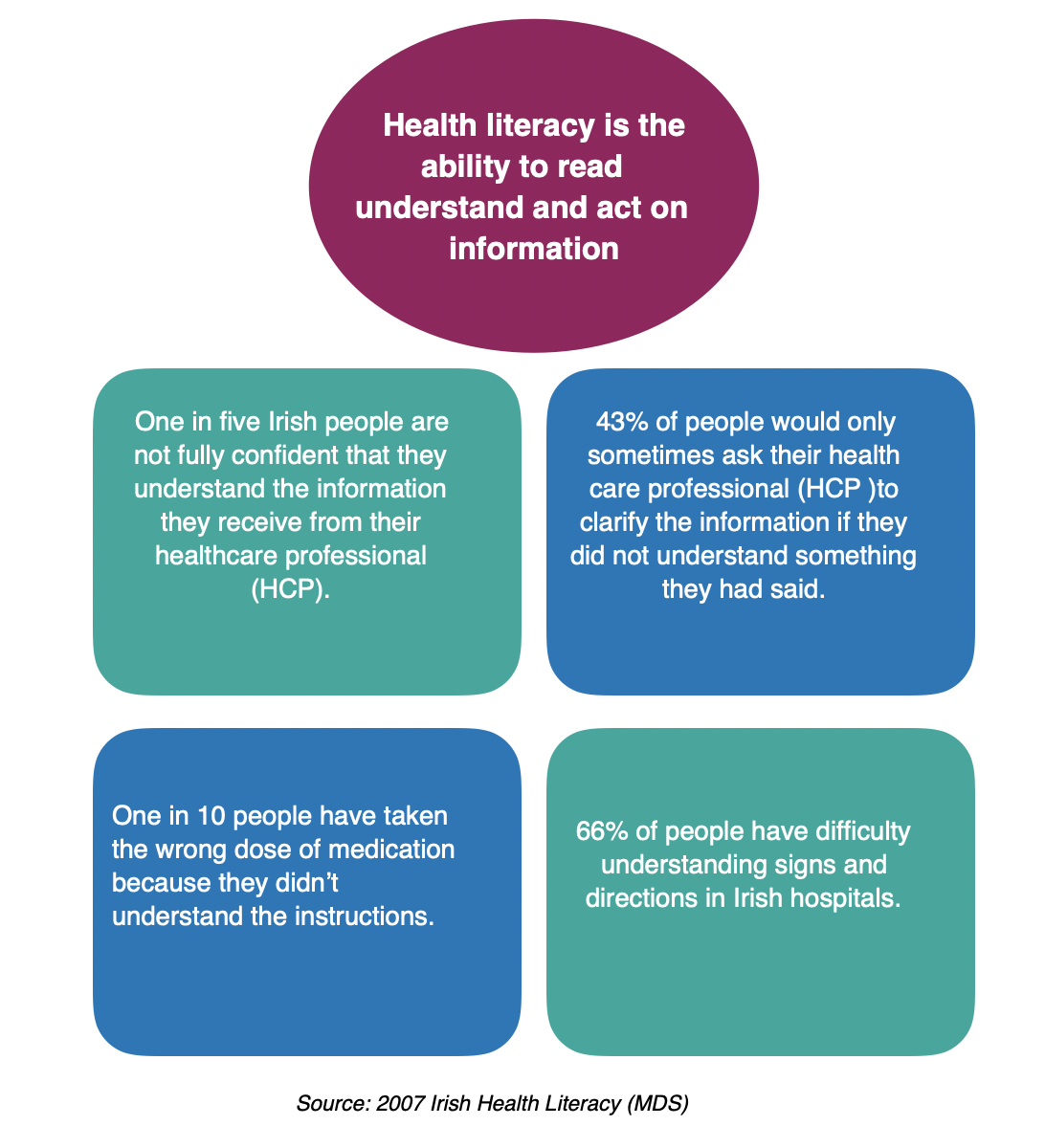 Having worked as a health care professional in the UK and Ireland I have seen first-hand the importance of health literacy. Users of the health care system may go through their daily lives without experiencing any literacy difficulty until they become a health care user. When people feel vulnerable and scared, their ability to understand information is inhibited. Studies indicate that the dialogue between patient and practitioner is often fast and patients have limited speaking turns (Roter 2000, Langewitz et al 2002).
Breaking down barriers is the way to improve literacy skills among health care users and professionals. A campaign 'Hello my name is' is one initiative taken by the HSE (Health and Safety Executive) originally started by Kate Granger a medical doctor who was diagnosed with a terminal disease and saw that small changes could make a huge impact on her care and quality of life. 
In December 2018, University Hospital Galway was the first 'Whose Shoes' event to be held in Ireland. 

'Whose Shoes' is a maternity experience workshop that brings together women (and their partners should they wish) and maternity staff to share experiences and learning. We as adult educators need to work with our communities to promote literacy skills to reduce health inequalities. From my experience as a health care professional I have witnessed, that by making small changes and giving the health care user a safe environment to express themselves, allows them to develop confidence to ask questions and gain independence.  
As adult educators we can help improve adult literacy by breaking down barriers by promoting health care with the learners. Adult educators needs to work more closely with the HSE to deliver programmes such as Healthy Ireland, the National Sexual health Strategy , Immunisation guidelines and other policies which would contribute to improving physical and mental wellbeing of the learner. These programmes run by the HSE are informative and help to improve health literacy. Unfortunately, the first time a health care user may become aware of these policies is when they attend a hospital or clinic, we need to be getting this knowledge to the learner before they attend a health care setting. The Colleges of Further Education or Community Education is one of the places this needs to happen. This diverse group of learners, different ages, gender, culture and openness to learn is the perfect setting to deliver these policies and improve health literacy, which in turn leads to a more confident and independent learner in our society.
Adult Literacy Among Prisoners
The Prison Adult Literacy Survey inspects literacy levels among prisoners in Ireland. It was essential to establish how prisoners' literacy skills compared with the general population.  Another objective of the study was to examine the extent to which literacy problems may be associated with anti-social behaviours that result in people serving prison sentences.  The study was intended to expand the research base and knowledge regarding the prison population, in line with previous studies of background characteristics (O'Mahony, 1993; 1997), health (Department of Health Promotion, NUI Galway, 2000) and drug use (Dillon, 2001 cited in Irish Prison Service 2003).  
The study results showed a significant number of prisoners had virtually no literacy skills and were considered 'illiterate'. There was also a considerable number of prisoners who had limited skills to enable them to meet the challenges in modern day living. This latter group had very little attendance in school even during 'compulsory' years of schooling. The third group had rather good literacy skills and were able to cope with more complex materials (Irish Prison Service 2003).  
The results showed a strong link between poor literacy skills and specific kinds of crime. Violent offenders and property offenders had major literacy problems whereas those in prison for sex offences and serious drug offences had much greater literacy scores. It was also striking that young males tended to have relatively poor literacy scores (Irish Prison Service 2003).   
The results highlight the link between anti-social behaviour and educational disadvantage as manifested in the low literacy level of so many prisoners. However, there is a large body of evidence showing that poor literacy skills limit a range of life-choices, such as obtaining employment, and therefore become more susceptible to become engaged in criminal activities. In this respect, attention needs to be drawn to those involved in serious drug misuse; studies have demonstrated that people with serious drug problems are much less likely to acquire qualifications, resulting in poor literacy skills (Irish Prison Service 2003).
Irish Prison Service (2003) The Prison Adult Literacy Survey: Results and Implications, Dublin: The Arbour Hill Print Unit.
Watch: Care After Prison
Literacy Skills and Family Configuration Dec 2018
OECD Education Working Papers No 192    
This is a study of the links between family configuration and formation and literacy skills.  Literacy affects many aspects of the formation and development of families for example age of parents at birth of first child.  The relationship between literacy skills and certain aspects of family life are important for policymakers.  The family is a fundamental setting in which children grow and develop their literacy skills so understanding what influences that is important.  Also, managing family commitments can influence the pursuance of a career so it is useful to understand the effects of family configuration on success in the labour market.
The report finds that literacy proficiency is related to all dimensions of family formation, and the strength of these correlations is directly related to the age of the respondents.  For example, younger adults with stronger literacy skills are less likely to co-habit, to have children and if they have children to raise them alone.  Literacy proficiency is associated with the age at which adults become parents for the first time and the number of children they have.  Generally, adults with the highest literacy skills are delaying parenthood and have fewer children.
The association between literacy level, age and family formation is further defined when looking at participation in education. Literacy proficiency is positively related to educational attainment, adults who have attained higher education levels have stronger literacy skills. There is a link between the higher level of literacy and delayed parenthood, and this reinforces the links between skills, educational attainment and integration into the labour market.
The report went on to look at links between family configurations and inequalities in the labour market and analyses parenthood as one of the driving forces of these inequalities.  The findings were that the female participation rate in the workforce was consistently lower across all countries participating in the survey.  Women under 45 years old with children were generally less likely to work outside the home than those with no children. However, beyond this age the rate is comparable between both groups (i.e. with or without children).  The biggest gaps were for the ages during which women most commonly gave birth to their children.  The situation is quite different for men. 
The report shows that women on the lower proficiency are less impacted in the labour market by having a family, however this may also reflect their economic vulnerability since they are more likely to occupy lower skilled jobs and be single parents. In contrast, women on the higher end of the proficiency level score are far more impacted by family life on their work.  The report shows that family configurations affect participation in the workforce as well as earning potential and that it impacts men positively and women negatively.
But there is a lack of information in the report on the spouse or partner and this is recognized as a flaw in the findings.
There were two recommendations made within the report:
1) Training should be provided that is compatible with family and working circumstances, particularly for those with lower level proficiency.  Funding for this should be provided in terms of incentive schemes and childcare. 
2) To address the issue of gender inequality in the labour market consideration of providing flexibility of the length of parental leave, and at compulsory father parental leave.
Read: NALA's policy work in family literacy.
Thoughts to consider
Having looked at the areas of literacy for health, literacy for family development and literacy for prisoners this has helped us gain an insight into how we as adult educators can implement the skills, we have learnt to be more aware of literacy in the classroom. Making small changes can have a huge impact on learners in our community and in society.
Content created by: Mairead Ryan, Kathryn Webb, Daragh McCarthy and Mary Mitchell HDFE Students 2019