Socially Inclusive Pedagogy in LIB(e)RO: A case for using social inclusion as the guiding principle of project design
Social inclusion in adult education
Implementation of the concept of "social inclusion" in adult education and, in general, in lifelong learning is still relatively new, and especially its wider use for the development of professional training for adult educators, trainers and pedagogical personnel is not common at all.  As one of the first initiatives in this area, a working group at the German Institute for Adult Education (DIE) collaborated with Martin Kronauer (Kil & Kronauer, 2011), a pioneer in the theory development for social exclusion, in order to conduct empirical research on "urban and social inequality", "change in work and new social questions". Approaches and requirements for a socially inclusive adult education were combined with spatial concepts in order to be able to illuminate empirically the needs of the "excluded" individuals (see Mania, 2014). At the same time, European best practices were collected (Kil, Dasch, & Henkes, 2013) and social inclusion was utilized in individual educational fields such as "financial literacy" through projects such as CurVe which was about integration of debt counseling, (Comforter & Mania, 2016) and EDU-FIN Project which focused on participatory community education based on the dialogical method. Among these attempts, the LiB(e)Ro project is now the first time that with an adult education perspective, a space for a marginalized group is created in an informal learning location which is accessible to all people of all ages and backgrounds, in order to achieve learning outcomes with regard to language learning and intercultural education.
UNESCO (2003) defines inclusive education as "providing appropriate responses to the broad spectrum of learning needs in formal and non-formal educational settings" (p. 7). This is what we aim with our project, but the "what" and the "how" are to be defined and assured by means of participatory insights into the needs of our target groups, librarians, social workers and refugees. LIB(e)RO aims at reaching out to minor and young refugees who are marginalized and have a  disadvantaged situation even though it is temporary and supporting them in their learning a new language, a new culture and in starting a new life. As most of these minors and young adult refugees are beyond compulsory school age (See Keser Aschenberger & Kil, 2017), we respond to  their learning needs in a flexible and accessible way through e-learning. We believe, a non-institutional learning setting, as a library, is a more open and less intimidating place as their main task is not teaching. They occupy a crucial place in supporting non-formal and in-formal learning and our project makes use of this important function by transforming libraries into safe and multicultural and inclusive learning environments.
Educational outreach within socially inclusive pedagogy
Within the process of reaching out this target group we adopt the practice of educational outreach as a pillar to inclusive pedagogy (NIACE, 2001). Within the inclusive pedagogy, it is assumed that only those (here who offer the service in public libraries) who have an inclusive understanding regarding the participation of marginalized and disadvantaged groups are able to carry out offers that require "active access" / outreach. Working locally, consulting. Listening and working with excluded groups and communities is also crucial for our project. Educational outreach is defined by NIACE (2001) as
"a process whereby people who would not normally use adult education are contacted in non-institutional settings and become involved in attending and eventually in jointly planning and controlling activities, schemes and courses relevant to their circumstances and needs" (Kevin Ward, Replan review, 1, 1986, p. 2).
Thus, this means, providing refugees with appropriate resources, for example, approaching their own surroundings in the district / region, cultivating a network for business and work, and actively involving people who are experts and stakeholders in their own planning and the implementation of further trainings. Reaching out to refugees and asylum seekers requires non-traditional outreach strategies. In our case, libraries will be used as non-institutional learning space and refugees will be addressed by social workers and librarians. As it was stated in the needs analysis report (See WIFO, 2017) especially those who live in remote rural areas without any access to educational opportunities are in need of low threshold and local offers.
Four different models of educational outreach are identified by NIACE (2001). These are:
The satellite model: establishment of educational centers for delivery of programmes in community locations outside main sites or campuses,

The peripatetic model: work in organizational settings such as youth hostels, day care centers, homes for the elderly, community centers, hospitals and prisons;

The detached outreach model: contacting people outside organizational settings, for example in the streets, shopping centers, pubs and at school gates;

The domiciliary outreach model: visiting people or taking services to them in their homes. (NIACE, 2001, p. 2)
In project LIB(e)RO, we adopt the peripatetic model in which libraries are used as the learning setting.
"Outreach" strategies can only be successful if an inclusive understanding is also implemented within the organization, which as a learning place offers new and secure learning/communication experience. Thus, equipping the libraries and the social workers with the right tools, methods and competences regarding inclusive pedagogy is very important.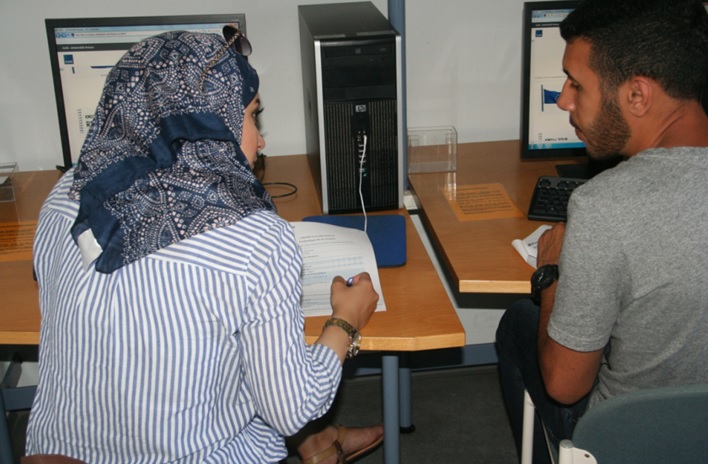 Working with the LIB(e)RO platform in Passau, Germany © Filiz Keser Aschenberger
Outreach competences
Outreach competences and skills that we want to follow and develop in our project are (see Kil, Dasch, & Henkes, 2013):
Ability to interact with/listen to people and identify their learning interests and needs

Ability to adapt to different groups and different situations

Sensitivity and respect for others and host communities

Ability to react to widely differing wants and needs

Ability to conduct local research

Ability to identify of local networks

Ability to connect and negotiate with a range of different agencies, groups and individuals

Ability to locate and negotiate use of premises

Ability to broker provision between groups and providers

Sensitivity with reference to gender,

Motivation for life-long learning,

Ability to work in a team,

Ability to appreciate diversity in life and one's own experiences with work,

Ability to share knowledge,

Promoting cultural understanding,

An understanding for demographic change,

Ability to create aids, material to support learning and different pedagogical approaches,

Ability to act as a mentor for the participants.
We believe these skills and competences are crucial while working with disadvantaged groups such as refugees. In LIB(e)RO we aim to equip librarians with the necessary skills to that they reach the refugees, and empower both the refugees and themselves.
General principles followed in LIB(e)RO
The basic principles followed in preparing the e-learning platform and e-tutorial for the librarians were adopted from the principles of socially inclusive learning identified  by the EU-funded Grundtvig Network "OED: Outreach – Empowerment –Diversity"(LLP EU 517734-LLp-1-2011-1-Be-GrunDtviGGn). The project was to bring together the expertise to find starting points for development of professionalization leading towards socially inclusive learning. Concepts and methods of continuing education which can enable marginalised and educationally disadvantaged groups, particularly migrants and ethnic minorities are identified, not just to make them participate in continuing education but also involve within their own learning needs as active learners (Kil, Dasch, and Henkes, 2013).
The five OED principles (Kil, Dasch, &Henkes, 2013; Kil & Motschilnig 2014) provide a direction for methodological support for the librarians and social workers and require competence development, which can be mediated or stimulated by the learning platform LIB(e)RO:
Creating coherent learning environments

Listening and respecting the "voice" of learners

Conceptualizing coherent didactics

Allowing professionals to exchange roles: teaching using learners' expertise

Enabling holistic offers
If you are interested in five principles and how we utilized them in our project, please refer to our pedagogical guidelines.
This article was written by Dr. Filiz Keser Aschenberger, who is a professor at the Danube University Krems.