Small events with a large reach 2017 (1/7): Involvement of volunteers in working with migrants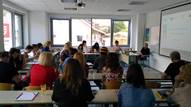 The first Promoting Adult Skills (PAS) event was hosted on 23 May 2017 by the Jesenice Adult Education Centre (
LUJ
). The institution's director Ms Maja Radinovič Hajdič believes that multi-culturalism is the main advantage of Jesenice, while volunteering is its integral component. Therefore, it is no surprise that they opted for the implementation of the
EAAL PAS event on migrants
, that volunteering was the main topic of their Lifelong Learning Week events and that a successful
Donate an Hour – a day, month or year (Podari uro – na dan, mesec ali leto
) intiative is being implemented at the Gorenjska multi-generation centre. Professionals from Jesenice believe that we must adopt a systematic, however a bottom-up approach, based on small steps!
'Please, help my mum learn Slovenian!'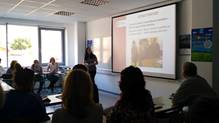 Tina Strnad from the Novo Mesto Development and Education Centre helped us understand her presentation on the variety of support needed for empowering migrants through her personal experience with a girl named Suela and proved that children play a key role in the integration process. Tina works at the adult education guidance centre where personal approach and confidentiality are essential. She believes 'empowerment' means to identify knowledge and abilities which migrants already have, while trying to provide them with opportunities and supporting them when they follow their chosen paths. The impact of such work is every positive change – improved self-confidence, a sense of acceptance, acquisition of a driving permit or a job, etc.
At Tovarna Rog, at the Second Home migrant social centre in Ljubljana they established a safe room for foreigners. They provide them with food, clothing, and – even more importantly – they teach them Slovenian and inform them on the rights which they have in our country. Migrants are also provided with legal assistance, and they also address the taboo topic of refugees' precarious work. The centre's representative Arne Zupančič explained that they have not yet registered as an NGO, but they are no-longer 'just' activists. They are keen to do more networking with various stakeholders across the country. Arne came to Jesenice together with Sharif, an Afghan refugee who works at the centre as a volunteer, and he speaks Arab, English and Slovenian. Perhaps it is worth mentioning that during his stay in Slovenia, he was detained by the police on six occasions without any relevant grounds, but simply due to his different looks.
From chaos to partial organisation and networking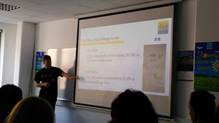 When involving volunteers in working with migrants the main role is played by the Slovenian Philanthropy which coordinates the relations between both parties, organizes training for volunteers, and provides them with mentors/supervisors since eventually, they face the risk of stigmatisation or burn-out. Their representative Jaka Matičič believes that organised volunteering regarding work with migrants in Slovenia began in the autumn of 2015. He stated: "We applied our experience from natural disasters, set up an online registration form and info point for potential volunteers, while the Government failed to implement anything concrete." However, volunteering should not be a substitute for state measures but only an additive or glue to "fill the gaps." Jaka also addressed the significant role of the media which contribute a lot, both good and bad, to the situation!
The discussion revealed that elsewhere in Europe the state shifts the burden of working with migrants and refugees to NGOs. Integration programmes (like the Slovenian Initial Migrant Integration programme (IMI) do not receive adequate funding therefore volunteers are more than welcome. At the Žalec Adult Education Centre (UPI LU Žalec) they decided to implement a project for the inclusion of volunteers in language learning for migrants. They are currently preparing a list of competencies which such volunteers should possess, that will also serve as a useful guideline for many NGOs. Furthermore, we must also raise awareness and train the domestic population, especially those who work in the public administration and engage in interactions with migrants. The latter, especially children, must be provided with a chance for development in their own language and the possibility to nurture their culture. Food and dance can serve as a basis for identification and connecting, however, further steps are needed. A useful tool for this objective would be an overview of activities of all involved stakeholders in the community and wider.
Project funding of such efforts can prove to be a problem, since the funding dries out eventually. Therefore adult education centres include migrants in all possible forms of non-formal learning as well as European Social Fund (ESF) projects. This also calls for inter-sectorial cooperation and connecting with NGOs, since synergies could help maximise benefits for everyone involved.
This must be a two-way process!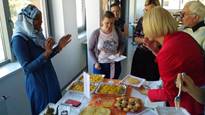 The biggest success with respect to the implementation of volunteering definitely occurs when the user of volunteering services becomes a volunteer – when the student becomes the teacher, and when the roles are reversed. At the Jesenice Adult Education Centre this is even explicitly expected from migrants at a certain point in time. Most of them decide to "return what they have received" due to their internal urge. There are different ways of how they "give back". In addition, there are cases when volunteers even managed to get a job in this process, because they were able to expand their contact networks and their working environment.
The Jesenice PAS event thus revealed that instead of politicizing the refugee problem the right path to providing for their integration and social inclusion is the one which includes the work of 'people for the people' – inter-personal, respectful and on equal terms!
You can find more information on EAAL PAS events focused on various existing activities for promoting the development of basic skills and key competencies of adults, and for presentation of achievements and definition of opportunities and challenges at this page. 
Zvonka Pangerc Pahernik, MA (zvonka.pangerc@acs.si), Slovenian Institute for Adult Education
Zvonka Pangerc Pahernik works at the Slovenian Institute for Adult Education in the field of promotional and information activities. She is the national coordinator for the implementation of the European Agenda on Adult Learning. She is interested in effective promotional approaches and promotion of cooperation and connecting of stakeholders in adult education.