The wisdom and the power to get through this together
I would like to add my voice to the statements and opinions of everyone who says that a situation where public life came to an almost complete halt is unprecedented. In the blink of an eye, and for a short time only, work and business operations in well-rehearsed classical systems also stopped. The defining moment for the field of education and training came on Monday, 16 March, when the government of the Republic of Slovenia closed all schools, residential care institutions, adult education organisations, and universities.  

  As a national public institution, the Slovenian Institute for Adult Education (hereinafter referred to as the SIAE) is entrusted with the development of the adult education system, and with providing professional support to the network of implementing organisations that had to close their doors just like that. As its director, I have been faced with a great challenge, along with its managerial staff: how to reorganise work and business operations in these new circumstances? 
We had been closely monitoring the occurrence and the development of this pandemic, as well as the spread of the novel coronavirus, for at least a month before the drastic governmental measures. We were monitoring the situation, and were complying with the recommendations and measures of the competent ministries, authorities, and specialist services, promptly implementing them in our work. I recall numerous personal issues, dilemmas, and questions on how to correctly approach the situation and take the correct measures to protect the health of our employees, visitors, and training participants.
Immediate reciprocal information, cooperation at all levels of governance, and proactive cooperation of all employees were of crucial importance. We immediately purchased sufficient quantities of disinfectant, prepared instructions, and disseminated public written announcements. In one day, we managed to implement all key prevention measures in order to prevent infection caused by the novel coronavirus. All these measures have been very well accepted and implemented in practice by the employees and the training participants. In the meantime, intensified meetings have been taking place among the managerial staff of the SIAE, as well as with the competent ministries and professional organisations, on how to plan our business operations and other activities in light of this new situation. We have prepared an effective ongoing communication system, have analysed the situation, and have planned the follow-up measures. 

  As it turned out, the key to a successful management of this new, unprecedented situation is team work. In the face of dire warnings about the looming pandemic, I have been faced with numerous challenges as the director of this organisation:
how to adapt further work and activities in the framework of ongoing tasks and projects to this new situation,
how to provide all necessary measures intended to control the risk of coronavirus infections, while guaranteeing a safe work environment to employees and external visitors,
how to comply with all legal bases, measures, instructions, and circular letters, and put them into practice. 
The key element of all these dilemmas was the cooperation of the employees when it came to analysing the situation, estimating the risks, assessing the implementation of suitable measures, and putting them into practice. As the director, I naturally had to make decisions, adopt instructions and measures, implement them, and verify their execution. When making all these moves, I found that coherent proposals and decisions that are generally also better accepted and implemented in practice were crucial for me. 

  In the week leading up to the closure of schools and other educational organisations, we correctly estimated that the possibilities of different flexible work forms will also have to be planned for if the situation continued to exacerbate. We prepared all organisational, professional, logistical and technical conditions necessary in order to prepare our entire team to work from home. We provided all material, technical, and communication means that our employees needed in order to work from home. Therefore, we were suitably prepared for the drastic measure of the government of the Republic of Slovenia – closure of schools and all other educational organisations. Since 16 March onwards, our employees have been working from home.
Obviously, we have been faced with numerous challenges, seeing as it was the first time we have been met with such a situation that has turned the classical business operation methods upside down. Once again, we have seen that pro-activity and the good cooperation of all employees, particularly centre managers and members of the support service, is a key advantage.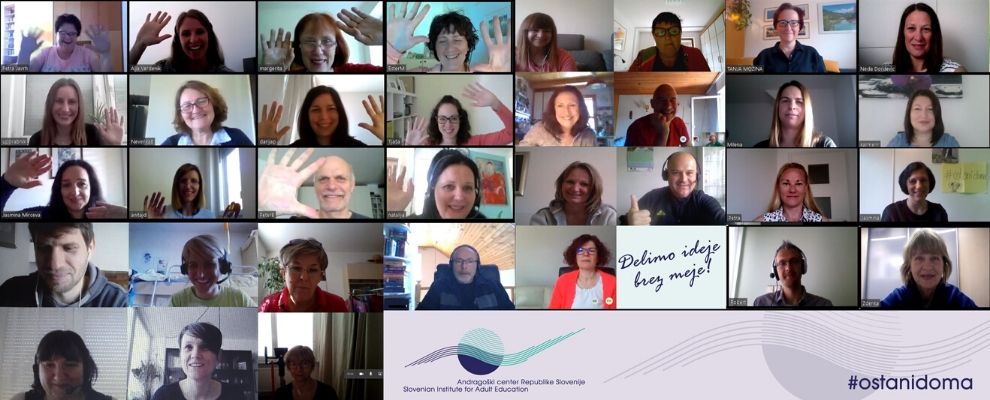 In the first week, we set up a communication network at the level of our institution, according to centres and individual project groups, in the Microsoft Teams web application. Thus, we were able to continue our work in the form of virtual video-meetings, which made our organisational and professional tasks a lot easier. 
We also contacted all implementation networks. On the SIAE website, we prepared a new section, Current announcements (in Slovenian only) containing consolidated information and professional instructions that employees in the field of adult education can comply with during the pandemic. We have tried to make them as concrete, comprehensive, and clear for all course providers and other operators. Their responses have been very positive. 

  Currently, ongoing work processes and communication with external collaborators, experts, providers, and responsible authorities within ministries are taking place; if necessary, we also use the Zoom application. 
Thanks to all of our colleagues, our work is running smoothly and in accordance with the annual plan. Of course, we have a very intense period ahead of us once the measures are lifted. Due to limitations, we have had to postpone the execution of numerous activities to autumn. In this respect, I am thinking especially of expert events, consultations, conferences, and training sessions that cannot be executed virtually. 
Practically overnight, the current pandemic has forced us all to impose changes and reorganise our work, informally learn new skills, and espouse new forms of cooperation. We have proven, however, that we can overcome even the biggest obstacles and hurdles, with the wisdom and power to get through this situation together. 
Andrej Sotošek, MSc is the director of the Slovenian Institute for Adult Education, the central public institution and the main establishment for adult education in the Republic of Slovenia.