Skills overview in Europe: problems and solutions for adult reskilling paths
A recent research by the European Centre for the Development of Vocational Training estimates that more than 120 million adults in Europe have a low level of basic education, low digital skills and propensity to learn. Looking at cases, we can see that even people with a middle-high level of education have problems valuing their knowledge. They have lost effectiveness over time where knowledge are no longer aligned with new, increasingly varied and changing frameworks.
Skilling, Upskilling and adult Reskilling are a top priority for all European governments and stakeholders. The labour market is changing rapidly, always presenting new challenges. Just think about how acceleration of digitalization has impacted our lives.
In order to tackle technological changes, new objectives for the environment, the ageing of societies and the major problem of social inclusion require a solid basis of skills and constant updating and acquisition of new information, knowledge, skills and aptitudes. Trainers too, must learn new methodologies for the provision of knowledge.
The aim of the study carried out by the European Centre for the Development of Vocational Training is to support the design, dissemination and implementation of Vocational Education and Training Policies by helping adults, especially the low qualified, to achieve the knowledge and skills necessary for work, employability and lifelong learning.
Investing in upskilling and reskilling of "low-skilled" adults has become even more urgent as our societies and economies face the unprecedented consequences ofthe Covid-19 pandemic.
However, the scale of the challenge is not the only thing facing European countries. Low-skilled adults are a highly heterogeneous section of the population, which includes people with very different characteristics and needs.
Unlocking this potential requires a renewed approach that offers tailor-made training offer plans, as well as guidance, validation  and recognition services of previous learning and all other support measures related to Vocational Education and Training, in a coordinated and linear way.
It is essential to draw up a useful and adaptable framework that can be used by the Member States of the European Union to develop coordinated and coherent approaches to face upskilling paths for low-skilled adults.
It is not the only necessity, although we have seen that many adults with medium-high level knowledge have reacted spontaneously to the conditions dictated by the pandemic by looking for new sources of knowledge.
The following infographic, coming from another study by European Centre for the Development of Vocational Training, clearly shows the trend that has taken in place, although with a greater focus on workers of online platforms.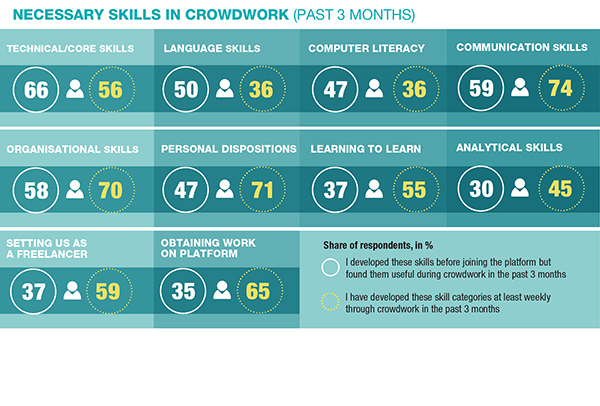 Here too, the greatest responsibility for defining a convergence framework lies with governments and stakeholders.
The combination of the skills offered and those required through online platforms takes place largely through the proprietary skills classification systems. It is often companies, business associations and agencies that make skills public in the form of lists of the most requested skills and customer feedback/reputation rankings.
However, they use non-transparent matching algorithms that validate employee assessment through automatic classification on their web portals. They regulate entry requirements and evaluate young people based on their skills and experience before entering the world of work with algorithmic discretion.
For online work platforms, qualifications obtained through formal education and traditional tools for reporting and selecting workers on labour markets are considered an insufficiently significant indicator of worker reliability, in the background to automatic candidate assessment or ranking.
Returning to the need to differentiate training for adults and low-skilled adults, data show that  workers with a digital presence, already able to work OnLine, did not need specific credentials or have had to undergo skills tests to obtain work assignments.
Concerns are also raised about the limited portability in terms of employee skills and assessments and their reputation in general after holding a position within a company.
"57 % of online workers taking part in Cedefop's survey feel that they cannot move to another job without suffering negative income consequences. This restricts both the mobility of workers and the transition from remote to traditional work and reverse".
If we want to summarise what we have seen so far, there are two fundamental axes on which to develop the ways in which adults are trained:1) A highly personalized, almost individual approach, for low-skilled adults.
2) A systemic approach that will have to put in a position to express the value of former low-skilled and middle-high skilled.
The basic prerequisite is certainly a change of mentality also on the part of entrepreneurship and public and private governance systems.
Teach to look for information from reliable sources by outlining broad mesh guidelines but with boundaries still defined so as not allow the dispersion of energy by adults and even young people in this case, this is a further challenge facing Europe.