Skills assessment: The key for providing impactful, tailor-made learning opportunities behind the bars

EAEA Project Assistant Georgios Karaiskos on the importance of assessing prisoners' skills and needs in order to make prison education more effective.
A decisive step towards personal and professional development
Within the framework of the Upskilling Pathways: New Opportunities for adults action of the New Skills Agenda for Europe, skills assessment is the first decisive step that adults with low levels of skills have to take in order to access Upskilling Pathways and reach out to more learning opportunities.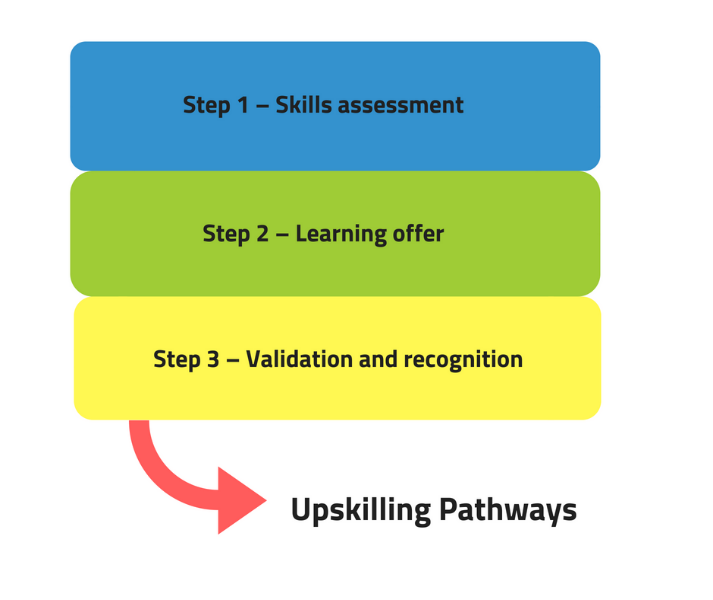 The assessment procedure is able to provide low-skilled adults with the opportunity to identify their existing skills and needs for upskilling. This identification process is valuable for providing the individual with tailor-made learning opportunities and helping them move to the second step of the three-step approach illustrated above. It is important to note that skills are considered to be crucial assets for everyone's personal and professional development, let alone those in need of upskilling. This is why, skills assessment is considered to be the starting point for low-skilled adults on their journey to a better future.
Inmates are a target group that fits the above description and is in urgent need of skills assessment and more effective learning offers.
The added value of skills assessment within prison education
The PIAAC study of the prison inmates in the USA, which is currently the only comparable study on the topic, confirms the speculation that prison population has lower literacy skills and numeracy skills than the general population. This finding further supports the aforementioned argument of the urgent need for more learning opportunities and skills assessment within prisons.
The 1989 Council of Europe recommendations on education in prison identified the importance of providing a wide range of learning opportunities within prisons with a special mention to the area of literacy. According to the recommendations, education in prison should aim to develop the whole person, bearing in mind their social, economic and cultural context. Skills assessment is a powerful tool that can lead to the provision of highly effective and tailor-made programmes for inmates.
According to the GHK report on Prison education and training in Europe, which was authored for the European Commission in 2013, only 3-5% of the inmate population across EU-27 is qualified to undertake higher education, and the percentage of early school leavers among inmates is high in many of the countries. This reality affects prisoners' prospects for personal and professional development after their release. The provision or basic skills education (literacy, numeracy) and vocational training can respond to this challenging reality. The learning offers provided though should meet the individual needs and take into account the inmates' aspirations, as it is highlighted in the European Prison Rules:
'Every prison shall seek to provide all prisoners with access to educational programmes which are as comprehensive as possible and which meet their individual needs while taking into account their aspirations.'
From that perspective, it becomes obvious that skills and needs assessment prior to the offering of learning opportunities in prison should not be seen as an option but as a necessity.
Planning for the future
Across the continent, there have been several initiatives towards the development of skills assessment provision within prisons, but still the situation is characterised by fragmentation and lack of a collective approach based on a common understanding. As pointed out in the GHK report on prison education and training in Europe, countries such as Spain and Ireland have developed standardised assessment packages and individual treatment programmes. However, the report also notes that the number of adult prisoners taking part in education and training remains low in most countries. This could be attributed to various factors including to the fact that the offered subjects do not match prisoners' interests, a finding which once again shows the need for skills and needs assessment among inmates.
EU programmes have supported a wide range of projects relating to prison education and training and new efforts to facilitate collaboration and sharing of experiences and knowledge have emerged. Some of the many innovative projects that envisage a better future for prison education and skills assessment are:
Foriner – this project aims to provide EU foreign national inmates in EU prisons with access to qualitative, low-threshold, certified learning opportunities.
The Grundtvig learning partnership Accreditation of prior (experiential) learning in the prison environment aimed to identify inhibiting factors for the development of accreditation of prior experiential learning in prisons.
Skills4freedom – this poject focuses on the development of transversal skills.
SkillHUBS – a project that aims  to develop a transnational counselling and training model for inmates by putting skills and needs assessment in the centre.
By focusing on assessment of skills and needs we put the individual in the centre of attention and by doing so we make the most out of the transformative power of learning. As Steven Tyrell – 'Festival of Learning 2017' award winner and former inmate from the UK – highlighted about his prison learning experience:
'I've done a lot of learning and re-evaluated my life and what I wanted from it.'
---
Georgios Karaiskos is the Project Assistant for the European Association for the Education of Adults (EAEA). He holds a degree in Philosophy and Education from Aristotle University of Thessaloniki, Greece and a Master's degree in the field of Adult education from the University of Glasgow. As a certified teacher, he has a genuine interest in inclusive education and strongly believes in the transformative power of learning.