Silvie Moors: building our identity with stories ...and a soup
Short Bio
I work for the socio-cultural movement, Bond Zonder Naam (BZN). We want to connect people and build a more welcoming and friendly world, first and foremost for, as well as with, people living in poverty, loneliness and imprisonment. I live for people and language. BZN allows me to combine those two passions. I have been working at BZN since September 2020. Before that, I worked in the literary world at various reading promotion organisations. In 2007, I founded DE DAGEN (The Days) and this non-profit organisation ran for 13 years. It was there that I started the project Samen Lezen (Shared Reading). DE DAGEN wanted to propagate the connecting and inspiring power of literature. After all, reading means enjoying stories, and literature also allows you to relate to stories. In Shared Reading you gain insights from listening to other people's thoughts and feelings about a text. Samen Lezen also found support at BZN.
 

My EPALE
This is my first contribution to EPALE. I like to share our experiences about Shared Reading and hope it can inspire the community of adult learning throughout Europe.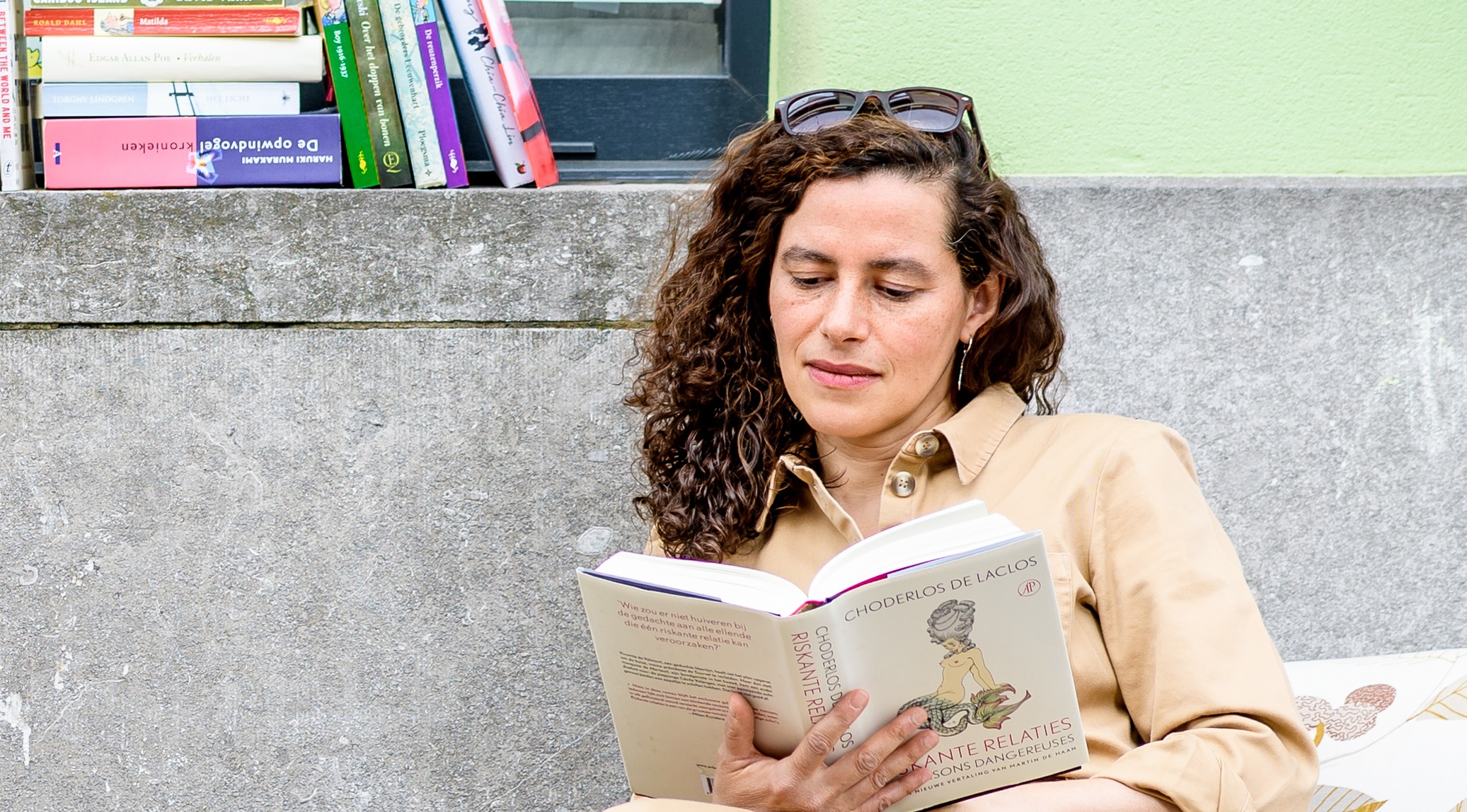 Picture by Maarten de Bouw
 

My Story
Shared Reading is a very simple idea. It does what it says on the tin: it is about sharing what you read. It is not a book club or reading club. We come together with a dozen people for an hour, the moderator reads 2 to 3 texts and guides the conversation about these texts. The method originated in the UK.
In 2011, a psychologist friend gave me the opportunity to do some experimenting in their outpatient department of a psychiatric hospital. Psychiatry was still completely unknown to me at the time, but it appealed to me. I was curious. I ended up in an ugly concrete building with warm, special and vulnerable people. Together with musicians and actors I read, philosophised and sang. What I learned was that literature comforts, allows you to relate and encourages reflection. At about the same time, I was able to attend a three-day training course run by The Reader Organisation, the British organisation that shares literature with vulnerable groups throughout the United Kingdom, in the field of psychiatry, in prisons, and with the poor. It was a training course to become a Shared Reading Practitioner. It was an eye-opening experience for me. It was such a simple idea… Especially because of the lack of barriers to entry. You don't have to do anything beforehand. No need to read a book like in a reading club. You don't even have to be able to read, because someone will read for you.
Free of charge, no preparation, no admission criteria
With my experience and expertise in the hospital, combined with what I learned through The Reader Organisation, I started a Samen Lezen - group in an Antwerp cultural community centre in the autumn of 2012. From the very beginning, we worked together with an association for empowerment of people living in poverty, to encourage people to come join us. The participants also received a cup of soup. 
Reading and soup, both free, at 11 o'clock in the morning. No strings attached.
The first meeting started with 5 participants. But it grew and grew and soon there were three parallel groups. Around thirty people at the same time were reading the same beautiful pages from world literature.
Different from school reading
In a very simple way, you can bring people of all walks of life together around literature. There is no need to compromise on the quality of the texts. They are read aloud so you can just come and enjoy. It is not like reading at school, which sometimes makes you lose interest in reading. In addition, talking about the text together has real positive effects. You share how you feel about a text, what you think about it, what it evokes for you.
Reading together, in the workplace too
Our first initiative was soon followed by the central library in Brussels and an Antwerp cultural center. Then a therapeutic center, psychiatric hospitals, libraries, social welfare centers, prisons, large city theaters, and so on. We also received interest from the business world. We held summer sessions at Janssen Pharmaceutica. Colleagues who had been working together for 10 years got to know each other in a different way. Shared Reading works in very different contexts. We read a text in a different place every day.
The fact it is voluntary also appeals to non-readers
For our Samen Lezen-initiatives we want to continue to appeal to the fringes of society and stay close to people in deprivation, prisoners and ex-prisoners, and the homeless, etc. 
Many are not really readers, but they all love stories. We build our identity with stories. 
The openness and the fact that it is voluntary, also encourages non-readers to engage with a text. The first step is important, hence the low admission criteria and sometimes the need for encouragement. Most who go once keep coming, they get hooked. For all that work we need sufficient reading supervisors. We started looking right after the first meetings. We are always looking for moderators. We always try to find new moderators among the participants. We provide them with training and also follow up their work with a weekly session. An important goal for 2022 is to have reading moderators in as many prisons as possible, which may include detainees. There is also an element of empowerment in our initiative, and with that we also make an important difference.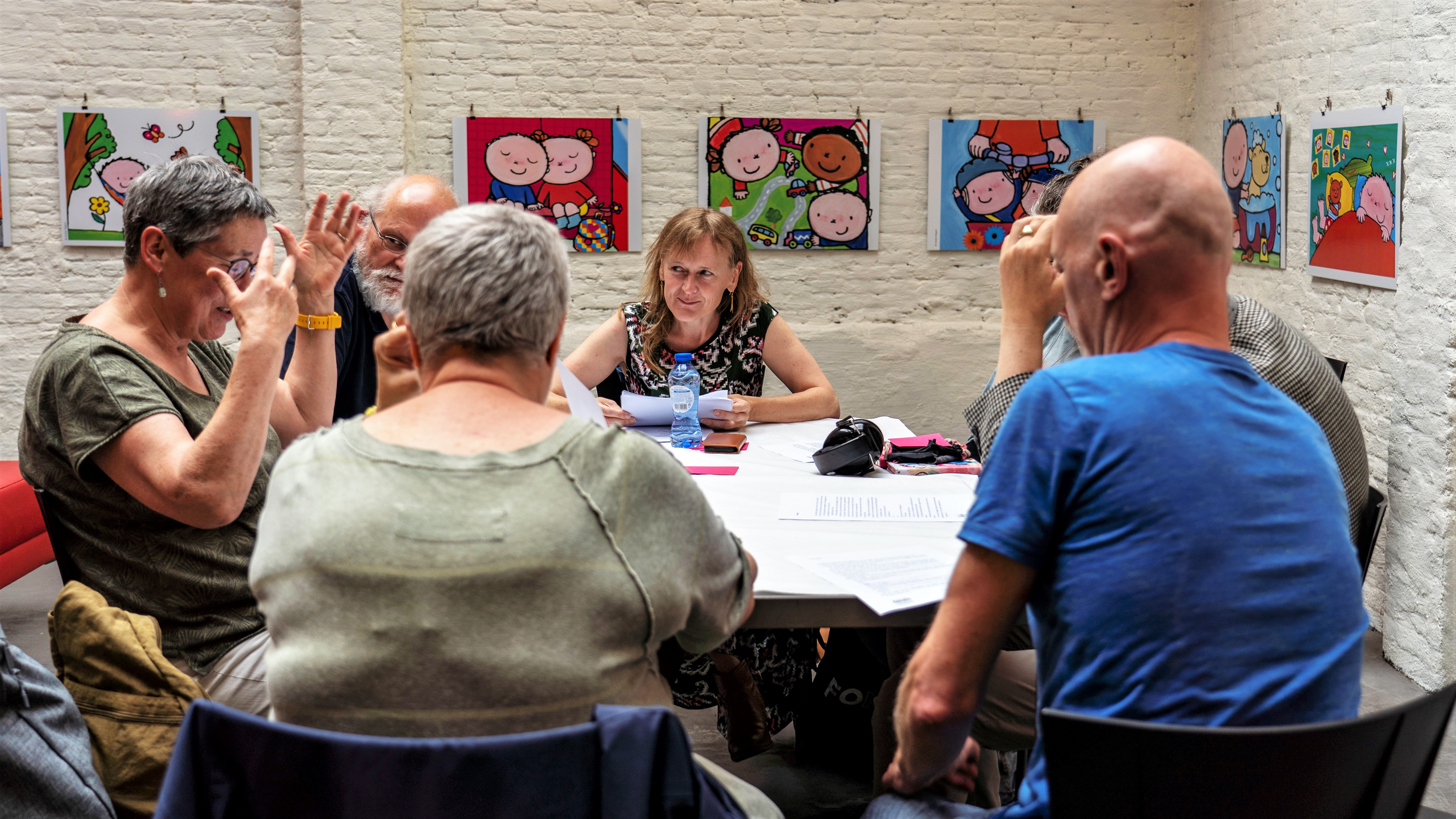 Picture by Rudi Schuereweghen
The basic methodology
Every session we read a short story, an excerpt and a poem that fit together thematically. The ideal size of a group is 8 to 10 people, maximum 12. The meeting takes about an hour. The moderators bring the texts with them. We have a selection of more than 2000 text fragments for that reason. The moderator reads aloud and adopts a Socratic approach, i.e. she or he knows no more than the listeners do and accompanies them as they interpret the text. Open questions are asked, clarification is given. This ensures depth. It cannot be a chatroom where everyone speaks superficially. It is important to consolidate and value the participant. Lots of people are not used to that. If someone tells you something, you can see that as a gift. Everyone has to cross a barrier to find the courage to speak; that is a gift to the group. And then we unwrap that present together. Here the moderator has to play his role. He or she moderates the conversation with some rules in mind: everyone is free to speak or remain silent, the meeting is a safe place, everybody listens to each other with respect. Hot topics (e.g. Trump, Erdogan) remain outside the discussion… The rules of the game are repeated at the start of each meeting, almost like a ritual.
Space for individual conversations
We want everyone to be able to participate free of charge and afterwards there is free soup. That may sound strange, but it is essential for us. After the reading, the soup offers space for one-to-one conversations and gives the moderator the opportunity to check how everyone is doing. In principle, there is no fixed group for the open initiatives, nor is there any registration, but a group of regular participants is formed with a nice mix of people with different backgrounds and (reading) experiences. We also try to attract people from, for example, psychiatry to the public meetings.
Reading together has a therapeutic effect
During the Corona crisis, we read online. There is clearly a need for that in the current climate. The sessions are always full. We do not reach all participants. The digital gap is definitely a problem. We try to address this by offering digital buddies. Some feel that our approach resembles therapy. It is not intended that way, but Shared Reading does indeed sometimes have a therapeutic effect. Essential things in life are talked about. Friendship, relationships, how to live life, doubt, insecurity, ambition... This offers relief and insight. People refer to our meetings in psychiatry, but they are actually no different than those in other places. The interpersonal element and the courage to share thoughts about a text are always the essence of such meetings. We do not go into too much detail about personal stories either. We keep returning to the text, which is the point of reference, the safe harbor, if things go off on a tangent. The moderator can always bring the participants back to the text with the question 'how do you interpret that in the text?'.  That is the power of good literature. It is a mirror which allows us to reflect on the stories and learn from them.
"In books we read who we really are, in a way so honest that it rarely finds a place in ordinary conversation. In the most beautiful books, it is as if the writer knows us better than we know ourselves." Alain de Botton
---
Did you get inspired by this story? Let us know below in the comments and get the chance to win an EPALE unique gift!
5 users per month (May-November 2021) from those commenting a 2021 Community Story will be picked at random and will receive a gift. Comments must be relevant and related to the topic to be eligible.