Shalan Alhamwy: a unique place for learning world music at De Centrale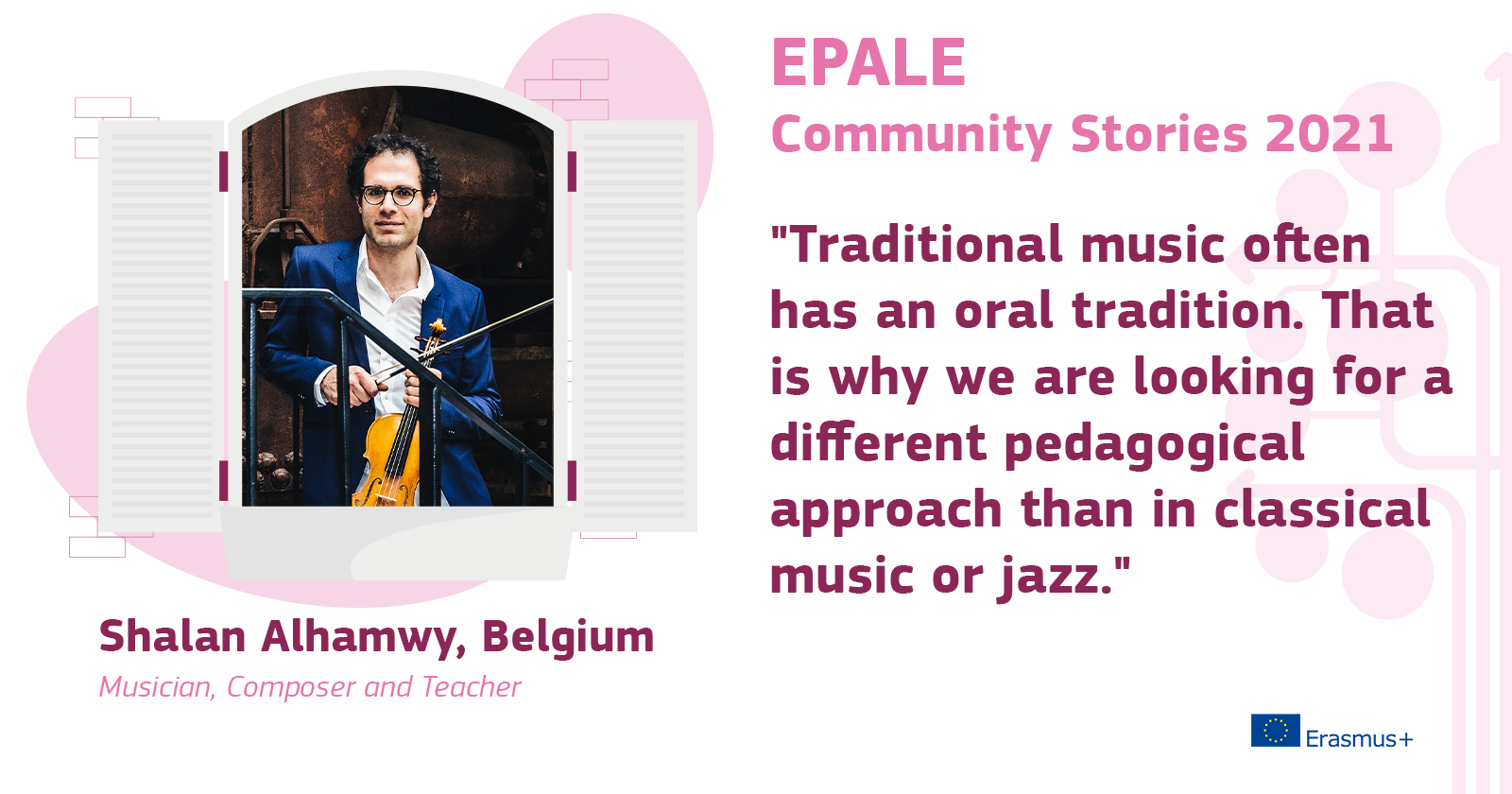 Short Bio
I have been the coordinator of the music workshop for one and a half years and studied both classical and Arabic music in Syria. I teach the Western and Oriental violin and play in numerous ensembles such as Olla Vogala, Liqa' and Damast Duo and lead various music groups such as Jiraan and Picea Orientalis. I also compose and perform my compositions worldwide. I have worked on stage with some of the best Arab artists such as Fairouz, Marcel Khalifa, Rima Khsaish...
My EPALE
I am very interested in EPALE. It is a source of inspiration for teaching adults and finding new insights and examples.
My Story
If you want to learn qanun, bağlama (saz), ud, darbuka, riqq, bendir, folk or Oriental violin you're in the right place at the World Music Workshop of Intercultural Centre De Centrale in Ghent. This music school takes place in a unique setting. It is one of the few places in Flanders that offers courses in world music. The way in which the pedagogical process is approached also makes this music school different from others.         
The music workshop offers an alternative to music education for adults, through its instruments and approach. We are not an official academy or part of part-time art education. The instruments mainly originate from countries around the Mediterranean. But we also offer folk violin classes. In addition to the instrument lessons, there is also ensemble playing and we give workshops and masterclasses, e.g. Moroccan singing, Bulgarian singing, Black Sea accordion. Here we take it a little bit further than in our regular classes.
Oral tradition
Traditional music often has an oral tradition. It is handed down through the generations from musician to musician, from master to pupil. That is why we are looking for a different pedagogical approach than in classical music or jazz. Learning melodies by ear is therefore an important aspect in this music, as are other aspects related to certain musical styles such as embellishments, improvisations and modulation. Without those embellishments, the music becomes too simple. With scores you can learn a melody, but to learn ornamentation you have to listen to an experienced musician. This can be live or through a recording. An ideal and progressive pedagogical method should apply a good understanding of both methods, namely playing from a score and playing by ear. 
Playtime
With a background as a performing musician, 'masters' make their 'pupils' familiar with these two ways and give them all the basic skills to become real musicians themselves. De Centrale engages teachers who, as musicians, have their feet firmly rooted in live music practice. Their approach is more focused on performance and on the pleasure of playing than on theoretical music study. Nevertheless, our teachers are sufficiently trained to teach the students the required music theory. They combine different teaching methods so that the students can further improve their skills in the study of their instrument.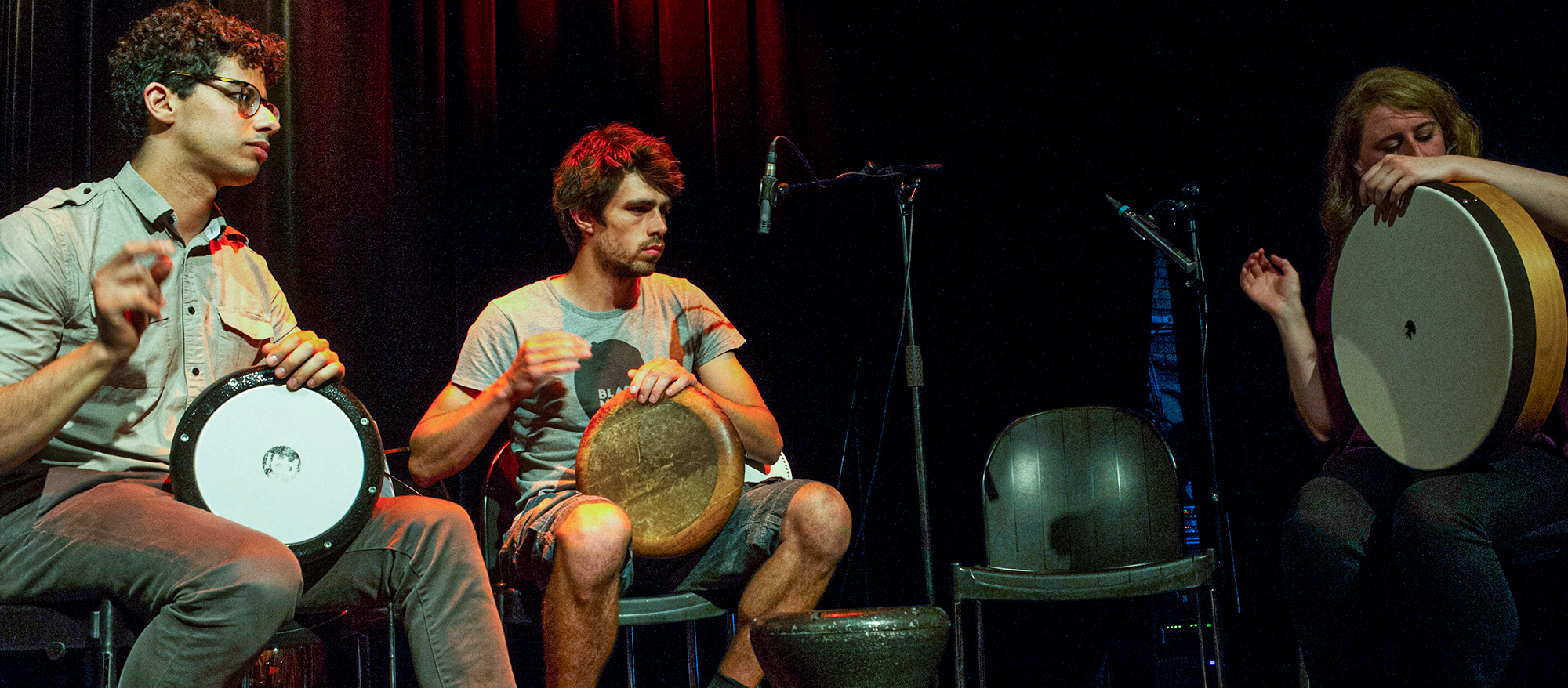 Improvise
The music school started about 16 years ago because there was a great demand for bağlama lessons among the Turkish community in Ghent. At the time, these lessons were not available as part of the  traditional music education. Today we get very specific requests for certain instruments, such as the Balkan clarinet. Of course, we always have to see whether we can find enough students for a course. Our school has to operate on a break-even basis, as we are not part of an official art institute. We do not aspire to be anyway. We do not fit into the system or perhaps we do not even want to. I have followed classical music education myself and noticed that there are 2 different worlds. I am a different person when I play classical music. I learned Bach to play from a score, while Bach himself improvised. The cadenzas of Mozart were also improvisations and the scores were written out later. And now, in most cases, we are not allowed to improvise in classical music anymore. In traditional Eastern music I can. De Centrale enables the music workshop to exist because it provides the ideal framework and support. At De Centrale, education also runs in tandem with the stage programme. We link up with  music projects such as Fiddlers on the move, around the violin, or Istanbul Express, around Turkish music. That's what makes education also fascinating.
From 5 to 70 years
We have 6 teachers and 160 students, 60% of whom are adults. Some have experience, others start from scratch. The age of our students ranges from 5 years to 70 years and their origins are very diverse. Bağlama, for instance, is very popular with the Turkish community, it is the iconic instrument of Turkish culture. The ud is mainly an Arabic instrument. But there it is popular among Flemish people as well. The folk violin may be a bit more Western, but it also has a broader range with Irish music, Balkan music…
---
Did you get inspired by this story? Let us know below in the comments and get the chance to win an EPALE unique gift!
5 users per month (May-November 2021) from those commenting on a 2021 Community Story will be picked at random and will receive a gift. Comments must be relevant and related to the topic to be eligible.