Sergio Cabigiosu: sharing is more profitable than keeping to oneself
Short bio
Born in 1973, I lived and studied in Italy and various foreign countries (GB and Germany), I then ended my studies with a law degree in Turin (Italy). After a few years as officer of the Alpine troops (ARMY), I began my work experience in the world of training by working for multinational companies. Since 2010, I became a freelancer and started to work on leadership and team building. My orientation is experiential learning and pleasant learning.
My Story
There are things that happen by chance and things that happen because you are looking for them. Well, my life is a combination of the two.
Although I strongly believe that we all have the power to guide our own future, it's of course not all in our hands … I arrived at the end of university with very confused ideas, I didn't want a legal career but I also didn't want an occasional and unstable job. I was looking for a dynamic working relationship that would take me abroad and allow me to continue to feed my curiosity to know people, places, and to broaden my knowledge and skills.
The beginning was precisely in the name of this exploration. I changed jobs 4 or 5 times in just over 8 years, and when I was writing and rewriting my CV I realized that there was a common trait in this messy experience. There was a trend that led me to say that every time I had the task of transmitting, informing and sharing my knowledge with other people, those were the situations that I liked the most. And so it was ... from that moment my life has been dedicated to training and it has slowly become my profession. I worked hard to build professionalism, to make sure my courses were interesting and that people came out of them satisfied and grown. I also set myself a goal of eliminating boredom from training courses and slowly I came to the conclusion that the participants must feel good, be able to have fun and bring home at least a small stimulus for improvement.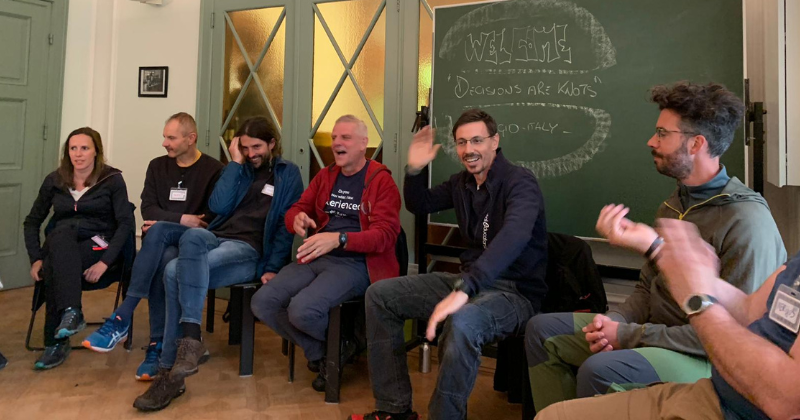 From these reflections my training axioms were born. I had never publicly disclosed them up to now, but I'm happy to share them here with my friends at EPALE. They are:
 There are no boring subjects, only boring trainers.

The inspiration for this axiom was my sister who had studied mathematics and managed to make anyone who asked

for a hand love that subject so twisted and square.

The only limit to the trainer's imagination is the trainer himself.

Attending international contexts and the passion for experiential training have led me to meet and see different trainers at work with innovative approaches that I never dreamed of being able to include in my tool bag.

A good slidedeck is a bad handout and vice versa.

It's a banality but often we pretend to make slides a handout, but their purposes are completely different and therefore incompatible.
There are others but I keep them to feed the curiosity of those who read and, who knows, maybe one day I will decide to write a book. If I do, I promise that you will be the first to know.
My training path is always in progress and for years I have been attending the eee - experiential educators europe, which is an informal network made up of trainers and educators that, once a year, meet in a European location. It is dedicated to the exchange and sharing of knowledge.
An important moment from which I learned a lot and not only in the contents, but also in the mindset. The main thing I learned is that sharing is more profitable than keeping to oneself, branding with copy or closing in on a close circle. In 2017, I also did some coaching training and I started to get out of the prejudice that coaching was a way to steal work from psychologists. I learned to understand its boundaries and appreciate its effectiveness in a training process. Not only has it trained me to listen, but also to keep the arrogance of knowledge at bay.
Today, coaching is part of my daily job. I still have a lot of work to do but it does not scare me, on the contrary it is a stimulus and I think that this idea of "never being arrived" is a beautiful awareness that eases the burden of expectations that every trainer feels and helps to keep the arrogance of knowledge at bay that can infect any good trainer.