Self-directed learning: (still) the way forward? Learning to learn during the pandemic and beyond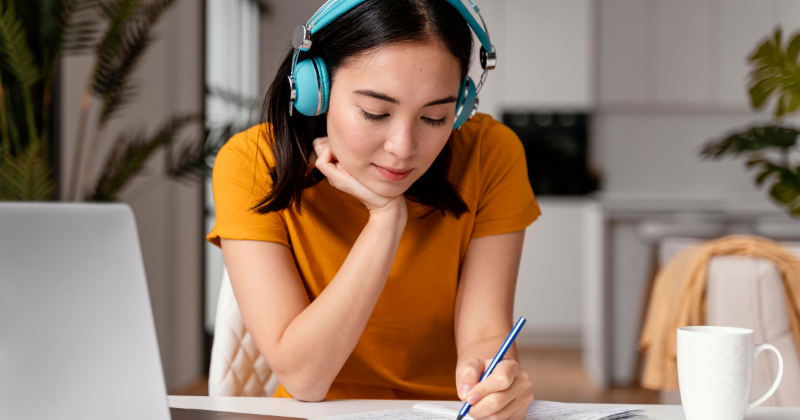 If you believe the statistics – or the backgrounds of never-ending Zoom calls - we have all spent the past year and a half learning how to turn our cramped flats into an urban jungle. Learning a new language or craft also seem to make it into the list of top lockdown activities. Whether trying to pick up a new skill voluntarily or out of necessity, many of us turned to video tutorials and apps for help. Is self-directed learning the new way forward, and where does non-formal adult education come in? EAEA's Aleksandra Kozyra shares her reflections.
Remember back in March 2020, when going into a lockdown still seemed like a once-in-a-lifetime turn of events? If there is one thing I recall – other than the strangely passionate fights over pasta in my local supermarket – it's the fact that all of a sudden everyone was taking up online learning. Be it for self-improvement, out of boredom or pure necessity, statistics seem clear: many of us turned into online learners almost overnight. Between the last week of March and the first week of April 2020, Google searches for online courses increased by over 70% globally. It probably won't surprise you when I add that between mid and late March 2020, the average daily views of content about making sourdough grew by 260% (according to Youtube and Google).
Back then, my friends were quite evenly distributed between "I will make the most out of these few weeks and learn graphic design!" and "My only objective for the lockdown is not to go crazy, so no, thank you". I might be working in adult education, but I was firmly in the latter camp. Other than practising yoga with Adriene (honestly, is there anyone who didn't?), there was no way I was going to add even more screen time to my day, or to despair over likely inedible results of an online cooking class. I admit I was also quite skeptical about how long the motivation in the "online learning" camp was going to last. "This will fizzle out soon enough," I thought, listening about how a friend of mine was about to learn Japanese on Duolingo.
Imagine my surprise when I realized that one year later, one of my friends was still learning carpet embroidery, another one improved her sewing skills (admittedly, to be able to sew a face mask). The friend who took up Japanese did in fact ditch it, but not without finding something else to focus on; over the course of one year, she managed to turn her flat into an urban jungle and has definitely learnt a lot about plant care in the process (the fact that some of my plants are still alive is down to her advice). Meanwhile the most that I did for self-improvement was watching Spanish-language series with original subtitles, with an occasional help of a dictionary app. What did our experiences have in common? None of us sought out the help of a teacher or educator.\
From self-directed learning to learning to learn (and back)
Is self-directed or informal learning the way to go in the future? Will our learners turn towards Youtube and MOOCs and away from their local adult learning centres when restrictions allow them to venture out of their living room into a classroom? Self-directed online learning certainly has a lot to offer in terms of flexibility and accessibility, which seem to be the key buzzwords used to describe the future of adult learning. But if you think about it, it is hardly a new phenomenon. Youtube, for one, has been massively popular in terms of providing educational content for years. Using TED talks in language classes was all the rage when I was working as an English teacher already in 2013; and when it comes to self-directed learning, I have personally been a victim of Youtube tutorials for at least as long (thinking of cutting down your SIM card from micro to nano size with the help of a Youtuber? I strongly encourage you to reconsider your options).
Our learners might have switched to more self-directed learning, but does it mean that the process is as effective as it was in the confines of a classroom? Being able to "learn to learn" will play a factor here. Arguably, the two concepts go hand in hand: if provided with little guidance other than "keep going!" on an AI-assisted app, the necessity to be able to reflect on one's learning process seems all the more important.
What does it mean to be able to "learn to learn", exactly, and how new is the concept? One could argue that it was already included in the Delors' four pillars of learning published by UNESCO in 1995 (which included learning to be, learning to know, learning to do, and learning to live together). "Learning to learn" used to be a separate competence of the EU's Key Competence Framework released in 2007; since the 2018 update, it is part of a larger competence, called "Personal, social and learning to learn". The recently published LifeComp Framework explains the correlation between the personal and the social in learning to learn, linking it, among others, to personal development, affective and motivational dimension (for example, being able to regulate one's emotions that are triggered by learning), and to the perception of support from significant others or the capacity to learn with peers and in groups.
Metacognition is another concept that falls into the scope of learning to learn. Often referred to as "thinking about thinking", it is about the extent to which the learner is aware of what they know and their learning process. Some argue that the ability to use metacognitive strategies is particularly important in an online learning setting, which might restrict the opportunities of direct interaction between the instructor and the learner. At the same time, shifting to an online environment will come with its own challenges that will call for guidance or support.
Going for it alone?
And here comes the question – can we really do it all alone? Some of us might have enjoyed the "cognitive quiet" during the lockdown: the time for silent introspection (unless, of course, "silent" is not the word you associate with the lockdown, having spent it in the presence of young children, loud neighbours, or next to a construction site). Others have missed being able to share their reflections on what they have learnt with someone equally invested in the topic.
Can non-formal adult education offer space for self-directed learning while offering more personalized support and guidance to those who need it? A recent EPALE discussion looked at the concept of "inverse blended learning", one in which online courses are complemented by on-site activity. While the latter might be impossible during the pandemic, experience shows that it can be successfully replaced with additional online activity that allows for interaction, such as consultations with learners, online discussion forums or learning groups.    
Personally, I feel like I've learnt a lot about myself as a learner in the past year and a half, not least because of my unwillingness to commit to a structured online learning course. My conclusion is that I learn best in the lively face-to-face spaces that adult education can provide (even if I am about to watch a video on how to propagate a plant that I just salvaged from the office). How about you? Leave your thoughts below!