Saša Klikovac: learning is an irreversible process of change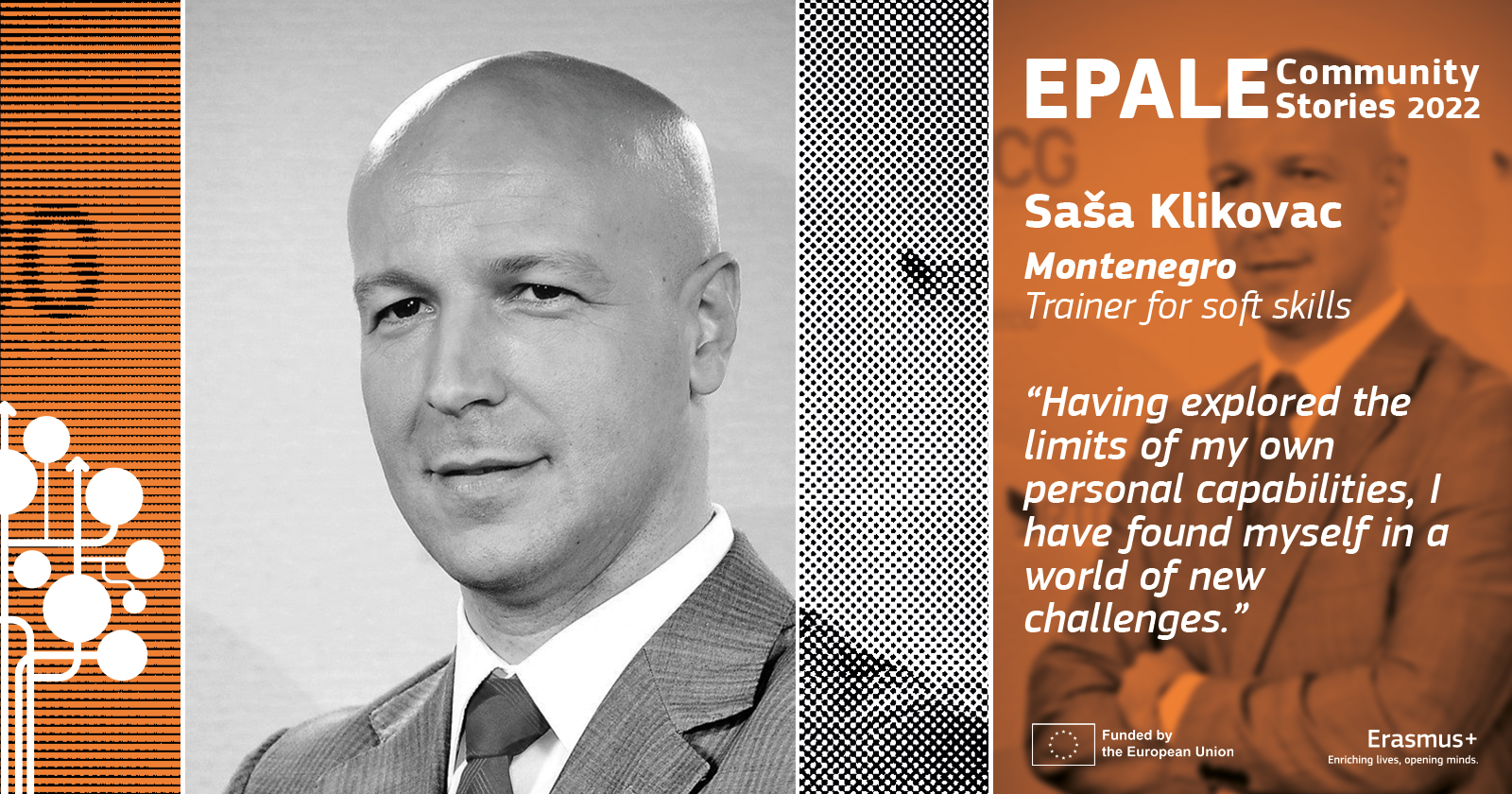 Short bio
I have editedt and hosted the most watched political talk show on National TV Argumenti (Arguments). I have also edited and hosted The News 1, 2 and 3. I was the host of the election debates for parliamentary, presidential and local elections, and I have edited and hosted several prime time shows. I am a trainer for soft skills: Communication, Team work, Public appearances etc.
My story
Learning – irreversible process of change The memories covering four decades, by evoking the recollections of learning, nostalgically throw me back into the earliest years of my childhood. While listening to the stories read by my parents, even today, I'm able to see the images I had when I first met those unreal areas of imagination, which built my own realms. This was my first learning experience.
My mother would frequently read and share stories with me, thus igniting the associations of a boy who had faced the world of imagination for the first time at the age of four or five.
Since I obtained the vocation of a literature teacher and I work as a journalist, the period of my schooling and professional practice is directly related to knowledge transfer – at first the transfer targeted school students, and then TV viewers who are my audience. However, after twenty-five years working in journalism, I realized that I wanted to enrich myself. Having explored the limits of my own personal capabilities, I have found myself in a world of new challenges. A self-development pathway was spotted when I started achieving success at work.
At that time, I wished to open new perspectives and different opportunities for myself, which could trigger my creativity.
That was the moment when I realized that my work was not sufficient enough to satisfy my professional needs, so I decided to share my knowledge and experience with others. My professional competences are related to the world of media. By transferring my journalist know-how, in the role of adult education, I started to directly communicate with the participants of my workshops and training. That was a novelty that quite impressed me. At these events, the people I talk to are usually very interested in the personal and private characteristics of the people they watch on TV. This was actually the most interesting link between us, and it was the point of connection which made our joint work interesting, inspirational and intertwined with trust. During numerous seminars and lectures, my observations are related to the complexity of media appearances and the challenges faced by media guests.
Also, the area of media literacy, increasingly an important challenge for the modern man, is a highlighted topic in my lectures. Our communication is mostly focused on practical work and experience. I had several motivation factors. The first being the desire to go beyond the fixed framework of my professional engagement.
I wanted to transfer my knowledge and experience for those interested to acquire. When I entered the world of adult learning, I have to admit that I became very interested in it and my plans have been increasingly turning in this direction. Direct contact with people is priceless and a unique experience for me. It is also an opportunity for me to learn something from my trainees, but also to learn about myself in these situations of direct contact.
For me, direct communication is the most beautiful and dynamic part of adult learning, and this is precisely what makes me feel so satisfied and accomplished.
For most of my life, I would ask myself if I was sufficiently good enough, if I could do things better, and in which area I wasn't successful, etc. Perhaps, these were intimate purgatories of the soul, the part of a super-ego which urges us to be better, more responsible and more successful in order to reach perfection, in some way.
Adult education is certainly my newest profession, as well as my personal challenge. In order to feel good in this line of work, the feedback obtained from those sitting opposite me is the most helpful. When I see how they communicate, ask, learn, demonstrate interest and content – this makes me feel accomplished and proves that I am going in the right direction. By the way, if you want to find out what kind of man somebody is, ask them about their hobbies and you will find plenty of responses.
I have been involved at the EPALE project since 2020. Since then I have started to take a special interest in adult education, and changing experiences.