Sara Djelveh, a Community Story from Belgium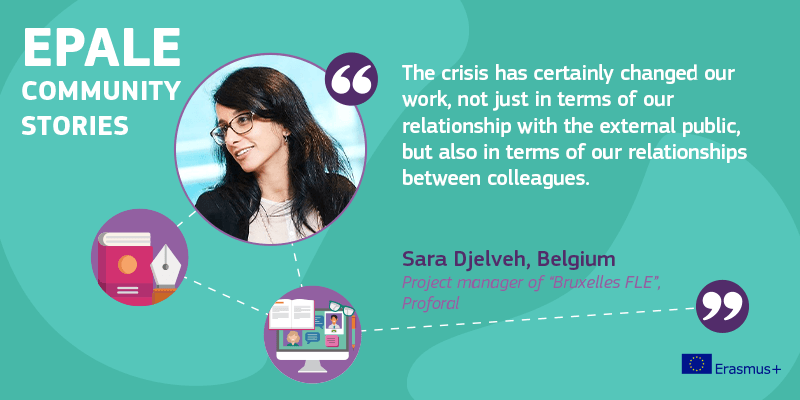 I am project manager of the Bruxelles FLE initiative of the Belgian association Proforal. Previously I worked in European project management for different employers and I have a PhD in Education Sciences. Proforal is an adult education centre (literacy, basic education and pre-training) in Brussels. Since 2013, the association has offered training for trainers in French as a Foreign Language (FLE) for the actors of the regional associative network, which includes more than 70 structures. Its "Bruxelles FLE" initiative is based on 4 approaches:
Programmes of pedagogical support in FLE, in particular the APOLPA programme for trainers on the reception programme for newcomers organised by the French-speaking Community of the Brussels-Capital Region;
The partnership with the Catholic University of Louvain-la-Neuve in the context of the Certificate in FLE Didactics;
The website www.bruxellesfle.be,  a platform for the exchange of practices and information on FLE teaching in Brussels;
The management and implementation of European projects for the benefit of the network of actors involved in the initiative.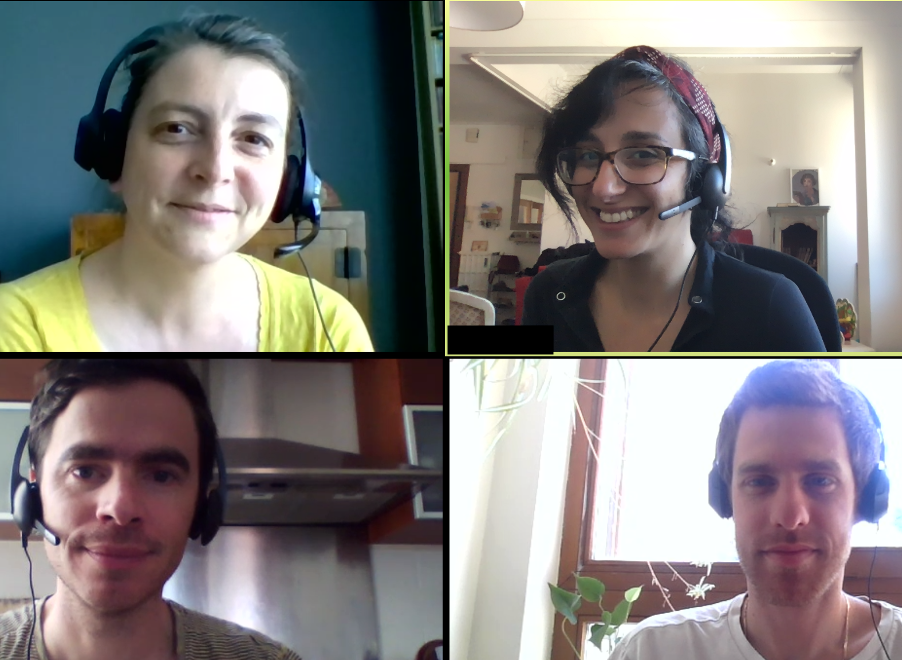 In February 2020, Proforal submitted an Erasmus+ project (KA1 - Mobility) in consortium with other Brussels adult education organisations. It was at that time that we registered on EPALE to find European partners in order to enrich our European network and to identify relevant organisations with whom to carry out our observation courses. We launched a call for partners and carried out a search among the calls launched by other organisations. Thanks to these tools, we were able to identify a number of suitable organisations.
Bruxelles FLE
is a second-line service offering pedagogical support to FLE trainers in the Brussels-Capital Region.
Since the beginning of the lockdown in Belgium, we have focused on adapting our activities to the virtual world in order to continue to provide the necessary support to colleagues in the field. We have also focused on our contribution to the reflection on language teaching in a lockdown situation.
To this end, we have developed the following activities and tools:
An update of our website, where we offer pedagogical resources, job offers in the sector and a selection of news to keep up to date on FLE themes and the impact of the epidemic on the sector. The "Bruxelles FLE" website is available at: https://www.bruxellesfle.be/
The creation of a new page dedicated to online training, where we have listed a series of e-learning resources and collaborative distance tools to support FLE trainers. In addition, the page includes a section dedicated to testimonials from trainers who offer distance-learning activities. All the testimonials have been collected by the "Bruxelles FLE" team who interviewed colleagues from different Brussels and European (Italy and Spain) non-profit associations within the "Bruxelles FLE" network.
The creation of a Facebook page and a LinkedIn page in order to stay in direct contact with our trainers through the most widely-used social networks. In addition, we sent out a newsletter to all our subscribers during the month of May.
The "Bruxelles FLE" Facebook page (created on 08/04/20) already has 158 subscribers in less than a month (data from 14/05/20).
The organisation of a series of virtual meetings with trainers, and in particular with those interested in developing online self-corrective activities. Thanks to these exchanges, we had the opportunity to discover digital tools such as Learning Apps, Active Presenter etc. This activity led to the creation of a new page dedicated to self-correction exercises, entirely conceived, realised and developed by our team. The page will soon be available on the "Bruxelles FLE" website.
The continuation of our training activities by moving them online. To this end, the workshops on the Certificate in FLE Didactics programme that Proforal and Bruxelles FLE are co-facilitating with the Université Catholique de Louvain La Neuve (UCL) continue to take place using the Zoom application.
We have also started an online working group and a distance learning workshop, which are due to start in June.
The organisation of a virtual exhibition " LIAISONS FLE" to facilitate meetings between FLE trainers and cultural partners of the Brussels-Capital Region in order to set up pedagogical projects and initiatives to stimulate language practice outside of the formal learning context.
On this page, interested trainers can find information about the 10 proposed partners before making a virtual appointment with one or more of them in order to prepare for a future partnership with their group of FLE learners.
The crisis has certainly changed our work, not just in terms of our relationship with the external public, but also in terms of our relationships between colleagues.
The mastery of certain IT tools as well as the desire to continue doing the work we love (and love doing together!) have pushed us to try to adapt our offer in the face of the current emergency situation and to use it as an opportunity to acquire new skills. This experience has taught us a lot and has "forced" us to use new tools. It was certainly a triumph and a continuous learning process that allowed us to continue to carry out the mission of our association despite the current situation. At the same time, we hope to soon be able to return to face-to-face activities while integrating what we have learned during these months of lockdown.
---
We're looking forward to hearing your story. Share your story today!