SAIL-project: can ICT-based adult education strengthen social inclusion of adult learners?
Growing evidence reveals how different groups of adults are in danger of digital exclusion, which in turn entails greater risk of social exclusion. As a consequence, adult education is facing the challenge of serving diverse groups of learners whose social and digital inclusion are at stake. At the same time, ICT has increasingly penetrated the educational landscape. Adult educational programs which integrate ICT in the teaching and learning approaches seem to be a promising way to cope with both issues, i.e. social and digital exclusion. That is why the socially inclusive ICT-based adult learning project (SAIL) at the Vrije Universiteit Brussel tackles these emerging challenges.
The SAIL-project aims at discerning empirical evidence of how ICT-based adult education can strengthen the social inclusion of different groups of adult learners. We look at how participation in online or blended learning (OBL) provided by adult education organisations in Flanders (Belgium) can contribute to adult learners' perceptions of social inclusion and social capital.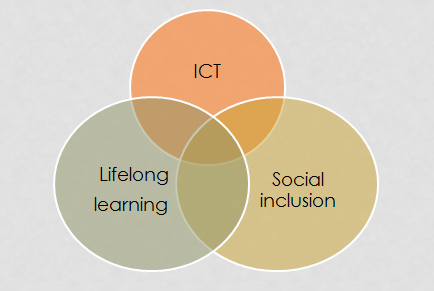 Adults' social inclusion and social capital in online and blended learning
Based on our research, it is found that adults who do not speak Dutch as a native language experience a greater increase in social inclusion and social capital. This means that non-native Dutch speakers report more social benefits from participation in OBL:
They feel more connected to the society
They have extended their close personal relationships (i.e. bonding social capital)
They have developed new social relationships and friendships (i.e. bridging social capital)
We also noticed that online and blended adult learners differ in their perceptions. Blended adult learners identify more positive changes in social inclusion and social capital compared to the online learners. The latter do not seem to experience substantial social benefits from OBL. The lack of online learner-learner interaction in the online courses might be the reason for this. From this perspective, online interaction and online participation are important in order to foster social inclusion and social capital. So, this is why we are interested in understanding the elements which influence online participation among adult learners.
Factors influencing online participation among adult learners
Adult learners engage in online participation at different levels, due to differences in life circumstances and profiles. For example, female learners participate more actively in social interactions with their peers. Strikingly, learners who hold a secondary degree are keener than higher education degree holders in (1) sharing information and opinions related to course content and (2) social conversations. On the other hand, learners who are employed, either full-time or part-time, are more likely to be active facilitators of collaborative work.
Furthermore, three aspects are identified as enablers of online participation among adult learners. First, as adult learners perceive more learning benefits, they will spend more effort in different types of online participation. In order to motivate adult learners to participate more actively online, it is recommended to make explicit how the online activities are helpful to their learning and worth the effort invested. Second, the more adult learners feel close to their peers, the more they are involved in maintaining online social contacts or sharing mutual interests and hobbies. Finally, when the adult learners perceive mutual support among their classmates, they are more likely to share information and engage deeply in online discussions related to course content. Thus, online participation increases when adult learners experience:
more learning benefits,
more connectedness to their peers, and
more mutual support from their peers.
What next?
Blended learning with more opportunities for learner-learner interaction can promote more social benefits for adult learners, especially for non-natives. This reveals the great potential of blended learning for newcomers in Europe. To enhance these benefits, we recommend that adult education organisations stay sensitive to learners' characteristics (e.g., gender, educational level, migration background). Next to this, adult education should aim for an instructional design that explicitly conveys the learning benefits and fosters a mutually supportive and interactive (blended) learning environment.
Céline Cocquyt, Vrije Universiteit Brussel
Diep Anh Nguyet, Vrije Universiteit Brussel
More information about the project can be found on ResearchGate (https://www.researchgate.net/project/Socially-inclusive-ICT-based-adult-Learning-SAIL)
Cocquyt, C., Diep. A.N., Zhu, C., Vanwing, T., & De Greef, M. (2017). Examining social inclusion and social capital among adult learners in blended and online learning environments. European Journal for Research on the Education and Learning of Adults. Prepublished: http://www.rela.ep.liu.se/article.asp?DOI=10.3384/rela.2000-7426.rela9011
Diep, A.N., Cocquyt, C., Zhu, C., & Vanwing, T. (2016). Predicting adult learners' online participation: Effects of altruism, performance expectancy, and social capital. Computers & Education, 101, p.84-101. DOI: http://dx.doi.org/10.1016/j.compedu.2016.06.002