Rosa Vieira, a Community Story from Portugal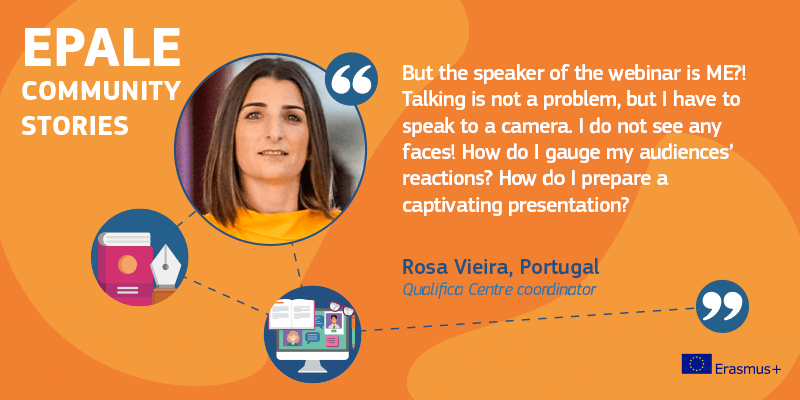 I am a Qualifica Centre coordinator and I coordinate a Team which supports adult learners to obtain qualifications and prior learning recognition and validation in Vila Verde, a town in northern Portugal. I am an active member of our Community of Practice EPALE – INFONET, a CoP self-organised by coordinators and trainers for cooperation in new tasks connected with the COVID-19 situation and its challenges.
Learning challenges
We live in new times. Many challenges arise as we are confronted with new realities. I thought I had a good level of digital literacy, but over the last two months even I have had to learn to use new technologies. As coordinator of the Qualifica Centre of the Professional School Amar Terra Verde, I have had to act in the face of the unexpected. We went into lockdown. We could not just stop what we were doing. March was hard and eventful. The Centre's team mobilised in order to enable the adults to continue along their lifelong learning path. We now work from home. How do we continue to communicate in an effective and motivating way? We use a platform.
We share conversations, we work and help each other to get through the lockdown.
The work must go on. How are we going to motivate our adults while maintaining a close connection with them? By using a platform. We organise video conferences and virtually 'go into' their homes. These sharing moments are new, but effective. Our workspaces and sharing spaces are virtual but challenging. We need to see the world of others, to know how they cope. We join other professionals. Let us share and learn. Create a webinar. What a challenge! Digital platforms are already ingrained in our daily lives. Over the past two months, we have not left our computer screens, they have been our constant work tool and companion. But the speaker of the webinar is ME?! Talking is not a problem, but I have to speak to a camera. I do not see any faces! How do I gauge my audiences' reactions? How do I prepare a captivating presentation? The lack of non-verbal communication requires an increased emphasis on the speaker's tone of voice. I talk a lot with my hands, but in a seated videoconference, this is neither comfortable nor viable in front of the camera.
Being able to keep the audience attentive in these conditions becomes even more demanding for the speaker.
The truth is that it was not as difficult as I expected. We miss the physical presence of people, but we feel their presence, nonetheless. After thirty minutes of talking, we are exhausted. Online conferences are much more tiring than face-to-face teaching. During these two months, I believe that I have reinvented myself. A few months ago, if someone had asked me if I ever saw myself working from home, I would have said no. I have a convivial spirit, I like to share ideas and talk. I miss my co-workers and the excitement. But in fact, we have managed to readjust and reinvent new (different) ways of being close to each other.
It is essential that we know how to adapt to solve the demanding challenges that we face!
---
We're looking forward to hearing your story. Share your story today!