Remos Armaos, a Community Story from Greece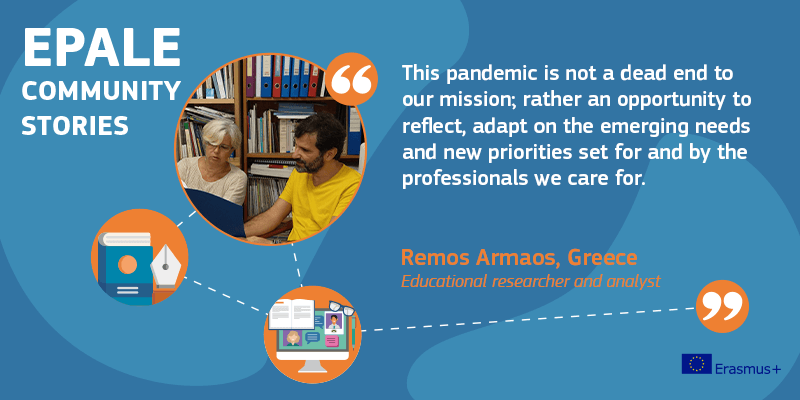 As an educational researcher and analyst, and member of a multidisciplinary team of KETHEA training experts in the field of addictions, we promptly decided to respond to emerging new educational challenges when the pandemic broke out and social distancing rules came into force in early April 2020. Working for almost 20 years extensively on adult education options for addiction and mental health professionals, I have high regards for the scientific hub, EPALE, bringing us closer on aspects and emerging up-to-date issues raised within the adult education field.
In the European Union, one of the main challenges is the social, economic and political exclusion of young people.
On average, 15% of young people are not in employment, education or training (NEETs). Young People 'on the margins' face multiple issues – including poverty, homelessness, mental health problems, discrimination through ethnicity or migration status – that often come together to exacerbate their social exclusion. Excluded youth are often more at-risk of developing anti-social behaviours, substance misuse issues or engaging in crime. Upon the outbreak of the pandemic early March 2020, almost all activities in Greece, at work, in education, in the community, came to a standstill. KETHEA, a nationwide drug treatment organisation, with considerable work in the field of professional training and education on addictions, was suddenly forced to cancel any ongoing academic and professional training in the field. KETHEA staff and other addiction and prevention specialists had to stop any education programmes ongoing at the time, unless they reorganised their education plans and adapted. In response to these developments, KETHEA Education department reacted quickly and drastically in reshaping their approach by adhering to distant online environment demands, where new kinds of professional training were becoming available to people confined to their homes. Having recently completed the development of the COMANITY EU-funded project, where nine partners worked together to pilot and develop a new programme for youth and social inclusion, KETHEA Education realised that it was then the time to inform KETHEA staff and professionals about the programme and important skills for them to acquire while working with youth and vulnerable groups. One of COMANITY's main objectives was to develop a new youth work and volunteering role – the 'Community Animateur'.
This new role aims to enable youth workers to 'step into the shoes' of marginalised young people, understand their needs, and provide a credible and trusted source of support to help them realise their potential and play an active role in improving their communities.
The Community Animateur's role is to bridge the existing gap between young people on the margins and 'mainstream' institutions by acting as a 'Social Mediator'. The COMANITY programme is like a toolbox, it includes: a Competence framework; an Online self-assessment tool for the CA competences; Online learning environment; a Methodology for participatory action-research; an Evaluation methodology; Recommendations to transfer the programme into other fields; Other useful resources for implementation; and Recommendations to have an impact at policy level. COMANITY is not just another programme about inclusion. COMANITY is a highly innovative programme. The perception of such an innovation can vary from one country to another, from one organisation to another. For instance, in some countries, youth workers do not know the theory behind what they do in practice, or some young people have never heard about emotional intelligence, and in these cases COMANITY brings novelty. But, that is not the main reason. The main innovation lies in the fact that the programme does not address an individual alone but rather it supports collaboration between the youth worker, volunteers and young people within their community. Community Animateurs come from the community, and are trusted by their peer group. Bearing this in mind, KETHEA Education released early April 2020 a call for an online participation to all KETHEA staff. 68 participants expressed their interest in attending this programme which lasted until the end of May 2020. Given the high response on behalf of the professionals, a second call followed, starting in July until mid September 2020, and this time the demand (268 applications) significantly outnumbered the available attendance capacity of the programme. They were professionals, from either KETHEA or the broader addiction treatment field, who were interested in taking part in this online training.
Thanks to sustained global efforts, the current pandemic has showed us that knowledge sharing and communications keep us together even virtually and that learning from others and our own previous experience is as essential as attending formal education.
This pandemic is not a dead end to our mission; rather an opportunity to reflect, adapt on the emerging needs and new priorities set for and by the professionals we care for.