Rely on voluntary actions to increase participation of vulnerable groups?
Simon Broek debunks some of the myths about vulnerable social groups and talks about the role of employers in upskilling low-skilled adults.
Vulnerable groups and employers
The idea that vulnerable groups are those outside of employment, is effectively debunked. As indicated in the recent stocktaking report on the upskilling pathways initiative, 61 million adults aged 25 to 64 (34 million of them in employment) are still low-qualified.
So, the workplace is where half of the low-qualified can be found. The workplace is also the place where most lifelong learning takes place, and the place which finances learning. The following diagram from this study clearly illustrates this: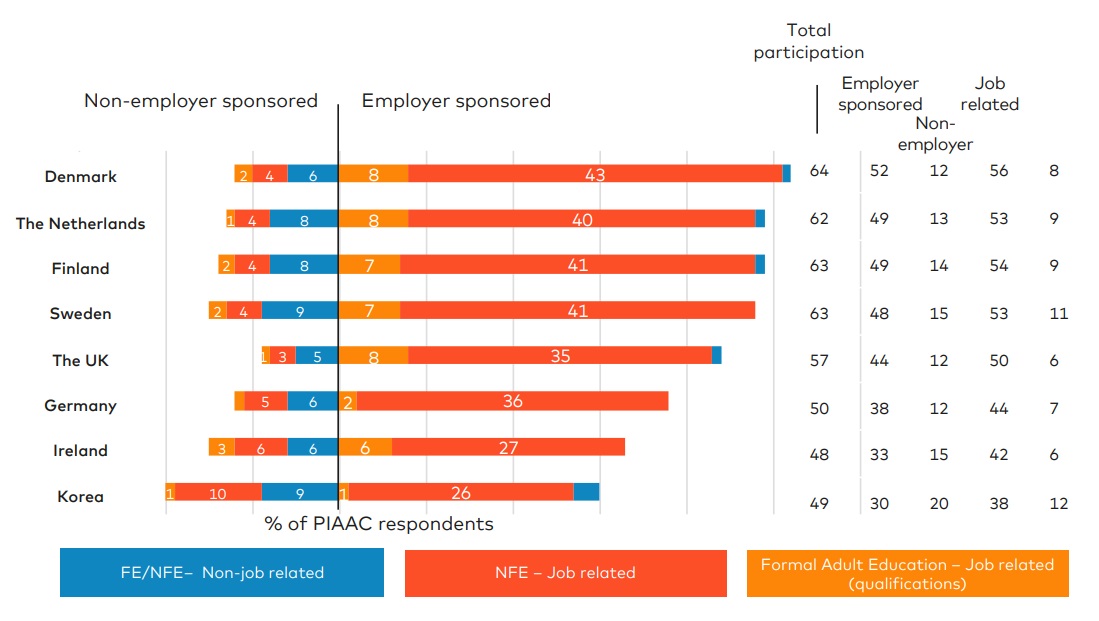 Sponsorship of adult education (in the Finnish Study on Structures to Support Continuous Learning – International Benchlearning; adapted from Desjardins 2017)
The workplace as the place for learning, especially for vulnerable groups
It seems that part of the solution to effectively reach out to vulnerable adults, is to support and stimulate companies to engage in training. As the Finnish study concludes, employers are responsible for sponsoring lifelong learning, but this is seldom stipulated in legislation, meaning that there is no obligation for companies to do so. Despite this lack of a legal framework, many countries are already establishing structures to empower companies to improve the participation rate of their employees in learning.
Need for both individual and collective action to stimulate learning while working
We increasingly start to realise that activating individuals requires both individual and collective measures. The key messages of the Adult Upskilling and Reskilling Conference organised in Bucharest in May 2019 emphasised this as well in these three key messages:
Key message 1: Given the scale of the challenge regarding upskilling and reskilling of adults and the budget constraints, financial instruments will gain more importance in the future; if well designed they could be very successful when targeting companies.
Key message 2: There is a growing need for upskilling and reskilling and developing skills, which can help individuals and employees to adapt, think creatively, interact in multicultural environments and act in cross-disciplinary fields.
Key message 3: There is a growing interest in the individual learning accounts. However, experts underlined that this is only one instrument to support lifelong learning and it should be embedded in a broader skills ecosystem and co-exist alongside other policy measures targeting employers, employees or job seekers.
This is also one the messages of the European Commission Report on Adult Learning in the Workplace: Ensure sustainable co-funding systems in which all see the benefit of investing in adult learning in the workplace (building block 6). This includes finding the financial schemes and accompanying measures that are able to attract employers and individuals.
Is this enough to improve vulnerable groups' participation in learning?
But is this enough or Iis this still too voluntary? Statistics show that employers'  engagement with learning differs according to the size of companies, as well as the qualification levels of employees. Larger companies offer more opportunities for learning to their employees and employers offer more training to higher qualified employees. Hence, employer-sponsored lifelong learning can further increase the gap between those who are in an advantageous position and vulnerable groups.
With the need to continue to learn to keep up with the technological developments on the one hand, and jobs increasingly becoming fragmented on the other hand, perhaps there is a need for clear learning rights for employees and not leave it to good intentions of companies to facilitate learning.
One could consider that engaging all people in lifelong learning is a collective obligation of the government, employers and individuals. From this perspective, one could ask whether there should be more emphasis on the obligation of employers to systematically support learning. In some countries (for instance France) this is already well-developed but could receive more attention in many other European countries. The Finnish study mentioned earlier for instance recommended to take the continuous learning viewpoint as a central part of the next government's social security reform.
---
Simon Broek has been involved in several European research projects on education, labour market issues and insurance business. He advised the European Commission, the European Parliament and European Agencies on issues related to education policies, lifelong learning, and labour market issues, and is Managing Partner at Ockham Institute of Policy Support.