Reading Becomes You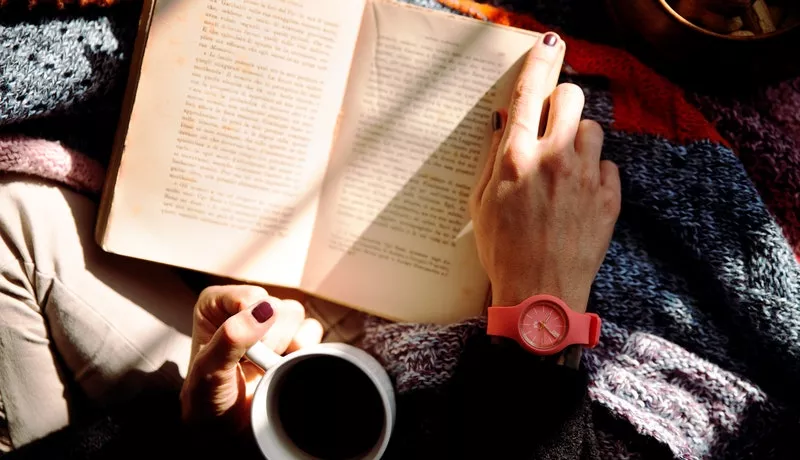 Epale readers are becoming fully aware of the importance of functional literacy as a basis for Adult Learning, but somehow it seems that when we discuss literacy we forget it has to do with two connected skills, reading and writing. Following her blog on the importance of writing skills, Satya Brink's second piece addresses reading. 
Why is reading important for you?
James Baldwin, the author said reading is a way to change one's destiny. Fake news?
Reading allows you to travel through time and space, while you stay in your chair and in the present. You can be lost in a book and never want it to end. It allows you to share the experiences of writers over thousands of years, showing how to react and feel in situations that may never occur in your own life. You can enrich your life, by learning from specialists and experts, explore different cultures, work through different ideas and explore an array of future options. You become aware of the world beyond your reach and learn the value of an open mind.
Reading helps you grow personally:  physiologically, cognitively, socially and psychologically. And also, professionally. How?
Research from Emory University, USA showed that reading a powerful book of fiction can make physiological neural changes which improve your brain functions. Each new memory drawn from a book creates new synapse connections and brain pathways improving your ability to recall other memories in your life.  Reading can even make you live longer. Researchers at Yale University, USA found that those who read books for three and half hours a week lived two years longer than their non-reading counterparts.
Your cognitive skills increase, too. Reading improves your focus and concentration. It develops your critical and analytical thinking to discriminate between misinformation and valuable knowledge. It stimulates your mind by improving your problem-solving skills. Read for understanding of the facts, the concepts and the ideas being presented because it broadens your knowledge and helps you to understand the views of others. To get the most out of reading, develop your skills of observation, deepen your memory and actively engage in analysis, reflection and integration.  
Reading books promotes emotional health as you experience a range of emotions. They can motivate you or even inspire you. As you read about characters in stories, you develop empathy or the ability to understand and share the feelings of others in different circumstances - to celebrate their wins and to share their pain. Reading at night can relax you and help you get a good night's sleep. Research at the University of Sussex, UK showed that even six minutes of reading can reduce your stress level by 68%. Reading can make you laugh (or cry) and bring pleasure to your day. The life knowledge and confidence you gain helps you to make better decisions and choices in your life.
Your social development benefits from reading. With a book to read, you are never lonely or bored.
You can communicate and build relationships with different types of people because you can articulate your ideas according to their needs and perspectives. It increases your vocabulary and demonstrates the use of turns of phrase, puns and idioms. Reading offers you a risk-free way to see how others use analogies, cadence and rhyme to describe a gripping experience or a logical line of thought.
Reading helps you to grow professionally, also, to deepen your understanding of your field, to help you keep up with new ideas, to integrate knowledge from related subjects, to analyze and integrate multidisciplinary information. You become smarter when you can practice newly gained knowledge and increase your own expertise. Use quotes with memorable phrasing and pithy ideas from well-known authors to confirm and reinforce your thoughts. You can manage the pace and breadth of your own learning through reading and build your human capital through your knowledge gain. Thus, you can not only demonstrate your marketable skills but also clearly explain them in words to potential employers.
In these ways, reading helps you to discover yourself and your potential. You could build your future by imagining what your life could become based on the knowledge gained and the growth you experienced by reading.
When is reading effective?
Be a demanding and strategic reader. Being widely read and being well read are not the same thing. Reading is a complex activity and consists of four hierarchic levels of reading with associated benefits for you. First, basic reading that makes you comfortable with the reading process during increasing periods of time. You can explore different genres. Second, systematic scanning increases your reading speed and helps you to identify key passages. Use this to determine the gist of content.  It is useful for a quick overview or to rapidly find a piece of information buried in the text. Third, analytical reading is more thorough to understand, to evaluate, to assimilate concepts and link ideas. It is like a dialogue with the author. The fourth and most comprehensive level is syntopical reading, where you read many authors on a related subject in order to compare their ideas for making meaning and constructing your own view of the topic. It is the means to comprehending the significance of a body of thought and to make your own contribution to advancing knowledge. This is essential, for example, if you are creating new digital knowledge for a professional blog or website.
How can you make reading benefit you?  
Successful people read for at least an hour a day. To obtain real impact, engage in serious reading whether it is a newspaper, poetry, or a short story.  Not an hour of tweets. You can choose what you read in digital or print form, books or magazine/e-zine articles. Read many genres - fiction (adventure, science fiction, novels); non-fiction (history, biography, humour, travelogues) or creative writing (poetry/lyrics, Play scripts/screen plays, interviews, book reviews). Read for recreation and pleasure but also for personal and professional growth. Read at different levels, look up new words and try them out. Make notes, review and use them. If a text is hard, do not give up. Meet the challenge by reading it in small chunks.  
Regular practice of the art of reading should be a source of joy and inquiry which is the reason it is a good habit that will serve you well throughout life.  No one else can do it for you but you can manage your own journey of discovery to your destiny.
Satya Brink is currently an international consultant, specializing in Educational Research, Policy Analyses and Strategic Policy Advice.  She was the director of the National Learning Policy Research team of the Canadian Government (2003-2010). She was also the co-chair of the OECD Governing Board for PIAAC, also known as the Survey of Adult skills. She is widely published and she has presented research papers and key note addresses to international academic, government and professional audiences in five continents.