Blog
Promoting tolerance and understanding – the unique role of adult education
01/03/2019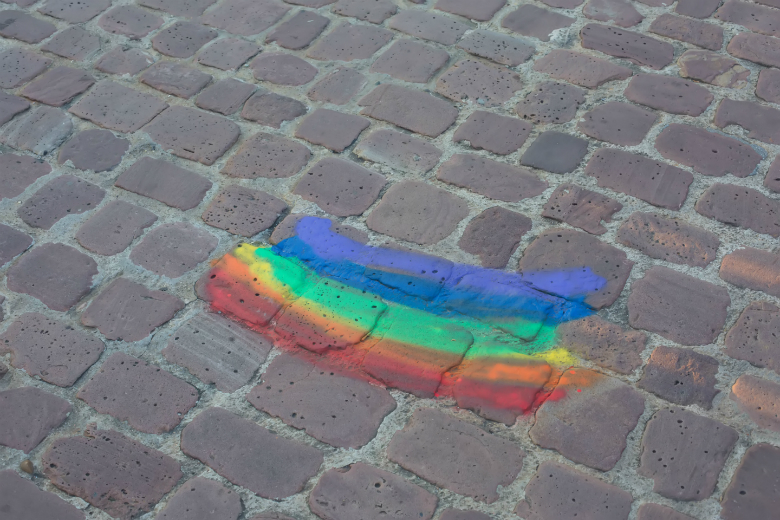 Several years after the Paris Declaration on citizenship and human rights, EPALE Thematic Coordinator Andrew McCoshan looks at the role adult education can play in promoting values of freedom, pluralism and non-discrimination.
Stepping up the pace
It is just over two years since EU Education Ministers adopted the Declaration on promoting citizenship and the common values of freedom, tolerance and non-discrimination through education. Last year, a Eurydice report revealed that while Member States had taken action to implement policies across education sectors, adult education had been relatively neglected. By that point adult education had only been targeted in the 3 regions of Belgium, Bulgaria, France, the Netherlands, Sweden, England and Wales.  Clearly, there is huge scope for adult education to step up the pace in this area.
'Declaration on promoting citizenship and the common values of freedom, tolerance and non-discrimination through education' – Paris, March 2015
The Declaration defines common objectives for Member States and urges the EU to ensure the sharing of ideas and good practice with a view to:
Ensuring that children and young people acquire social, civic and intercultural competences, by promoting democratic values and fundamental rights, social inclusion and non-discrimination, as well as active citizenship.
Enhancing critical thinking and media literacy, particularly in the use of the Internet and social media, so as to develop resistance to all forms of discrimination and indoctrination.
Fostering the education of disadvantaged children and young people, by ensuring that our education and training systems address their needs.
Promoting intercultural dialogue through all forms of learning in cooperation with other relevant policies and stakeholders.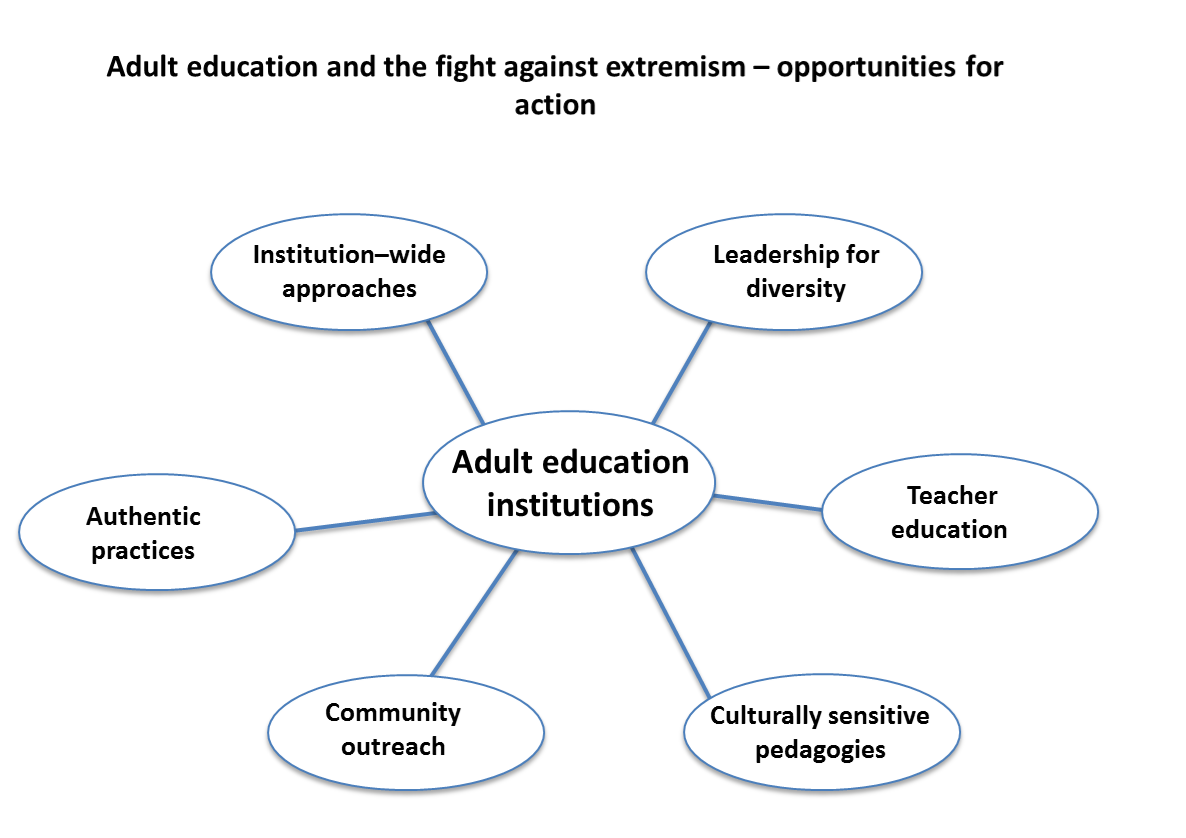 Adult education is well placed to make a unique contribution…
Although evidence is lacking as to what works in this field and why, the report produced by the European Network of Experts on Social Aspects of Education and Training (NESET II) offers important insights. Whilst the report deals mainly with school education, its conclusions and recommendations can be used to generate suggestions for ways in which adult education can engage with the agenda set in Paris:
Develop institution-wide approaches: Adult education institutions can provide unique locations where people from diverse communities come together. They therefore have the opportunity to make a distinctive contribution by creating atmospheres that celebrate diversity across institutions as well as in individual learning settings.
Create authentic practices through collaboration and partnerships with community groups and the third sector: It will be difficult for adult education institutions to build atmospheres and approaches to diversity that are authentic without the help of local community groups. In addition, third sector NGOs can be an invaluable source of expertise on which adult educators can draw.
Reach out to every community: Adult educators have the opportunity to promote cohesion by ensuring that their programmes are accessible to people from all communities. This may require new activities to reach out into communities that would not normally participate in formal education, using both physical outreach and social media platforms.
Making sure that pedagogies are culturally sensitive: As well as reaching out to communities, adult education institutions can review their curricula and pedagogies to make sure they are attractive to people from a range of cultural backgrounds to reflect the fact that different communities may learn in different ways.  Active, participatory pedagogies, cooperative education and peer learning may be appropriate.
Effective leadership for diversity: As the NESET II report points out, there is a need for greater diversity in senior management in education across Europe: there are not enough people from minority communities in positions of authority. Existing leaders also need to be supported with appropriate management training to help create positive approaches towards diversity.
Effective teacher education: Adult educators need to be appropriately trained to deal with diversity in the learning settings in which they work by using new culturally sensitive pedagogies. They also need training in how to handle prejudice and intolerance which they may come across at any point during their working day.
…but challenging questions remain
There is no doubt that these opportunities also raise new questions for adult education:
The focus of much adult education is on the development of improved linguistic, mathematical and digital skills for adults who, for whatever reason, did not acquire them sufficiently at school. But is it now just as vital that citizenship is seen as a 'basic skill' in adult education?
If citizenship is regarded in this way, what do we do about it?  There are good examples where education in human rights and tolerance has been integrated into migrant education programmes (e.g. Norway's Menneskerettighets Akademiet - Human Rights Academy). But how realistic is it to expect citizenship to be incorporated into all basic skills education for adults? What obstacles might be encountered?
---
Andrew McCoshan has worked in education and training for over 30 years. For more than 15 years he has conducted studies and evaluations for the EU, and before that was a consultant in the UK. Andrew is currently an independent researcher and consultant, an ECVET Expert for the UK, and Senior Research Associate at the Educational Disadvantage Centre at Dublin City University in Ireland.