Warsaw for Intermediate Learners i. e. museum education used in language teaching and cultural experience exchange
When you talk about contemporary museum education, the term 'participatory museum' immediately comes to mind. In museum context, in short, participation is co-creating interpretations, sharing experiences and combining them in order to jointly go through an exhibition. In this exchange of feelings, cultural and historical experiences, visitors and the museum, including its employees and educators, are involved. At the same time participation in a museum is not only interaction of a visitor with elements of an exhibition or interaction among visitors themselves, but above all it stands for offering a completely new role to the visitor, which is the role of an author. The visitor, taking independent actions and acting in cooperation with other visitors, becomes a co-creator of the contents presented by the institution (Simon N.: 2015, Laboratorium muzeum. Społeczność, Warszawa, Muzeum Warszawy 2015, p. 26).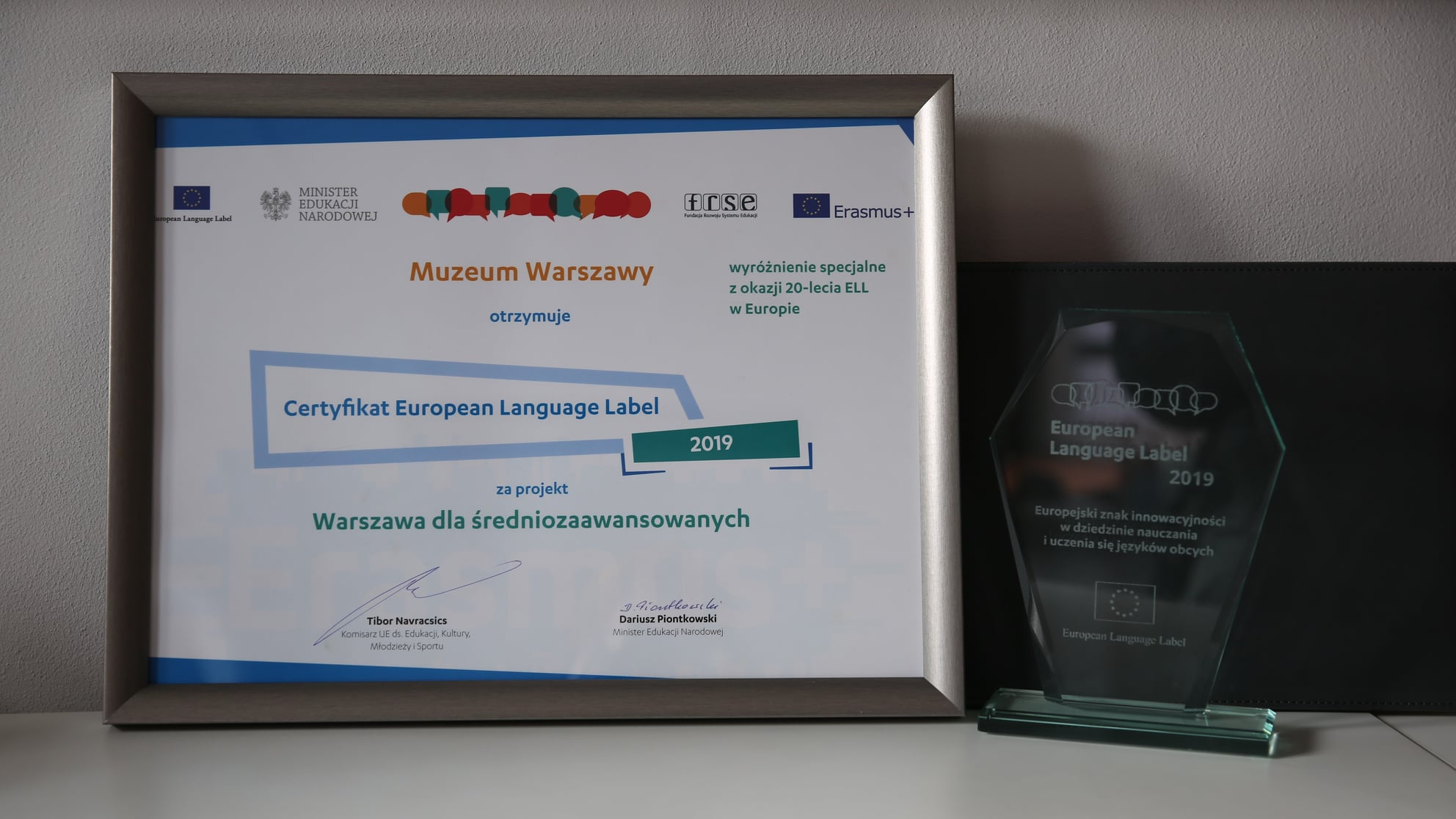 The project received a certificate of merit on the occasion of the 20th anniversary of European Language Label in Europe            
The visitor-author uses the museum and its exhibitions to creatively seek answers to the questions that bother him/her, and at the same time creates intentional social relationships with people with similar interests and views, creates a platform for discussion and becoming acquainted with the new and unknown, and to develop his/her creativity.
These processes would not have been possible without communication, which allows questions to be asked, views to be exchanged and social bonds to be created. For effective communication to take place, it is essential to create conditions for active language interaction. And this is why the Museum of Warsaw has developed the project entitled Warsaw for Intermediate Learners.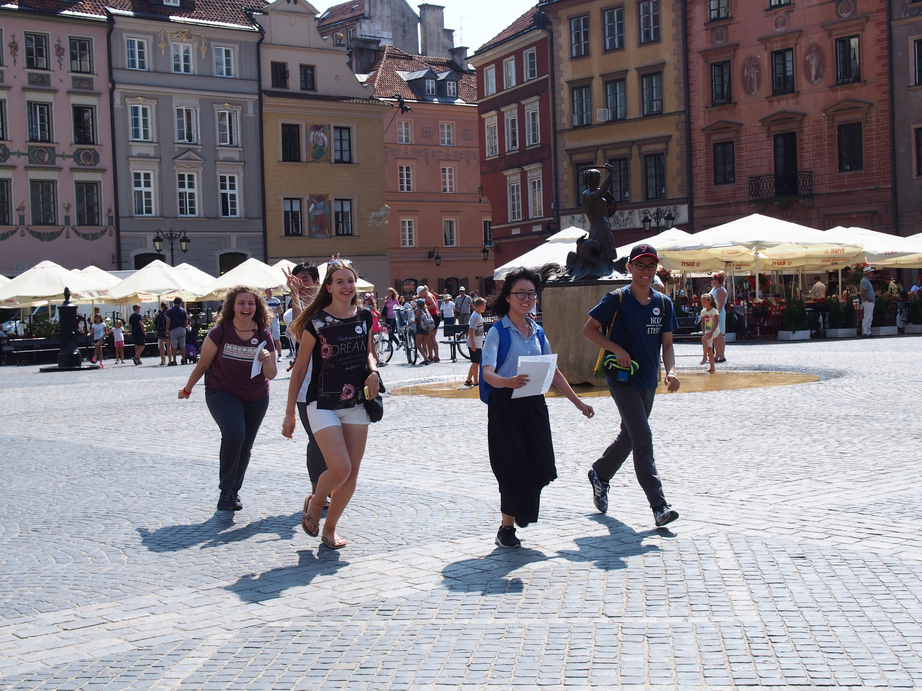 Street games played in Warsaw's Old Town
THE BEGINNINGS - or how to turn a passion into a project
The project stems from the combination of two professional passions, which are: working in a museum library and long experience in teaching languages, combined with interest in all that is different and culturally diversified, and from the willingness to use the unlimited potential of the collection housed in the Museum of Warsaw in order to present it to language instructors and students.
The Museum of Warsaw is an institution seated in a nice-looking and historic building in the heart of Warsaw's Old Town. The museum's storage features over 230,000 exhibits, which could illustrate and stimulate any discussion a language teacher could ever dream of.
Its unusual interior forming a labyrinth of 21 thematic rooms, some of which are visible while the rest of them are hidden from sight, offers encouragement to organise interesting language classes and museum games. Those thematic rooms often reflect individual lexical topics discussed during language classes, regardless of the language taught. "The Costume Room" and an interesting collection of clothes and accessories offering a review of Warsaw fashion from the Middle Ages up to now is part of "The Things of Warsaw", the Museum's permanent exhibition. It also includes "The Room of Warsaw Clocks" housing exhibits showing different times, ticking and striking the hours in their own unique way, and "The Room of Silverware and Plated Silverware" which presents elegant objects used in Warsaw households. "The Room of Portraits" contains the likenesses of well-known and anonymous Warsaw inhabitants whose age, estate and profession were very different. Some of the rooms are a tempting place to discuss selected grammatical issues. "The Room of Warsaw Views", "The Room of Postcards" and "The Room of Photographs" offer an opportunity to use the past tense to compare the capital city of yesterday and today, or practice the conditionals to imagine what Warsaw could have been like if not for its war damage. The exhibition would not be complete without "The Warsaw Data" which is a collection of visually attractive models, data and statistics presented in a modern way. Learning numerals under the beautiful medieval cellar vaults makes a lasting impression on language students.
The Museum of Warsaw has nine branches, including museums of each city district, to mention the Praga or Wola Museum of Warsaw, thematic museums such as the Heritage Interpretation Centre, the Museum of Pharmacy, the Museum of  Printing, the Palmiry Museum - Memorial Site, and the Barbican in the Old Town district. Each of their permanent and temporary exhibitions offers various tools, which are very useful during classes. They offer multimedia screens, newsreel-stylised short films (students can not only practice listening exercises, but also explore yesterday's realities and discuss them), or the Spoken History Archive (featuring recordings of voices of people whose age, pronunciation and manners of expressing themselves are different).
Moreover, the Library of the Museum of Warsaw housing a collection of books describing just about every aspect of the city in several languages is a wealth of knowledge concerning languages and history. Thanks to a fundamental transformation of the Museum and its library in 2013-2017, the project gained a reading room - a new multimedia classroom equipped with a whiteboard.
PROGRAMME VS. COMPETENCES 
In designing the programme and determining the scope of material used during classes - in other words in determining concrete objectives to be achieved thanks to the project – the author was guided by the Common European Framework of Reference for Languages and chose those competences and communication topics which can be used and discussed in the museum and library environment.
First of all, the focus is on the development of individual language competences (asking the way, buying a ticket, borrowing a book, reading and understanding announcements and texts at the exhibition, discussing new facts, experiences and impressions) indispensable for making full use not only of the offer of this museum, but of any Polish museum. This was all the more important, as the project had a second albeit not a secondary objective: to encourage foreigners to visit Polish and Polish-language cultural institutions and provide them with comfortable conditions based on safety and trust in which to learn and exchange experiences.
Apart from the most important language competences, the museum and library also serve the development of sociolinguistic and pragmatic skills. As the Museum of Warsaw boasts of a very extensive offer, participants in language classes can try their hand at playing the part of a visitor, reader, customer at the museum shop, café or cinema who wants to learn something new about Warsaw, check the showtimes of a film or buy a nice souvenir from Warsaw.
But language competences are not everything. If a participant wants to tell their family or friends about their impressions of Warsaw, language competences are not enough, no matter the language they speak. They need to know something about the city. They also have to know where to find such information. In the case of the project, general competences are important not only from the perspective of fluent and extensive communication but also because of the participative character of museum-based education focussing on the exchange of cultural and historical experiences and on building communities based on common ideas.
The skill of gaining information in foreign language environments is extremely useful. The absence of a strategy for obtaining information coupled with insufficient command of the language of the surrounding community may cause not only lots of stress, but also quite a number of everyday life problems. 
And last but not least - explicit knowledge and heuristic competences. There is no way to separate language from culture and culture from language. The fact that a language is embedded in its culture provides new contexts, information and reflection concerning not only the mother tongue but also foreign languages. What does "embedded in culture" mean? - it means references to literature, art, customs, history as well as links with one's own culture. It seems there are no better places for that than the museum and its library.
COOPERATION
The project entitled Warsaw for Intermediate Learners is the fruit of cooperation between the Museum of Warsaw and the POLONICUM Centre of Polish Language and Culture for Foreigners at the University of Warsaw. In 2017, the author of the project offered cooperation in the preparation of a cycle of classes focussing on Warsaw-related topics intended for participants in summer courses organised by the University. The idea that classes for foreigners should be held mainly in Polish in line with their level of language proficiency originated at that time.
Later on, the Museum of Warsaw enlisted the cooperation not only of its own branches, such as the Korczakianum Centre for Documentation and Research, Praga Museum of Warsaw or Heritage Interpretation Centre, but also of some neighbouring cultural institutions based in the Old Town district or in its immediate vicinity, for example the Library of the Museum of Literature, Janusz Tazbir Library of the Institute of History of the Polish Academy of Sciences and the Library of the Central Archives of Historical Records.
TYPES OF PROJECT ACTIVITIES

                  
Classes based on content and language integrated learning
At the beginning, museum lessons based on content and language integrated learning were the basic activity in the project. Preparing a scenario was quite a challenge at the time as the museum was visited by very large groups whose level of linguistic skills was very different from what they thought it was. As those conditions required the presence and involvement of a person to provide instruction, classes were given as the interactive visiting of the exhibition with a language instructor doubling as an educator with whom groups solved tasks in carefully selected exhibition rooms. Visiting the exhibition in a group also encourages discussion, exchange of experiences and - in the case of museum employees - it is an opportunity to see the impression that the exhibition makes on people representing other countries and cultures.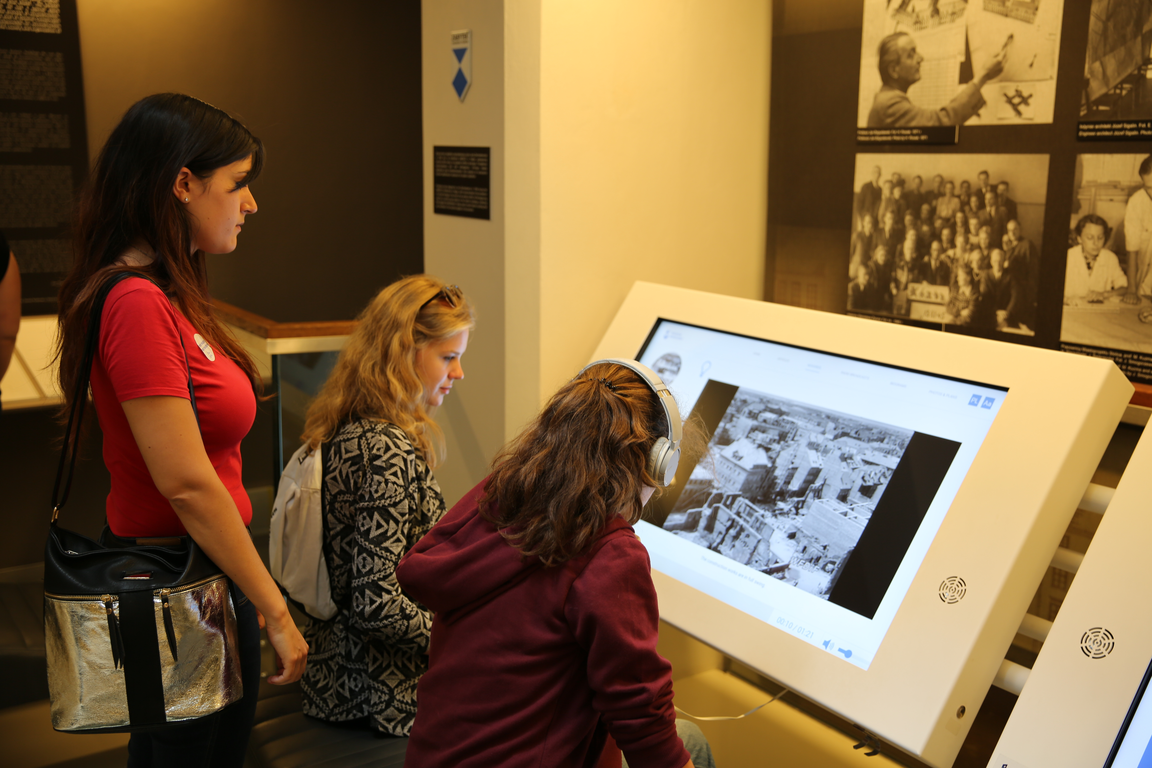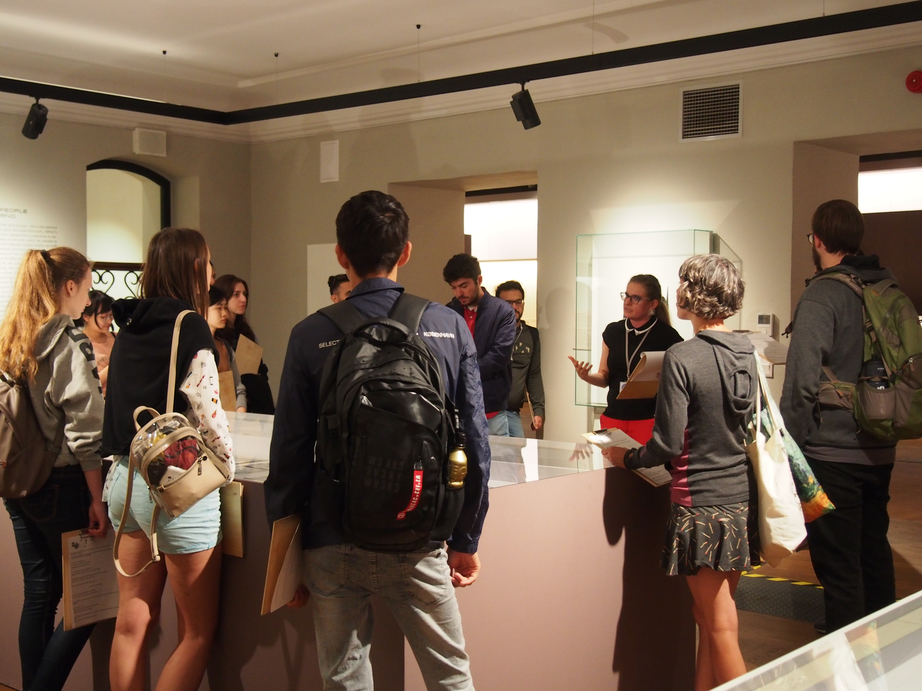 Classes based on content and language integrated learning
In 2019, when work on didactic materials related to Warsaw legends began, the lessons conducted in the reading room were also introduced (sometimes supplemented by an educational walk in the Old Town). The original purpose of the classes was to test the texts and language exercises prepared for publication. However, thanks to the positive evaluation of the lessons among participants and teachers, they have been permanently on our offer. These are, for example, "Wars and Sawa = Warsaw" (level A1 / A2) or "Legends of Warsaw" (B2 / C1).
The subject matter and scope of the material prepared for 90-minute classes is always discussed with a teacher who works with the participants every day, and is adapted to their level of language proficiency.
Street and museum games
Street and museum games offer lots of opportunities to introduce new historical and cultural contents while being an attractive way to revise lexical and grammatical issues. Moreover, games allow their participants to make use of information strategies and decide which of their strategies are the most effective and fastest in a concrete situation (getting information from the Internet, asking a passer-by or a museum employee, looking for information in leaflets, information boards, etc.).
The Museum currently offers three street games: "The Legendary Old Town" (B1/B2 level), "The Old Town - a Cultural Way" (B1/B2 level) as well as "On the trail of the Warsaw Legend" (B2/C1). These activities last from 90 to 180 minutes (depending on the topic and the number of participants). Participants are divided into groups and are given maps with marked places to visit as well as question sheets and - possibly - an English language glossary. The winner is given museum gift shop items, tickets or publications and all participants - small gifts prepared for the needs of the project every year (such as mobile phone cases, reflective items). The games are supervised by employees of the Museum of Warsaw who - if need be - provide support to participants at each stage.
Games based on legends require additional elements - reading with comprehension and creative writing. Participants must read specially adapted fragments of legends and complete related tasks.
The principles of museum games are very similar. After a short introduction and having had their tasks explained mainly in Polish, participants are divided into groups. Each group is given individual colour badges (owing to this solution employees of the Museum know that those persons are to be spoken to only in Polish), route and a task sheet with a glossary in English. Groups visit the museum following their routes and execute tasks linked to selected facilities or places (library, cinema, café, etc.). Having finished their game, groups meet in the library where an employee verifies their answers and students do additional lexical exercises while waiting for their results. Everyone receives small gifts and the winner gets a prize.
Museum game
Methodology workshops for Polish language teachers from beyond the Eastern Border
The project also involves methodology workshops for teachers who provide Polish language classes mainly in Ukraine and Belarus.
In 2016, the Museum of Warsaw published "Warsaw Legends. An Anthology", winner of many awards not only in Poland but also abroad. It is this publication that served as the basis for many activities for children, youth and adults, implemented as part of the Warsaw for Intermediate Learners project. Educators share their experience with teachers during 90-minute-long workshops when participants play the role of their own students and go for an educative walk in the Old Town following the trail of legends (30 minutes), take part in workshops for primary school pupils (30 minutes) and then they meet in the reading room to see how to organise street games and classes involving legends and based on content and language integrated learning.
TEACHING MATERIALS
The first project publication entitled "The Legends of the Old Town in Warsaw. A Selection of Texts with Exercises for Learning Polish as a Foreign Language" is due in 2019. The book contains adapted texts of legends and information about their alleged locations, complete with sets of lexical and grammatical exercises set in Warsaw's realities. There are also glossaries in Polish (synonyms), English, Russian and Chinese at the end of each unit. The publication also includes a bank of ideas inspiring teachers and language instructors to work with exercise books and legends as such.
The graphic design of the publication echoes the anthology of legends previously published by the Museum of Warsaw. The exercise book will be published in the fourth quarter of 2019.
SUMMARY
The Warsaw for Intermediate Learners project was created thanks to a new approach to the potential that the Museum of Warsaw offers as an institution taking care of Poland's cultural heritage and using its own collections in a very innovative way going beyond its statutory activity. Combining diversified competences of the project authors and its implementers experienced in language education and museum-based learning guarantees the attractiveness of the project.
Classes provided as part of the project allow their participants to raise their linguistic, cultural and information competences, which contribute to better integration in Polish-language communities, provide opportunities for improving general knowledge and reflecting on one's own place in culture and history. They also encourage people to use the wide range of activities that is offered by museums, libraries and other cultural institutions understood as safe and friendly places aware of linguistic challenges faced by foreigners in Poland.
At the same time, hosting such a large number of foreigners from all over the world allows curators and educators to look at exhibitions presented in their museums and at their work through the prism of diverse cultural and historical experiences.
In the years to come, the Museum of Warsaw is planning to prepare a series of teaching materials for teachers and language instructors of Polish as a foreign language, which will be based on employees' Erasmus+ Action 1 experiences gained in museums and libraries abroad.