Peer tutors with immigrant backgrounds as sports ambassadors
Taking part in sports and physical activities has a positive impact on individual well-being and energy levels.
Encountering people who speak different languages and come from different cultures but have the same needs has become an everyday occurrence. When looking at recent headlines, we can see that there are hundreds of thousands of people in the world who have had to leave their homes for various reasons such as wars, natural disasters and the uneven distribution of well-being.
Crises encountered over the course of one's life, such as immigration and integration into a new country can destabilise the well-being of individuals and families, making it more difficult to control one's own life. Operating environments offered by physical activity and sports can, at their best, support social integration, equality and mutual learning between members of society, providing a solution for overcoming these challenges. This article is based on a qualitative case study, the purpose of which was to find answers to how adult learners from immigrant backgrounds find taking part in a physical activity or sport-related hobby has influenced their social integration in Finland.
The theme for research and the theoretical framework were outlined around the experiences of individuals who have taken part in the peer tutor training of the sports and fitness industry. The study examined the nine adult learners who took part in the training organised at Kisakeskus Sports Institute in the spring of 2014, six of whom were female and three of whom were male. The participants were originally from Russia, Somalia, Iraq, Vietnam, Sri Lanka and Turkey. The profession and religion of the participants as well as the number of years they had lived in Finland were excluded from the results of the study as the purpose was to focus on the significance of experiences, not on finding similarities in the characteristics of the participants. The research data was collected through means of free-format writing.
Taking part in physical activity makes life more beautiful.
In Finland and abroad, a number of studies related to the physical activity and social integration of immigrants have found that most immigrants feel physical activity and sports have helped them learn the language and the culture, form social relationships, find employment and, naturally, improve their overall health and well-being. This study also indicates that taking part in physical activity seems to support social integration in Finland in various areas of life. The participants particularly felt that continuing a sport-related hobby or a physical activity originally started in their previous home country was significant in terms of integration as taking part in physical activities has promoted their health and well-being, helped learn the Finnish language and culture and supported finding employment and education in the sports and fitness industry.
Taking part in physical activity has strengthened the forming of social relationships and, most importantly, the responses indicated that helping other immigrants and guiding them towards physical activity is deemed meaningful and important. Concern for other immigrants, especially those who have not had previous sport-related hobbies or physical activity of any kind, was a characteristic found in several writings. The participants hoped that other immigrants could have similar types of positive experiences with sports and physical activity as they have had. Taking part in sports events with one's own team or group of friends, for example, was considered an important activity that particularly increases energy levels in everyday life. The support received from a sense of community in one's immediate and extended family was also considered a significant factor in social integration into Finland.
The writings of the participants stated that physical activity is relaxing, improves one's mood, prevents depression and influences the energy needed in everyday life and the experience of living in Finland. The responses also revealed that when a person has the chance to exercise regularly, life feels more beautiful and calm. Physical activity has helped the participants learn new words and any language barriers have been overcome with body language and the use of modelling techniques. In many cases, the participants had learned their first Finnish words on the playing field. According to the responses, additional training and volunteer work in the sports and fitness industry had clearly strengthened the professional identity and, as a result, social integration in Finland. The participants stated that their hobbies and participation in physical activity inspired new plans and dreams about completely changing careers, for example, or working with people in an exercise-related environment in the new home country.
Peer tutors of sports and fitness industry as experts in experiences
The goal of pedagogy related to physical activity in the Finnish school system is to teach people to exercise but also to teach by means of exercise. Taking care of one's well-being and having positive experiences through physical activity and sports supports the creation of a physically active lifestyle from childhood to old age. Open-minded participation in sports and physical activity can help us all grow and have fun at the same time. Pratt describes the places of such encounters as contact zones. The contact zones offered by physical activity and sports can, at their best, act as an arena of intercultural interaction, as social activity and cooperation enriching and benefiting both parties. As learning something new. As a win-win situation.
As athletic people, I'm sure we all agree that there are plenty of such contact zones. The numerous arenas provided by physical activity and sports enable multicultural encounters and dialogues through which we can all learn new things about various aspects of life. Things that are significant for social integration in Finland and the well-being of Finland. Things that are meaningful for us all. Simple, isn't it? Physical activity and sports enable dialogues that promote learning processes. This is an opportunity for all of us working in the sports and fitness industry as we can utilise socially aware pedagogy to create a positive atmosphere, a contact zone and a learning environment that promotes the experience of being included and releases tensions between social layers.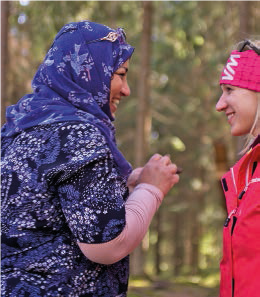 Zacheus (2010) also states that taking part in physical activity and sports is considered purposeful due to the related factors influencing language skills, health, employment and social relations, in other words the overall integration in society. However, the experience of teaching and learning is always extremely personal and strongly connected to one's previous life. It can, therefore, be assumed that the personal, positive sports-related experiences of those who took part in the training have promoted their participation in training that particularly has to do with physical activity. We can also assume that these positive experiences encourage them to act as peer tutors in their own ethnic communities, thereby acting for the benefit of individuals but also the entire community.
According to Jandt (2013), new things can be experienced and learned in both a positive and a negative sense which, as the best and most successful result, enables one to mix both the familiar and the new culture and taking both into consideration. Accepting and being aware of the situation lie at the centre of the process, despite potential physical or even psychological symptoms that are often caused by comparisons resulting from differences between cultures and the attempt to rank things in an order of preference.
Such duelling between previous and current circumstances may be quite exhausting. Consequently, from the perspective of encouraging physical activity and lifestyle consultation, it is extremely important to strengthen the person's grasp of their own health and the awareness of the positive impact of self-care. Even a small change can be substantial and pivotal for being able to handle one's own health and everyday life. Pleasant activities, a sense of achievement in everyday and recreational situations and being accepted widely increase the feeling of being included, boosting one's self-esteem.
In light of this study, a peer tutor who has undergone a personal integration process can act as a type of expert of experiences and a neutraliser between two or more cultures. They have the ability to understand the perspective of another immigrant and the skills and will to help others with their challenges and problems. The more a person acting as a peer tutor feels that participating in physical activity has helped themselves, the more likely they are to recommend it to others as well. A peer tutor has the chance to promote the common good, act as an ambassador of physical activity and neutralise cultures in their own community. Studies show that positivity experienced even in a small group, a game club or a walking group can multiply itself over and over again. The chance to have a hobby, participate in training or education and find a job guarantees a healthy, happy person. The successful social integration of each individual is a victory for the entire society, not only in terms of health and well-being but also in terms of productivity and competitive capacity in working life.
Writer Nina Eränpalo worked as a PE teacher in Kisakeskus Sports Institute between 2003 and 2015. At the moment, she is living in Abu Dhabi with her husband who works in the field of education. Eränpalo works as a freelance writer, teacher at the Finnish school and planner and educator of physical activity.
Text: Nina Eränpalo, Images: Nora Eränpalo
References:
Eränpalo,T & Karhuvirta, T 2012. How to make a better world – A study of adolescent deliberations in a problem-solving simulation. Nordidactica – Journal of Humanities and Social Science Education. Nordidactica 2012:2 ISSN 2000-9879. The online version of this paper can be found at: www.kau.se/nordidactica
Jaakkola, T., Liukkonen, J., Sääkslahti, A.(toim.) 2013. Liikuntapedagogiikka. PS-kustannus. Opetus 2000. Juva.
Jandt, F. E., 2013. An Introduction to Intercultural Communication. Identities in a Global Community. Los Angeles: Sage, 308 - 335.
Laine, S.(2012). Young Actors in Transnational Agoras - Multi-Sited Ethnography of Cosmopolitan Micropolitical Orientations. Helsingin yliopisto, valtiotieteellinen tiedekunta, politiikan ja talouden tutkimuksen laitos. https://helda.helsinki.f i/bitstream/handle/10138/29314/youngact. pdf. STM 2013.Sosiaali- ja terveysministeriön julkaisuja 2013:10. Muutosta liikkeellä!
Valtakunnalliset yhteiset linjaukset terveyttä ja hyvinvointia edistävään liikuntaan 2020. Helsinki 2013. 62 s. http://www.stm.fi/julkaisut/nayta/-/_ julkaisu/1864597#fi Viitattu 8.10.2013. Turku, R. 2007. Muutosta tukemassa. Valmentava elämäntapaohjaus. 2.painos. Edita Publishing Oy. Keuruu 2007.
Zacheus, T. 2010.Liikunnan ja urheilun merkitys maahanmuuttajien kotoutumiselle. KasvatusAika4(2)2010,203-235. http://www.kasvatus-ja-aika.fi/site/?page_id=276. Viitattu 15.8.2014.