Olivera Markovic: knowledge isn't about knowing, but about sharing!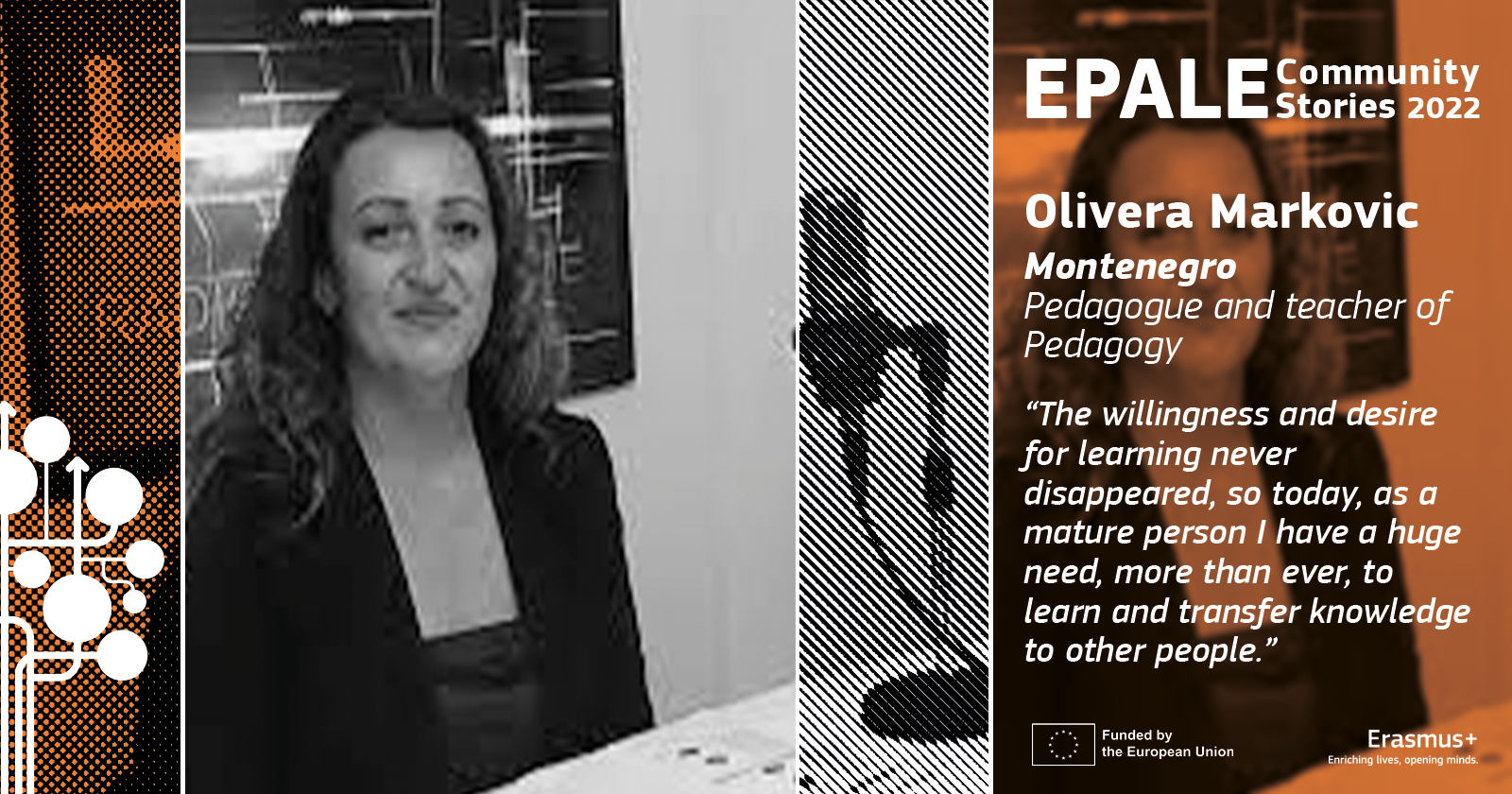 Short bio
I am a teacher of pedagogy and I work as a pedagogue in elementary school. In addition to my primary job, I also work in adult education because this school is a licensed adult education provider. Therefore, I provide career guidance to children and adults so as to help them achieve their goals in the future. So far, I have published several texts and manuals about learning and professional development.
My story
"Knowledge isn't about knowing, but about sharing!" Jovan Jovanović Zmaj
My oldest memories of learning date back to my early childhood, before elementary school. This learning refers to my grandparents who had an enormous impact on my achievements and success in both my professional and personal life. I feel very happy and emotional when I remember those magical moments, which even make the images from childhood come back to life: Hansel and Gretel, Cinderella ... and myself, lying on the bed and carefully listening to my granddad while he read to me with patience and ease.
The willingness and desire for learning never disappeared, so today, as a mature person I have a huge need, more than ever, to learn and transfer knowledge to other people.
The need to improve my own knowledge and skills has stemmed from my discoveries and beliefs that knowledge is a power and force, and that it's the only fortress not conquered by the "enemy". An educated man is strong, full of self-confidence and trust in themselves, but also trust in other people.
Very early in my every-day job, I was assigned to provide support to adults, primarily my colleagues, in their professional development. Through this role, but also through the training I attended via numerous professional seminars, I became an adult educator. When my school obtained accreditation for adult education provision, my engagement obtained a new dimension and my role in this whole process become even greater and more important.
My main motive to support people in their professional development is seeing the happy "faces" of those who have managed to attain their goal and perhaps solve the basic life issue of employment.
My working day is over and accomplished when I have completed my work assignments and when I am ready to dedicate time to myself and my family.
Being an adult education specialist makes me feel great for each action and activity in the field of education which contributes to the reduction of the gap among people, predominantly among the educated and non-educated. I think that each person was born for "something" they can and know how to do. They only need equal opportunities and support to find "themselves".
It's very important that we all know what we want to do and that we know how to do it. When we provide a sincere response to this question and choose an appropriate vocation for ourselves, then it becomes clear that knowledge, i.e. education, is the most powerful human weapon. I am totally certain that I possess "power", since I want to continue learning and improving myself throughout my life, since it is my life choice.