OER: Designing Successful Digital Basic Skills Programs for Adults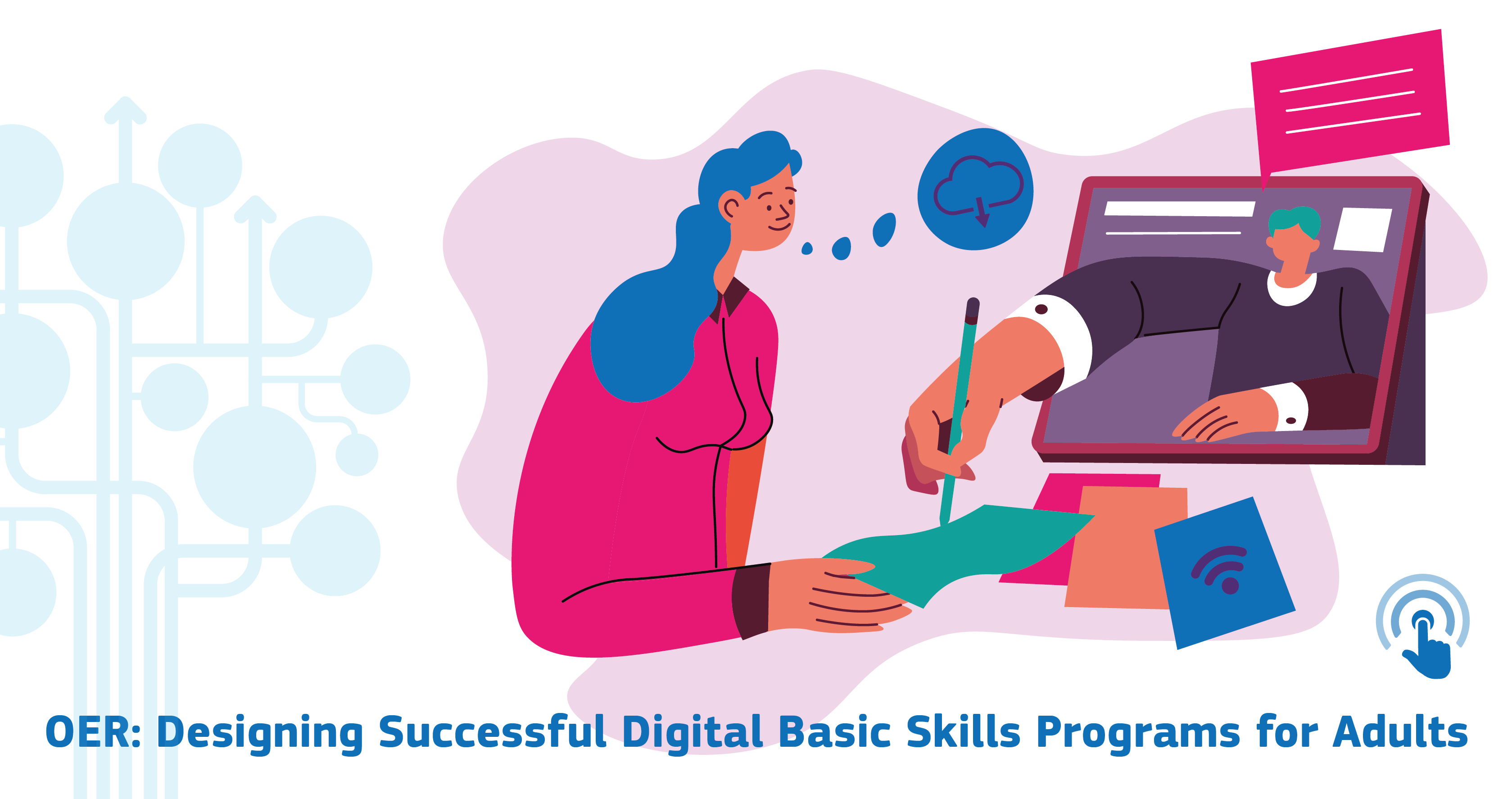 Adult educators and basic skills practitioners, as well as other teachers have all experienced a sudden need to shift to an online environment when COVID made classroom-based learning programs impossible. Although it has long been discussed how to build online learning opportunities for adults, it is still not evident how to do so when it comes to adults with basic skills challenges. This OER attempts to outline some of the main considerations for course designers that could help in making their courses more accessible and meaningful to their adult learners who have difficulties in literacy, numeracy, digital skills etc. The OER focuses specifically on blended learning and presents different design models, content-related perspectives, and good examples from practice.
Table of Contents
Compass to course design

Planning course content

Educators' professional competences

Putting learner support in place.
The ever-increasing need for digital solutions in adult learning has motivated the emergence of many new initiatives that take online learning environments into adult learning institutions, workplaces, and into homes as well. It is, however, essential to dedicate special attention to adult learners who may lack basic digital skills, have challenges in literacy, numeracy to make sure that they too can successfully complete their learning online.
The current OER aims to present some fundamental considerations to course design and content, professional competencies of trainers, and a set of recommendations regarding measures that helps learners on their journey. Online learning programs present a wide range of methodological, technological, and didactical approaches and solutions, which can have a diverse focus. In the current context, blended learning design is taken to the centre of an investigation to better focus on different models and to be able to discuss them in a more detailed fashion. Additionally, without arguing against the efficiency of fully e-learning based adult learning programs, the point is being made that blended learning programs tend to fit more to the needs of adults with basic skills challenges.
The recommendations, applications, and examples taken from the literature and practice are not set as exclusive models for efficient learning programs but are promoted to have an angle that presents certain added value to the chosen target group (i.e. adult learners with basic skills challenges). Let us know if you have come across other interesting examples for successful adult basic skills initiatives in the comment section!
Compass to course design models
This section is dedicated to design-related perspectives. First, the potential benefits of blended learning programs are outlined which is followed by a presentation of different definitions. Then, various models of blended learning programs are introduced and, finally, some considerations are presented to help instruction designers take the initial steps toward planning the learning program. At the end of this section, Michael Thiel from the German Adult Education Association (Deutscher Volkshochschul-Verband) presents their online learning platform i.e. VHS Lernportal.
Why bother?
Blended learning programs can have a series of benefits. In a recent (2020) publication by Rosen, D.J. & Vanek, J titled The What, Why, Who and How of Blended Learning for Adult Basic Skills Learners the following reasons were listed to argue for blended learning program design:
inclusive: "it enables programs to provide educational opportunities to learners not previously reached"
central to basic skills: "has been shown to be more effective for adult basic skills learners than only face-to-face or only online learning"
more efficient: "extends learning outside of classes or tutorials so learners can make progress more quickly"
integrative: "provides a way for learners to review what was covered if they need reinforcement, or to "make up" missed classes"
flexible: "supports flexible programming that helps learners persist"
motivating: "makes home assignments more convenient and appealing"
digital: "creates opportunities for learners to build digital literacy and online learning skills"
transparent: "affords easier, systematic monitoring of learner progress"
It is important to add that whereas in cases it makes courses more accessible, in some settings blended learning design is not necessarily the best option for adult basic skills programs. There are conditions that make it impossible for learners to travel (e.g. lack of financial capacities, geographical difficulties, lack of time for traveling to learn etc). Nonetheless, it may still be possible to come up with a flexible blended learning solution, if those limiting conditions are carefully analysed.
For a more detailed list of benefits, look up the book titled The What, Why, Who, and How of Blended Learning for Adult Basic Skills Learners pages 8-14!
What is blended learning?
Blended learning can be defined in many ways depending on where one places the emphasis, but generally there seem to be a few characteristics that are commonly held about blended forms of learning.
Examples for definitions:
Blended learning is an instructional approach that has a face-to-face class or tutorial integrated with online learning in which students have some "control over time, place, path, and/or pace.
Source: Clayton Christensen Institute. Blended Learning Definitions. (webpage).
The first definition highlights the composition of learning programs made up of online and presence-based constituents. It also postulates certain amount of learner autonomy directed to some of the learning's external conditions.
The modalities along a student's learning path are connected to provide an integrated learning experience, which may mean using data from online learning to inform and drive a student's offline learning.
Source: Horn, M. and Staker, H. (2015). Blended – Using Disruptive Innovation to Improve Schools. San Francisco, California: Jossey-Bass.
The second definition depicts a learning context in which online units are placed to motivate the 'offline' process, hence primarily referring to a setup which includes online learning merely as a supplement.
Blended learning should be viewed as a pedagogical approach that combines the effectiveness and socialization opportunities of the classroom with the technologically enhanced active learning possibilities of the online environment, rather than a ratio of delivery modalities. In other words, blended learning should be approached not merely as a temporal construct, but rather as a fundamental redesign of the instructional model.
Source: Dziuban, C. et al. (2004). Blended Learning. In: EDUCAUSE Review, 2004(7).
The third attempt to define blended learning promotes it as an overall approach in which online and offline elements work together for the creation of an efficient, personalised learning program. This definition represents a synthetic and integrated "instructional model". Other authors (e.g. Evaluating digital learning for adult basic literacy and numeracy by Murphy R. et al. from 2017) also emphasise the fact that in blended learning the face-to-face and the online learning elements are integrated in way that they reinforce each other. For example, foreign language instructors may use blended learning models to integrate individualised instruction (online) with providing interactive language practice to learners (in the classroom).
What models for course design?
Several models exist that help course designers build learning pathways to learners that work efficiently through the combination of different learning models. There are other models besides the following ones, but these were selected with a special focus on adult learners.
Station Rotation

Source: Rosen, D.J. & Vanek, J. (2020). The What, Why, Who and How of Blended Learning for Adult Basic Skills Learners (p. 28).
This model describes a scenario where learners engage in different activities while they are in the classroom with the instructor or trainer. In this sense, it can assume a place-based learning opportunity with diverse simultaneous activities among which (groups of) learners take turns, but it can also imply that the online learning activities happen beyond the classroom, e.g. at home. It is a great setup for making learning differentiated according to individual needs, and to enrich the types of activities. Differentiation is realised as learners rotate to different stations in the classroom or within their classroom and a computer room. The teacher / instructor takes up the role of a facilitator and keeps an eye on how learners cope with their tasks.

"A solid example of this model is the Learning Circles offered by the Rhode Island Family Literacy Initiative (RIFLI). As part of World Education's English Now! Initiative, RIFLI has used learning circles to facilitate peer learning for English language learners and learners on ABE program waitlists. The learning circles combine using an online course or app with a face-to-face group session once a week that is facilitated by a volunteer or English language teacher. Learners also hone their digital literacy skills as they start using online programs and mobile apps, develop their confidence, and learn strategies for how to be successful in more formal English language classes. Learners who participate in RIFLI's learning circles are moved to the front of wait lists for in-person classes."
Source: Rosen, D.J. & Vanek, J. (2020). The What, Why, Who and How of Blended Learning for Adult Basic Skills Learners (p. 28).
Flipped Classroom

Source: Rosen, D.J. & Vanek, J. (2020). The What, Why, Who and How of Blended Learning for Adult Basic Skills Learners (p. 20).
Using a so-called flipped design in a blended learning program trainers can integrate more diverse content into their teaching and can better support learner-centred, collaborative, or hands-on projects during in-person classes. "Flipped learning is a popular approach to blended learning. In this model, learners complete core instructional activities online outside of a class or tutorial, and then attend an in-person class or meeting for tutor- or teacher-supported one-on-one or small group hands-on practice or collaborative project work. The work done online, before an in-person class or tutorial meeting, sets up what will be covered in-person—it is not homework assigned to follow up on in-class instruction (Clayton Christensen Institute, 2019)."

"Another example of extending learning in Adult Basic Education is found in the EdTech Center @ World Education's field test of Care Academy (CA), an online platform supporting career pathway development in the health care sector. The study followed a pilot of CA's curriculum supporting HHA certification. In the pilot, a flipped model made it possible for the incumbent workers to complete their HHA certification course in a fraction of the time that would have been required if all the instruction had occurred without blending online and in-class instruction."
Source: Vanek, J. (2019). CareAcademy: Mobile learning to prepare adults for in-demand caregiver profession. EdTech Center @ World Education Tech Tips Blog.
A La Carte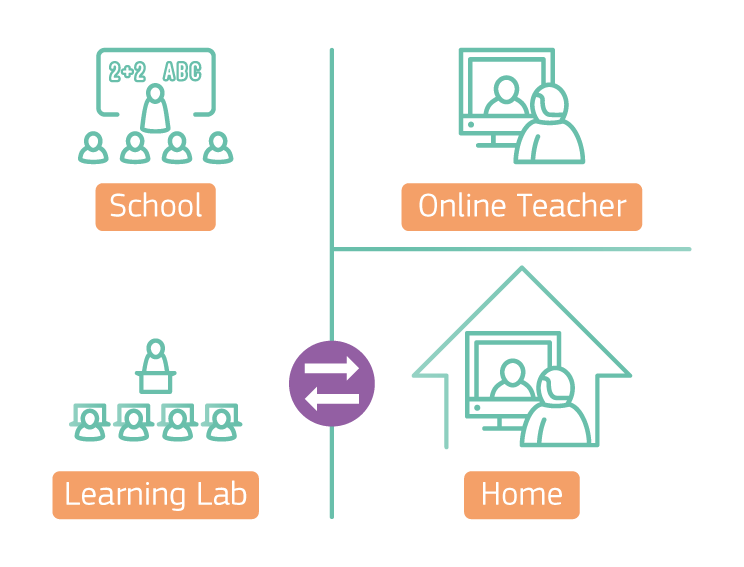 Source: Rosen, D.J. & Vanek, J. (2020). The What, Why, Who and How of Blended Learning for Adult Basic Skills Learners (p. 29).
In some cases, it is very useful to apply blended learning models that are predominantly online (e.g. due to limitations in mobility or in the recent COVID crisis where classroom instructions were closed). Such programs provide great flexibility to learners to take part in the learning process online, but they also require them to have access to internet and computers, not to mention the acquisition of skills to use technology. The so-called A La Carte model presents learners with a learning pathway in which they take an online course in addition to an in-person course. Normally, the same trainer(s) follow(s) the learning progress for each instructional unit. In this model, there is flexibility in the hands of the trainer to determine that not all learners do the same online activities. There could be certain target groups who benefit from this model, such as adults who work, have children and have other responsibilities that limit one's capacity to move or be absent.

"One example of this model is a workplace ESL class held at the Minneapolis International Airport and taught by an outreach teacher from the Hubbs Center/St. Paul ABE in Minnesota. The in-class meeting is only two hours each week, although the students need much more instructional time to progress. In class, the teacher focuses on the language critical to success in work at the airport, including essential grammar, pronunciation, vocabulary, and spoken English to support customer service work and engagement with the public. Online, learners choose a course or curriculum that aligns with their needs and helps them spend more hours a week learning English. In this multilevel class, the learners with the lowest English literacy proficiency chose Learning Upgrade."
Source: Rosen, D.J. & Vanek, J. (2020). The What, Why, Who and How of Blended Learning for Adult Basic Skills Learners (p. 29).
How to start?
Planning a start on designing a blended learning pathway to adult learners needs the time to consider several perspectives among which the 'WHAT will the course be about?' and 'WHO will attend the course?' are of key importance. The following actions are quoted from Rosen, D.J. & Vanek, J. (2020). The What, Why, Who and How of Blended Learning for Adult Basic Skills Learners, (pp 15-19.) and could be considered when planning a blended learning approach. These steps are put forward as initial measures to help the design process both for institution heads and practitioners.
Form a planning team
Finding partners and relevant stakeholders who can help you, and getting them on board are essential. As a trainer, this could mean reaching out for teaching colleagues, instruction designers, specialists in technology enhanced learning. It is a good idea to invite trainers, program managers who have gained experience with blended learning. As an institutional leader, you might also involve colleagues responsible for professional development or other experts in your network who has experience in blended or distance education.

Craft a vision and set goals
Writing vision statements can be helpful at this stage. These are "forward-thinking statement in the present tense", describing the vision you set as a goal for your team. For instance:
'All teachers make effective use of relevant technologies and online learning resources in a blended approach that extends opportunities for and/or personalizes learning.'
For further examples for vision statements, visit Upskill with EdTech: Preparing Adult Learners for the Future of Work.

Create a problem-solving mindset
"Your team can generate questions about instructional challenges that you're trying to meet with blended learning. Consider the following points:
What instructional challenges do we face?
Why and how do we think blended learning will help solve them?
What are the purpose(s) and goal(s) for adding or improving blended learning?
Will a blended learning approach be available for some or all of the classes or tutorials; for some or all of the students in our program?
What instructional model will we use?"

Discuss levelling & themes for online units
Planning the online parts for a blended learning program needs a careful look at who will take part in the learning and what they are going to learn. It is important to think about the needs and competences of learners so that we see who can benefit from the online modules and what content they can work with in a digital environment. "Your motivation for adopting a blended learning approach will likely inform your thinking here. If you need online resources that support proficiency with job skills or work-related vocabulary, then you need to find or make something that is accessible for your learners, that can be accessed on devices they have, is pitched at an appropriate reading level, or is designed to best support their persistence".
Plan content delivery
In many countries, there are freely available curricula for online learning that course developers and instructors can make use of. You can also do preliminary research on who in your professional network have worked with blended and/or online learning before and what curricula they applied. If you manage to have access to existing curricula, it is still good practice to look at them from your own perspective to decide what adaptive measures are necessary for your objectives. You may find that designing your own curricula from scratch, or that using readymade ones combined with your own curricular elements are the better ways to go. Should you choose to design your own curriculum, consider using a learning management system (LMS) to host the content you find or create e.g. Brightspace, Google Classroom, Moodle and others in a document authored by David J. Rosen: Examples of Online Learning Environments (platforms) and Free or Inexpensive Online Resources for Blended Learning for Adults.

Decide about technology
Rosen & Vanek proposes the following set of guiding questions related to technology:
"Does your state, or sponsoring institution or agency provide access to a proprietary online curriculum on its own platform or CMS?
Do you need to obtain or purchase an LMS to house your found or created content, or do you plan to use one you already have?
Do you want a feature in your LMS or CMS that reports learning progress by student and by class and, if so, what information would you like it to report?
Is there hardware that you need to obtain, for example desktop or laptop computers, a printer, headsets, a multimedia projector, an electronic whiteboard, or wireless internet access for a computer lab or for your classroom?
Do you need a set of laptop computers available in your classroom?"

Share / monitor the common vision
At this stage, it is important to make sure that all colleagues involved in the planning process are familiar with the objectives and the design process too. You may circulate the questions above asking your partners to comment on them or refine the questions themselves to better address your needs.

Think about funding
Financial support may be needed to fully develop missing elements in the training program (online and on-site modules too). To see the picture in its entirety, it is a good idea to brainstorm about potential expenses that could emerge related to the technological background (both in terms of software and hardware). Planning to see the budget for a course could also take into consideration that teaching hours may change as you implement blended learning in your institution. Consider to following guiding questions for this stage:
Do you seek for national / regional / EU funding to design & implement your blended learning program?
Do you plan to use your curriculum exclusively or consider investing in proprietary curriculum?
Do you have the necessary software and hardware to ensure the online units in your blended learning program?

Pilot and experiment
You may find it more efficient to start piloting your initial course design with a smaller number of learners and teaching colleagues to see what needs to be improved or better tailored to the learners' needs. It is also the time for looking at how well the design of the course serves the goals of the program, and to find out what resources would be needed for a long-term implementation of the program.
Consider professional development
Ideally, the professional development of the teaching staff and course designers considers the following key themes: focused on content and the learner, active and cooperative learning, use of models or frameworks, involving expert support, reflection, and extended learning time (Darling- Hammond, Hyler, & Gardner: Effective teacher professional development. Learning Policy Institute).A very relevant resource is provided by the IDEAL Consortium in the form of a handbook titled IDEAL Distance Education and Blended Learning Handbook.
The German Adult Education Association (Deutscher Volkshochschul-Verband e.V. – DVV) promotes the further training and education work of the adult education centres (VHS) and represents the interests of its members and the adult education centres at the federal, European, and international level. DVV promotes cooperation and technical discussions and exchange of ideas among its members, develops principles and guidelines, promotes the quality of adult education work and international cooperation. More than 900 adult education centres in Germany are the basis of its support.
DVV runs a multi-lingual online learning platform called VHS Lernportal for adult basic skills training and professional development opportunities for trainers. Watch the following video interview with Michael Thiel (Project Manager) who introduces the project that is an excellent example for (digital) basic skills provision for adults!
Interview with Michael Thiel, VHS Lernportal, DVVDownload the transcript of the interview here!
Planning course content
Once designers carefully considered the initial steps for developing a blended learning program, it is important to make decisions about the online resources trainers plan to apply and the methods of using them. In this section, first, some content-related considerations and some key resources are presented, which is followed by the themes of curation and content evaluation. Here, some implications and guidelines are shared with regards to source criticism. After that, a list of learning applications will be introduced that are designed specifically for adults with low qualifications or, in general, are widely used in learning settings too.
Ensuring literacy-friendly content
The National Adult Literacy Agency (NALA) from Ireland has been designing support services, training materials for individuals and organisations to help them build an environment in which information become consumable, approachable for those who have difficulties in understanding both qualitative and quantitative content.
Instruction designers and trainers can benefit greatly from adapting their content to the needs of adults with basic skills challenges both in classroom-based and online learning scenarios. The following resources could be useful to this end.
Key resources:
Simply Put – Writing and Desing Tips (NALA, 2013)
As NALA puts it, this is "a booklet of tips to make your materials easier to read and understand, especially for adults with literacy difficulties. These people may find it hard to understand the information they need to exercise their rights and meet their obligations. It makes sense to present this information as clearly as possible to give everyone a fair opportunity to understand and act on what they read."
The booklet provides a practical guide that could be utilised by trainers and instruction designers too while creating a course for adults. The booklet is divided into several sections among which the most relevant ones for the purposes of this OER are the following:
What is Plain English? (p. 6)

Writing tips (p. 8)

Checking your document (p. 13)

Document design tips (p. 17)

Words and phrases to avoid (p. 23)
Digital Matters – A guide to technology for adults improving their literacy, numeracy and digital skills (NALA, 2021)
"NALA has created this Digital Matters guide for adults who want to improve their literacy, numeracy and digital skills. It brings together information on digital matters such as using computers and phones. The guide has practical information on how to search the Internet and how to download applications (apps) to your smartphone. It also has information on podcasts as they are a great way to learn, especially if you learn by listening."
This document is a very useful tool for adult learners and trainers and it contains guidelines, information and sample exercises that all contribute to a better and a rather hands-on understanding of the role technology plays in basic skills provision.
EPALE OER: Introduction to Adult Numeracy Training
Although numeracy has always been an essential element in basic skills training programs, it is often not in the forefront for basic skills policies and practice. The current collection of open educational resources (OERs) aims to present a starting point for trainers, staff of educational institutions and other partners to establish a basic understanding on how adults develop numeracy.
To learn about numeracy as a social practice, visit section 2.2 of the second chapter. It illustrates the need for extending our understanding of numeracy training from something that adults learn only in classrooms to a notion that surrounds and affects us in our everyday lives. This is an essential thought for blended learning designers who wish to extend learning beyond the classroom. Section 3: How to address numeracy of the same OER can also be helpful for instruction designers.
Content curation & evaluation
In the rapidly digitalising world of media, education and training, evaluation of our sources plays a significant role in one's ability to develop authentic and credible content for learning. This is true for all sectors and modes of learning, especially for those that entail an online unit. Hence, it is vital for digital and blended learning programs to invest in the curation of their content by checking the validity, authenticity of the content. In this section, there is a list of useful tools for carrying out content evaluation.
Lumen Learning: OER for Finding sources
Learning objectives
identify preliminary research strategies (developing a research plan, basic online searching, using Google)

identify intermediate research strategies (advanced online searches, finding scholarly sources and primary and secondary sources, librarian consultation)

identify advanced search strategies (advanced library searches, library databases, keyword, and field searches)
Asssignment for finding sources.
Lumen Learning: OER for Analysing sources
Learning objectives
identify the relationship between a potential source and the writing task

identify strategies for evaluating the rhetorical context (author, purpose, audience) of a source

identify strategies for evaluating the authority, reliability, and effectiveness of a source

identify strategies for comparison and synthesis between multiple sources
Assignment for analysing sources
For a short checklist on ensuring source credibility, visit Linnaeus University's blog entry on Source Criticism.
List of learning applications
There is a wide range of applications, and online learning platforms available today. Therefore, some curation is necessary to find the best tool(s) that our target group can really benefit from. In this section, three sets of lists are presented: learning apps for adults with basic skills challenges; other relevant learning applications & tools; learning management systems and platforms. All these items were carefully analysed, and notes explain why they appear on these lists.
Learning apps: improving basic skills
Other relevant apps
Learning management systems & platforms
Digital Skill UP – this initiative provides learning opportunities through readymade courses that target trainers as well as learners. Its courses are designed to help you to find your way to upskilling and reskilling in the area of emerging technologies. Hence, it is a great resource for professional development and adult learning too.
Google Classroom – the commonly used application can host courses, provide platform for sharing documents, resources, multimedia content for a course.
Educators' professional competences
In the increasingly digitalised world of learning, it is essential for trainers to acquire the necessary competences to make the best use of digital tools and solutions for the benefit of their learners. The digital CPD of teachers and trainers can be addressed through many different resources.
The European Framework for the Digital Competence of Educators (DigCompEdu)
One of the most well-known tools is provided by the European Commission called the DigCompEdu framework.
Source: European Commission.
"The European Framework for the Digital Competence of Educators (DigCompEdu) is a scientifically sound framework describing what it means for educators to be digitally competent. It provides a general reference frame to support the development of educator-specific digital competences in Europe. DigCompEdu is directed towards educators at all levels of education, from early childhood to higher and adult education, including general and vocational education and training, special needs education, and non-formal learning contexts."
DigCompEdu details 22 competences organised in six areas. The focus is not on technical skills. Rather, the framework aims to detail how digital technologies can be used to enhance and innovate education and training.
The DigCompEdu study builds on previous work carried out to define citizens' Digital Competence in general, and Digitally Competent Education Oragnisations (DigCompOrg). It contributes to the Commission's recently endorsed Skills Agenda for Europe and to the Europe 2020 flagship initiative Agenda for New Skills for New Jobs." (European Commisssion).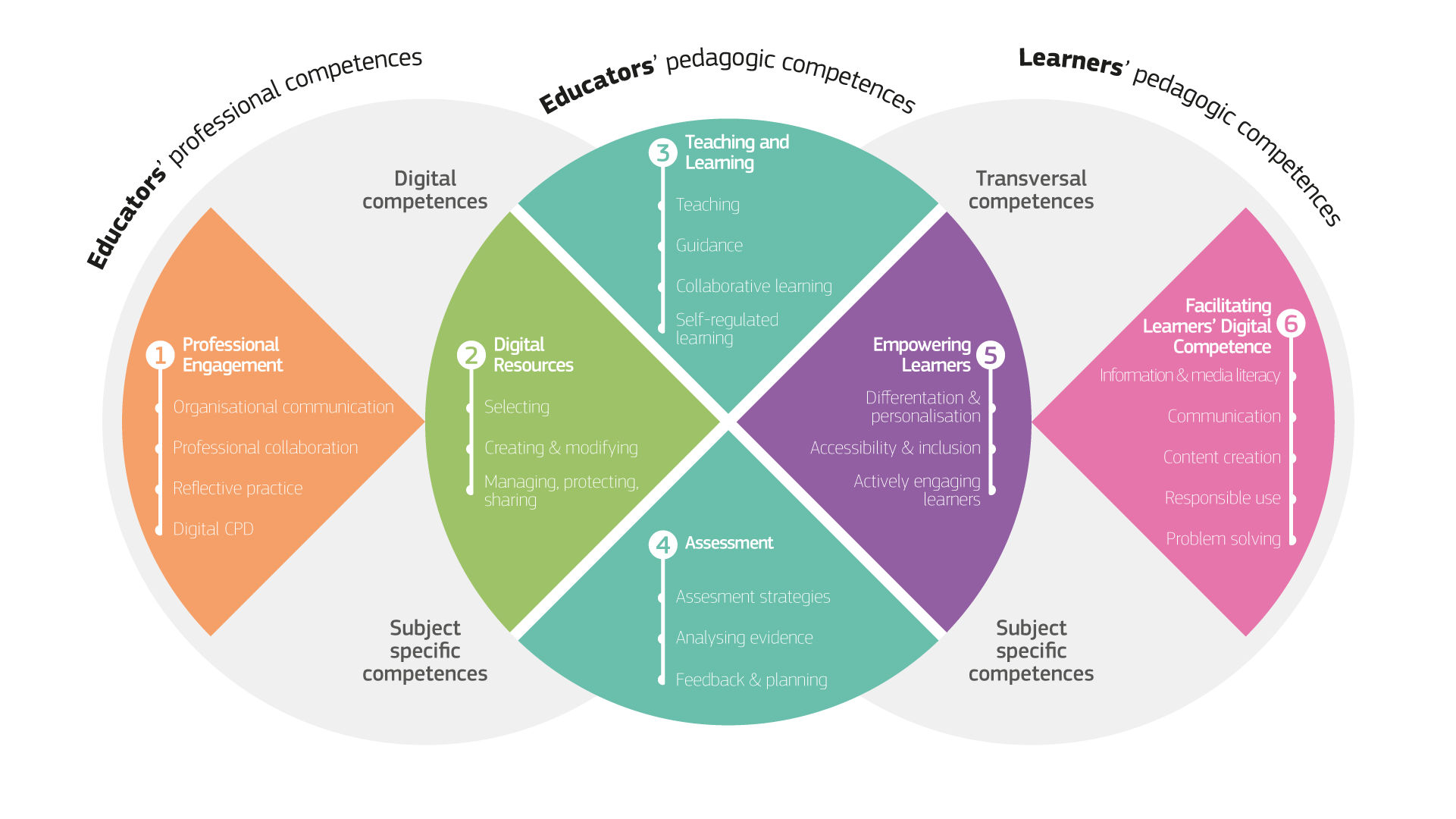 Source: European Commission.
This framework provides a great tool and an overview for mapping the competence areas and specific skills that are important for trainers designing digital or blended learning programs. A good point of departure for this planning process is provided by a self-assessment tool created by the Commission. On this site, you can find test versions of the tool for teaching professional in all sectors. Adult educators can take part in the survey by following this link:
Self-assessment of adult educators
(The survey is available in English, German, Portuguese, and Slovenian).
UNESCO ICT Competency Framework
Besides the European approach, teachers may find it useful to look into UNESCO's initiative called The UNESCO ICT Competency Framework for Teachers (ICT-CFT). It is aimed at informing "educational policy makers, providers of professional learning and working teachers on the role of ICT in educational reform, as well as to assist Member States in developing national ICT competency standards for teachers with an ICT in Education Master Plan approach." More information on the Framework can be found at UNESCO ICT in Education.
UNESCO created a set of OERs on OER Commons to help practitioners familiarising themselves with the Framework. The following elements of the page could be especially useful for the purpose of educators' CPD:
VHS Lernportal, the online learning platform of the German Adult Education Association (DVV) presented above, is also offering a professional development course for basic skills teachers who wish to design their own blended learning program. This proved to be very useful during the lockdown when classroom-based instructions were closed, and trainers shifted their programs to the online platform. We asked Inga Opitz from DVV to talk a bit about the eight-week teacher training program for practitioners. Watch the interview below!
Interview with Inga Opitz, VHS Lernportal, DVVDownload the transcript of the interview here!
Putting learner support in place
Learner support measures are of key importance when it comes to courses (especially digital ones) targetting the basic skills training of adults. It not only impacts the completion rate, learner experience and overall satisfaction, but also have an effect on adults' motivation to continue learning after the course is taken. In this sense, it is an essential element to support lifelong learning. The following quote explains the integral nature of support measures:
Traditionally, learner support is seen as that which happens after the course materials have been made. Such boundaries however no longer hold in an online or blended course where collaborative learning plays a major role, and there is great potential to 'bake in' the support as part of the design process. If much of the content of such a course is generated through online interaction and collaborative activities, you can't consider course design without also dealing with learner support at the same time.
Source: Ufi/learndirect and Kineo. (2007). Learner support reviewed. (online document).
The same source identifies a series of steps that can help trainers to ensure the key aspects of support are considered, and to increase the potential for effectiveness of support:
1. Clarify your objectives
2. Know your audience
3. Decide on the framework
4. Identify your support network
5. Create a support plan and resource it appropriately
6. Pilot and refine
It is important to mention that "there's no one optimal model for learner support in blended and e-learning programmes. Your models should be developed based on the objectives of your programme and what your audience needs." The following table gives an overview of different methods with practice-oriented notes to help trainers and course designers decide what could work best in a given learning setting:
Learner support method
How to use it in blended and elearning programmes
Practical considerations
FAQs on intranet/access point for elearning

Simply and quickly capturing frequently asked questions

Easily divided into sections to enable scanning e.g. technical and content

Easy to update as long as process for capturing FAQs is automated (e.g. email address, form submission)

This is the baseline level of support you'd expect to provide with all blended and e-learning

Cost level is very low, but you do need to assign a resource to monitor inbound FAQs and update list

Email-based support

Responding to basic queries

Queries can be routed to technical resource or content expert by using different addresses, or using online forms

Relatively easy to support once a resource is assigned

FAQs should provide the templates for most email inquiries

Tutorials

A form of using e-learning to support e-learning: Creating short tutorials using authoring tools to demonstrate key tasks such as how to log in, to the LMS, how to use the controls in the rapid e-learning

Can be very effective as of an interactive FAQ list and marketing campaigns, and can be quite easily included in development effort

Chat support (Instant Messenger)

A good combination of 'high touch' support without having to provide phone-based support, by providing an Instant Messenger based online help desk

Subject matter experts can provide support to groups of learners during fixed time clinic sessions where they answer questions via instant messenger

More expensive to provide and support, but worth considering if Instant Messenger is used by target audience as it is rapid (immediate) and the feedback loop is closed (the chat session always leads to a resolution of the issue)

Can be time consuming

Responses can be templated to reflect most commonly asked questions and ported into a collaborative resource over time (e.g. a wiki)

Virtual how-to sessions

Using virtual classroom or collaboration software to perform live demonstrations of the e-learning, usually involving a project champion/sponsor and a member of the development team

Can be used to deliver 'What's in it for me' and marketing messages as well as functional explanation of elearning and its contents

Can be a very effective way to launch an initiative and achieve multiple support and marketing goals at once

Can be recorded and used as a tutorial (see below)

Requires scheduling and resourcing but relatively limited effort and could be held with pilot user group so recorded version is ready for launch

Phone support

May be required as a back-up if above levels of support fail to resolve issues

Note: Using Voice over IP applications such as skype and googletalk provide opportunities to combine phone and IM support levels

Typically the most expensive form of support to provide and maintain, especially if working across multiple geographies

May be critical during an initial launch period but only consider by exception
Source: Ufi/learndirect and Kineo. (2007). Learner support reviewed. (online document). (pp 12-14)
For more information on guidance, and measures that help learners stay motivated, please visit EPALE's OER: Ensuring outreach, motivation and persistence in basic skills programs.
List of references

 
---
Rosen, D.J. & Vanek, J. (2020). The What, Why, Who, and How of Blended Learning for Adult Basic Skills Learners. New Readers Press (electronic document). URL: https://www.newreaderspress.com/blended-learning-guide. (p. 8).
Clayton Christensen Institute. Blended Learning Definitions. (webpage). URL: https://www.christenseninstitute.org/blended-learning-definitions-and-models/
Horn, M. and Staker, H. (2015). Blended: Using Disruptive Innovation to Improve Schools. San Francisco, California: Jossey-Bass.
Dziuban, C. et al. (2004). Blended Learning. In: EDUCAUSE Review, 2004(7).
Murphy, et al., (2017). Evaluating digital learning for adult basic literacy and numeracy. (online document). URL: https://www.sri.com/publication/evaluating-digital-learning-for-adult-basic-literacy-and-numeracy/.
Vanek, J. (2019). CareAcademy: Mobile learning to prepare adults for in-demand caregiver profession. EdTech Center @ World Education Tech Tips Blog. https://edtech.worlded.org/ttale-report/careacademy/
UpSkill with edtech: Preparing adult learners for the future of work. (2019). ISTE. (website). URL: https://skillrise.org/framework. Note: hit "Download our framework" and look up guiding questions on p. 9.
Darling- Hammond, Hyler, & Gardner. (2017). Effective teacher professional development. Learning Policy Institute. URL: https://learningpolicyinstitute.org/product/effective-teacher-professional-development-report
Vanek, J., Simpson, D., & Goumas, J. (2020). IDEAL Distance Education and Blended Learning Handbook, 7th Edition. EdTech Books. https://edtechbooks.org/ideal_dl_handbook
Ufi/learndirect and Kineo. (2007). Learner support reviewed. (online document). 
---