Sustainable Sustainability -With Agility towards Circular Economy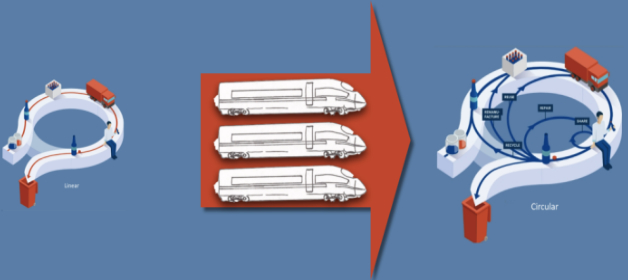 "Express trains to Circular Economy " by Anette Ludwig using part of "Circular Economy" by EPRS (CC-BY 4.0 (link is external))
Agility makes a promise. To reach goals in a much faster way. Where does this promise come from?
Development by interaction
Digitization, technological change and the ever-shorter life spans of projects in industry and business require new models that enable real-time interaction with customers and create a working environment that adapts to the rapidly changing environment. These models were found mainly in the IT industry in agile working methods.
The agile project management enables flexible results to be delivered in iterative and incremental processes at short intervals in order to be able to make adjustments in a timely manner. Innovative projects and products can thus be implemented more quickly and more reliably. Other branches outside the IT industry have recently started to benefit from these methods, as well. Initial approaches are already in place. Does this mean that we got now also an approach to accelerate the introduction of a circular economy?
A key advantage of agile working is the development of holistic solutions. The methods are designed to develop innovative products with interdisciplinary teams. These teams act and react to constantly evolving product requirements, constantly trying to achieve the best possible results. At best these working methods do convince those affected with high transparency, the ability to adapt quickly and learn from mistakes and with the cross-functional capabilities of the team members. In the case of the circular economy interdisciplinary teams would be those with the skills necessary to classify and realize one or more products at all stages of a circular economy.
.
Educated consumers as part of the team
If you think about it you can look at the consumers as part of such interdisciplinary teams. In SCRCE we are currently developing a manual that we recommend to use in order to train consumers to become "experts" for the products they consume. If applicable "specialists" can emerge so that not everyone has to deal with the whole lifecycle of each product in depth. People will have to trust the advice of other "experts" and form a kind of an "agile team" in the field of sustainable consumption with others.
At first it's not about educating consumers to become "experts". The aim of the first iteration (a temporal loop e.g. within the method "Scrum") may initially be just that the consumers at the end of this process have built a reliable feeling how to think in everydays' life in a circular economical way. Later the aim should be to enable the learners to consume in line with the circular economical requirements. In the long run the then educated consumers should be able to actively promote the circular economy.
This is a systematic approach, which requires significant educational activities. Due to also educational lacks people only jump on very few trains at the moment, like avoiding plastic bags when they're shopping. However facing a planet in trouble we need a railway network with many express trains.
.
The role of the industry
So far we have dealt with consumers as agile teams, but what roles and functions must be used elsewhere in the cycles? While the function of "sharing" could still be agile treated at the level of the consumers, the other circuits (repairs, reuse, refacture or recycle) can only be implemented in conjunction with institutions. Consumers can still deliver products, raw materials or waste in a targeted way (e.g. in yellow bags – sacks for collection of recyclable packaging materials). The recipients who then take over the stuff from the consumers are usually companies and therefore question arises how to classify them in an agile system.
Businesses need to live, using here a term out of the agile language; the "Mindset". This means that businesses must live the values of a circular economy and not try to do business at the expense of the environment or consumer deception. Consumption and production must become better partners. They must be prepared to implement "Sustainable Sustainability".
Professional associations or NGOs could provide interfaces between the individual points and sections of circuits. Applying the SaFe 5.0 method (a method applicable to large portfolios) consumers and businesses could be understood as "essentials" and associations could carry out the necessary reconciliations via "continous delivery pipelines" in "solution trains."
.
Usability of agility for a circular economy
Previous agile methods certainly cannot be transfered one-to-one to use them in the context of a circular economy, but the approaches seem to be promising.
To sum up, speeding up the introduction of a circular economy can only be achieved by all the parties involved. For this to happen, agile methods could be useful. But this can only be promissing if the framework conditions are in place or could be created. This framework conditions could be based on previous approaches such as Scrum, Kanban, Scrum of Scrum or SaFe. Since this is a task for society as a whole, the circular economy can only be effectively implemented if appropriate tools are in place at all levels and with investments into education.
---

About the author:
Anette Ludwig specialized in agile project and innovation management during her master's studies at the Technical University of Darmstadt. In her empirical master's thesis she devoted herself to "Agility in Project and Portfolio Management". She holds several certificates of agile organisations and works in sustainable projects and as an agile coach. In the SCRCE project she is responsible at Dr. Ludwig Intelligent Projects for the creation of training content and she assists with the project coordination.
---
Image Sources:
Circular Economy by EPRS used under CC-BY 4.0 International(link is external)/ Use of parts of the images.
Anette Ludwig by Anette Ludwig