Multi-perspectivity in adult political education

*This blog was originally published in German by Narwada Sarasmati and translated by EPALE Ireland.*
Reading time approx. 5 minutes - read, like, leave a comment!
This article was published in altered form in the journal Political Education on 03/2020.
---
The AdB pilot project "Polyphony! Improving diversity in political education"
The Working Group for German Training Institutions (AdB - registered body), a professional and member association for political education, has been running the Polyphony! Improving diversity in political education" project for a year and a half. The project is sponsored by the German Federal Agency for Political Education (September 2019 - June 2022) and deals with anti-racism and diversification strategies in associations and in adult political education.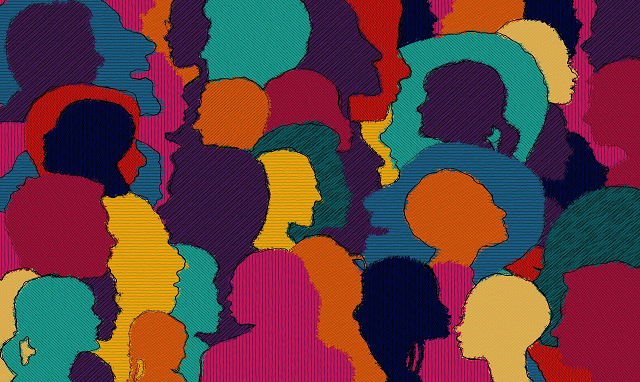 Bildnachweis: Pixabay / Gert Altmann
Project name background and objectives
The project name Polyphony! doesn't just mean multi-vocalism, but, according to the literary scholar Michail Bachtin, also means that the (novel) story is not characterized by a dominant storyteller, but rather comes from a dialog based on various different opinions and perspectives. Polyphony! is thus also symbolic for the project's orientation and the AdB's objective: The association is looking to become more diverse in relation to migrants and non-white actors, and to help strengthen the heterogeneous educational landscape. In political education, as in many social areas, there is inadequate representation regarding both colored political trainers and managers, as well as the promotion of migrant and non-white training organizations. Therefore, anti-racist diversification strategies play a vital role in this project. Adult political education is worthy of particular mention, as it touches more closely upon issues such as diversity and anti-racism, and helps to further develop specialist discourse.
Working with diversity-oriented opening processes – and not just in terms of target audiences, but also actors – is another response to serious participant equitability and democratization of the structures of political education.
A look at structures
This project will focus on two main areas. Firstly, we will take a look at our own association structures: What steps are required to become more diverse and to gain new post-migrant educational actors as members, for example? What requirements, challenges and potentials are there in the association with regard to diversity and anti-racism? How are these subject areas positioned in adult education in the AdB?
Secondly, there is the question of networking and collaboration with post-migrants and non-white actors from political education. The purpose is not only to improve perspectives within the association, but also to promote the overall further development of specialist discourse on political education in a diverse migration society.
Needs-based special events and training programs will take place throughout the project, which are knowingly, and very successfully thus far, addressed to groups of participants with or without their own experiences of discrimination. This aspect is an important element, particularly in view of a diversity-oriented opening process. Therefore, events take place, for example, that deal with the issue of diversification and anti-racism in very different ways. Training programs are also offered on the issue of diversity-oriented organizational development and on anti-black racism and German colonial history. In addition, training programs also take place that cover how to successfully apply for work in political education, and are aimed in particular at new post-migrant adult political education organizations, and at strengthening the heterogeneous educational landscape at a supporter level.
---

---
Anti-racism in adult education
This project is run in close collaboration with the AdB Specialist Commission for Adult Education. This body consists of political adult educators from nationwide member organizations of the association, and meets at least twice a year to discuss current issues in adult political education. It quickly became evident that issues such as diversity and anti-discrimination, unlike in youth education, are less present in adult political education projects. Therefore, in the Commission itself, there was a substantial need for discussion on issues such as German colonial history, anti-Romanyism, anti-racism and a post-migrant society. Events and workshops take place during the duration of the project on relevant topics that seek to promote professional development with regard to adult political education. Thus, commissioners took part in workshops on anti-racism, for example, or got together to listen to presentations in the adult education learning spaces on "Germany's Democratic Education. From reeducation to adult political education" by Prof. Dr. María do Mar Castro Varela (Alice Salomon Hochschule Berlin) from a historical perspective based on the relevance and values of social diversity.
Processes of change require expertise and willingness
Intensive discussion on diverse structural forms of discrimination is essential for diversification. Therefore, the association also strives to improve overall competence with regard to anti-racism within the association. In-depth knowledge - of often unconscious discrimination mechanisms, which are expressed, for example, through speech, lacking multi-perspectivity in education curricula and homogenous team compositions - is the only way to ensure equal opportunities and diverse representation in adult and youth political education.
This project is monitored and counseled by an advisory board that brings with it both science expertise and practical expertise. Therefore, in addition to representatives from AdB member organizations and the new German organizations (registered body), for example, scientific experts in the fields adult political education, anti-racism, intersectionality and post-colonialism are also involved.
On the basis of the advisory board's recommendations, it was clear that the desired inclusion of previously marginalized perspectives starts with changing existing structures, and that as many people should be involved as possible.
In the same way as gender mainstreaming, in addition to expertise and a willingness for change, this will require long-term commitment extending far beyond the duration of this project.
---
About the author:
Narmada Saraswati is a lecturer on Diversity in Adult Education, is a member of the Working Group for German Training Institutions (registered body) and heads the project "Polyphony! Improving diversity in political education". Among other things, she addresses anti-racist processes of change in educational institutes and how political education and a plural culture of remembrance could look in a diverse migration society.