Learn & be motivated - Workplace learning in focus – Interview series
Original language: Hungarian
Reading time approximately six minutes – read, like, comment!
Workplace learning in focus - Interview with an employee of a multinational corporation in Budapest[1]
The Hungarian and German EPALE National Support Services have launched a joint thematic week with a focus on workplace learning. EPALE Ambassador in Hungary Annamária Kiss conducted a series of interviews with five organisations that make great efforts to train their employees.
The 900-strong workforce at the Budapest headquarters of the company was spun off from the organisation of another international company. In terms of operations, it provides multinational enterprises with services enhancing financial and digital transformation. In-house training is supported by the L&D (Learning and Development) team. Learning opportunities available at the company were presented by Bernadett Rixer, a member of the L&D team.
How does the notion of workplace learning fit with the company mindset?
We attach great importance to workplace learning as shown by the fact that the training team moved over to the newly established company from its predecessor. Thus, knowledge management can be ensured and employee development is given priority. The guiding principle is that every employee should have access to the necessary tools for development. The company provides a wide range of resources to ensure continuous learning and takes this into account in workplace assessment. Currently, employees are working on completing last year's assessment, which will cover L&D as well. Therefore, it is important for them to meet specific conditions to fill a certain position later on. Learning itself is also included in performance management[2] as an objective.
Does this mean that the company has an education support system?
Firstly, we have an online interface that can be considered a training platform. Employees may access it at any time. We want to foster a culture of independent learning so that employees spend time on their own development. Of course, there are guidelines to show what they should achieve; however, having a personalised learning pathway is also an important aspect. Our job is to point them in the right direction and provide a structured framework.
With the assistance of third-party partners, we have uploaded 3,000 hours of resources. There is a lot of video content as well as articles, studies and webinars available to employees so they are able to access content in various formats. We are working with many partners who provide access to interfaces and also have an in-house team that reviews, selects and uploads content in line with the company's strategy. Dedicated to adult training, this L&D team provides support and organises training courses within the organisation. We want to strengthen our internal workforce. In Hungary, we are currently working with three and a half people and soon it will be four and a half, so it is a small team. We promote mutual learning to ensure that employees do not simply sit in front of the computer by themselves studying this content. Instead, we try to establish learning circles, for example with the support of a more experienced manager who is knowledgeable about the relevant topic, so that participants can learn from each other. We do not leave them to their own devices; our goal here is to effectively create many platforms where mutual learning may take place.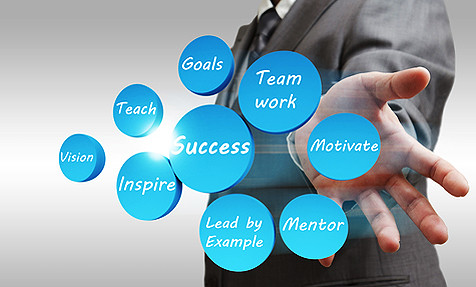 Does everyone have an individual career plan?
Yes! The company implemented it globally last summer. The individual career plan is a brand-new concept, which has not been fully fleshed out yet; we are currently refining it. What we have seen so far is that when employees join the company or take up a position, they have the opportunity to assess their skills. They can do so through an online interface that uses an evaluation system to assess where they are currently and how they should grow in their jobs. If someone wants to change or move up in the hierarchy, it is also possible to assess the skills and competences needed for the relevant position.
The system monitors around 50 to 60 skills. They can be divided into certain categories, but mostly include professional, specialist and digital skills that can be categorised as hard skills[3] or soft skills[4].
Thus, the first step is the assessment. Based on this assessment, it becomes apparent to employees where they stand and where they need to end up, as the system prepares a learning plan that can be adapted by the individual. The plan can be downloaded and followed to make progress in an online database. It can be used to obtain information and access individually relevant content.
How long have you had in-house training?
It has always been part of our culture. It was a priority for both our predecessor and our company to ensure that our employees have perspectives. To make sure that they are able to move within the organisation not only vertically, but also horizontally. Previously, our predecessor had established an entire training organisation for this purpose and our company has the same since we share common roots. There was a time when we had classroom training courses, so traditional sessions in a classroom. However, we realised that people do not have time to learn after their daily work. Still, we had to ensure continuity so that knowledge is maintained and shared with new employees.
What types of training are available to employees?
We still have classroom training, but as I mentioned, it is getting infrequent. In the past, we had five-day management training courses, but now we are happy if we are able to organise two-day courses. Therefore, we have a management training programme that runs for three months and includes a classroom training session every two weeks. On these occasions, for example, we call in senior executives to share their knowledge with participants and start a discussion on a topic or introduce a technique to promote learning by experience, for instance we are working with Lego to develop associative skills.
When traditional training sessions are held, are they organised only by the L&D team?
On rare occasions, we work with third-party companies. This occurs mostly when we try out techniques that are novel and we do not have the toolset for them. What comes to mind is, for example, training with dogs, but these types of training cannot be replaced with e-learning.
How much time do I, as a non-managerial employee, have for learning?
Obviously, if you spend all day doing this, your manager will give rap you on the wrist. The daily work must be done, but we have a strong message for managers that employees must be given time for learning. It may take many forms, for example, a manager organising or sending his/her team to a learning circle or setting objectives related to L&D. We ask all managers to support such activities in any way they can.
When it comes to training costs, are there any training courses where employees also have to bear costs?
Training courses available in-house are provided by the company; however, opportunities exist for third-party professional training as well. These training courses, for instance the registered accountant training course or language courses, result in a certificate or degree and in this case, we usually conclude study contracts. Language courses are an exception, as a part of the costs must be covered by the student. However, the opportunity to learn languages is available at the workplace through a third-party service provider.
Training courses usually take place during working hours, but we urge employees to take language courses and other, third-party courses outside working hours. Language courses are available both in the morning and after working hours. Managers know this and adapt daily work accordingly. For third-party training courses, we support evening or correspondence work schedules.
What other benefits would you mention to highlight why employers should focus on providing workplace learning?
First of all, this sets us apart from other large enterprises. Learning culture may not be as strong elsewhere, and I think we can be proud that ours is. In many cases, if we ask employees why they chose this company and not another, they say that this is an added value than provides powerful motivation: they can develop and learn here. This is very strongly supported by the company, as employees may take the knowledge they gained everywhere they go and we really have unlimited resources.
You mentioned third-party partners concerning online course materials; what aspects do you consider when selecting them?
They are appointed by the international team; we only see what is available to us and we work with that. We work with globally recognised consultancy firms that have proven, high-quality content relevant for companies. Since this is foreign-language content, everyone around the world has access to the same material.
Does this contribute to promoting mobility?
This is one of the goals, but at the same time, it sets the same expectations in terms of skills for each head office at an international level. An American employee gets the same material as an Indian employee and the same expectations apply to both of them. Of course, to a certain extent, it is adapted to the culture and the individual. Individuals identify their priorities, determining what is important for them, but the content and the skills are defined. In many cases, content is managed by the local L&D team. Our role is to integrate this into the relevant culture, make it appealing and select methods to make learning permanent. And it is most important to know how to convert this into long-term knowledge.
In your opinion, what learning opportunities will be in focus in the future?
Blended learning[5], at least that is what we want to represent locally. A significant portion of consultancy firms are moving in this direction. Knowledge is now available online, the only question is how you put it into practice. Watching videos is not a universal solution for every situation; we have to learn to achieve some sort of balance by combining face-to-face training and e-learning.