Making technology work for everybody: a successful learning experience at AIAS Bologna
Authors: Karin Astegger and Monika Daoudi-Rosenhammer
Technology plays an important role in our everyday lives, and has become central to coping with almost any domain of life shaping the way we live, work and communicate. A study showed that Austrians would rather abstain for a week from sex than from using mobile phones and internet.
Technology's potential to enhance quality of life is even bigger for persons with disability as it can overcome barriers, increase autonomy and self-determination. Unfortunately research and our experience indicate clearly that persons with disability use technology much less than others, which is especially true for persons with intellectual disabilities, and applies to mainstream and assistive technologies.
As service providers for persons with intellectual disability Lebenshilfe organisations throughout Austria consider it their task to contribute to reducing the digital divide to enable users to lead self-determined lives included in the community.
It is a complex endeavour as many factors contribute to the lack of access to technology: it is often too difficult to use, persons with intellectual disability are seldom involved in technology development, independent information and advice are difficult to get, we don't yet have sufficient knowledge of and awareness for the benefits of technology, person centred planning processes mostly don't integrate technology as part of support packages, funding for technology is hard to get.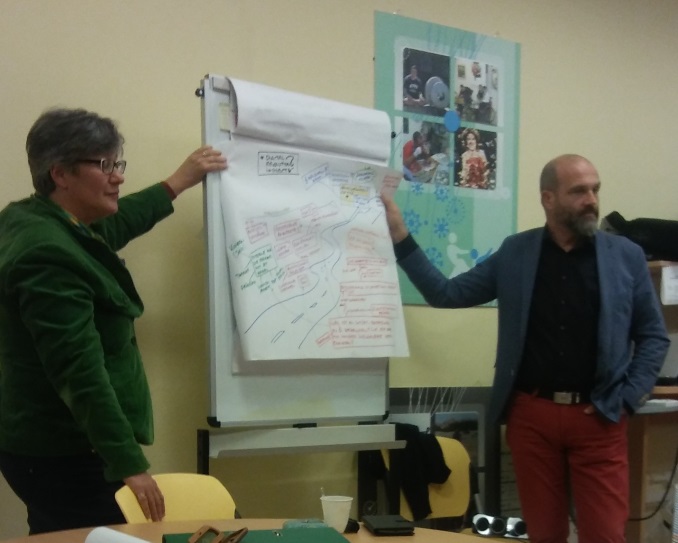 Lebenshilfe organisations throughout Austria adopted the systematic implementation of person centred technology in service provision as an important target for organisational development.  The Erasmus+ funded project "Better lives through person centred technology" provides the opportunity to learn from international examples of good practice.
In November 2017 delegates from seven Lebenshilfe organisations attended the first training at AIAS Bologna, which was tailored to their interests and learning needs. CEOs, service managers, experts in assistive technology, and occupational therapists had used a German version of the Entelis self-assessment tool for service providers to reflect on the current situation in their organisations and prepare for the learning event.
Three trainers at AIAS Bologna shared their expertise and experience on how to make technology work for people with disabilities, and on how to design services in the assistive technology field. Through lectures as well as a guided tour through an up-to-date showroom and smart homes the participants got a good overview on critical success factors, and were able to learn about the specificities of the model developed and implemented in Bologna. The Lebenshilfe participants expressed high satisfaction with the scope of the program, the expertise of the trainers, and the relevance and transferability of what they learnt.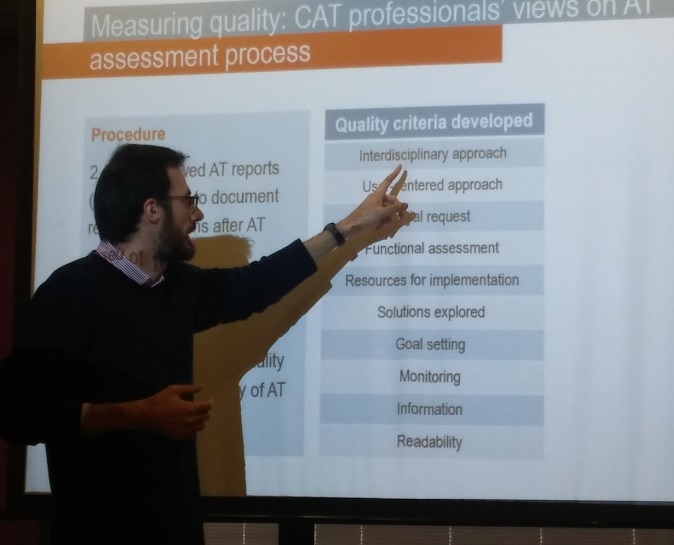 The Lebenshilfe organisations will use their joint forces for adaptations, restructuring of current services, implementation of new services like independent expert centres, and lobbying for better legal and financial frameworks.
For 2018 two more trainings are scheduled visiting examples of good practice in the UK. Both Hft and Learning Disability Wales work with us on tailoring learning events for the specific interests of our participants.After the trainings, all delegates will meet to work on strategies and measures for implementation in Austria building on the acquired knowledge and the creative ideas triggered during the learning events with international experts.
---
About the organisation:
Lebenshilfe Salzburg provides a broad range of services for persons with learning disabilities locally in the communities (early intervention, therapies, housing, employment, and adult education) throughout the Salzburg region in more than 80 locations. Currently, the organisation employs 700 staff supporting 370 users in housing and 740 in occupational services, providing therapies (e.g. speech, occupational…) for 1900 persons and early intervention services for 300 families financed by the authorities of the Salzburg region. Volunteers also play an important role for participation and inclusion.
Lebenshilfe service providers operate in all Federal States of Austria except Burgenland. They have been established in the 1960ies by parents of persons with learning disabilities improving opportunities and quality of life for their sons and daughters. They offer a similar range of services according to regional laws and regulations focused on housing and work related services. Regional specificities lead to partly different structures and service landscapes. Certain types of services are rendered in some, but not all regions, e.g. early childhood intervention (e.g. Salzburg, Tyrol, Styria, Upper Austria), therapies (e.g. Salzburg, Vorarlberg, Styria), counselling (e.g. Salzburg, Styria), vocational training (e.g. Styria, Tyrol), adult education (e.g. Vorarlberg through an academy, Salzburg, Österreich). Several organisations are the largest service providers for the target group in their region (e.g. Salzburg, Vorarlberg, Tyrol, Upper Austria, LHSD (Styria)); others have smaller structures (e.g. Carinthia, Vienna). Together they render services for 11 000 users with learning disabilities by 7500 staff.
---
Links:
Persons Centred Technology (European Association of service providers for persons with disabilities)
ENTELIS (European Network for Technology Enhanced Learning in an Inclusive Society)
---
Copyright Fotos: Lebenshilfe Vorarlberg