Learning communities in rural areas

This article is part of the EPALE European theme week focusing on: "Learning communities in rural areas". This topic brings together initiatives from Austria, Belgium, Finland, France, Germany, Hungary and Poland.
Author: Dr. Joachim Gruber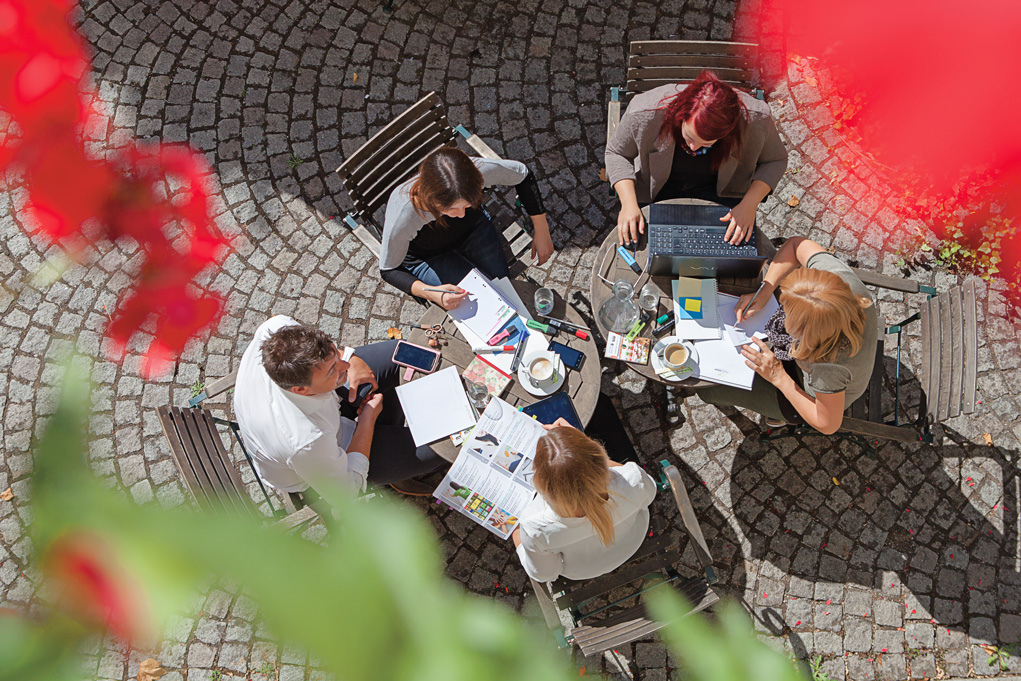 © tg-graphiczone.com
The findings have been well-known to Austria's adult education sector for decades: While a wide variety of educational offers can be found in densely populated urban areas, there is increasing atrophy in the outskirts of towns and cities as well as rural areas with regard to civic engagement and democratic initiatives. Until now, numerous attempts at a therapy for this have also only brought about minimal changes through the provision of digitalised educational offers.
However, the war in Ukraine which has been going on for several weeks now has led to concern for the preservation of democratic structures and a liberal, Western model of society and has caused considerable anxiety and irritation at all political and social levels. It became all too clear quite suddenly and surprisingly that things might not stay the way they were in this regard as well. Never again should there be war in Europe – that was a matter of common sense and hardly needed to be questioned until now.
Dictators, autocrats, and oligarchs in politics and in the economy have now convincingly demonstrated what they are capable of within a short period of time. Of course, there were signs and warnings in the past. Yet those voices of concerned citizens – who have devoted themselves to democratic educational work voluntarily or professionally through numerous initiatives and associations for decades already – went widely unheard. After all, there were more important things to do. Most importantly, things which would help prevent the economic growth that was reliably recorded every year from stalling. And now there is great panic and disillusionment, and initiatives for democratic political education are expected to quickly sprout up from the ground everywhere. But are these hopes realistic? Hardly. These topics have been neglected for too long in the thoughts and actions behind educational policies. So, we should not deceive ourselves: Making up for this negligence will take a lot of time and require good ideas regarding content, methodology, and didactics in all pedagogical institutions and organisations. And, yes, digital technologies and digital educational formats will provide a very important means of communication for this. Despite this, many more physical learning venues will be required in the outskirts of towns and cities as well as in rural areas so as to facilitate social gatherings, networking, and peaceful exchanges. For the Internet and post-structuralist theories about freedom from reliance on specific physical locations have not at all shown us a promising path towards a more democratic future so far.
The almost unlimited flexibility and globally oriented mobility of people that was demanded and propagated virtually without exception before the coronavirus pandemic often meant nothing to many citizens in rural areas other than forced, externally imposed processes of an unwanted blurring of the boundaries of their accustomed lives.
Besides the application of an extensive and varied pedagogical methodology toolbox, it is especially crucial in my view to re-establish physical learning and educational venues with structures and rules to allow for social encounters between people which are productive and free from fear. Venues that allow one to spend time with other people and in direct contact with each other (free of charge and without obligatory purchases as far as possible).
Especially in times of fundamental social upheavals and rapid technological changes, I consider such leisure and learning venues to be more important than ever for reflecting on a liberal, democratic structuring of society and life. For in times like these, it is not just about expanding one's usual everyday factual knowledge. It is ultimately about nothing less than recovering socio-democratic orientational responsibilities by means of learning together and through education. It is about nothing less than lastingly maintaining and continuously improving our peaceful coexistence.
_____________
Dr. Joachim Gruber, born in 1960, is the pedagogical head of the Retzhof educational institute in Styria and a lecturer of management in educational organisations at the University of Graz.
---