Learning Analytics can shape the future of adult learning
by Jan Hylén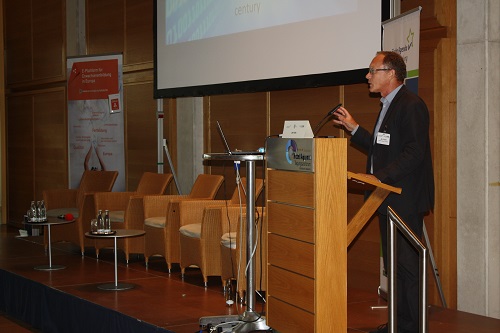 Learning analytics is widely recognised to be a key driver for the future of learning. There is no universally agreed definition of the term. One popular definition, developed by George Siemens, states that learning analytics are "the measurement, collection, analysis and reporting of data about learners and their contexts, for purposes of understanding and optimizing learning and the environments in which it occurs". One of the most straight forward ways of explaining what learning analytics is about, is a quote from Eric Duval who says that "learning analytics is about collecting traces that learners leave behind (in digital environments) and using those traces to improve learning".
The use of data to inform decision-making in education and training is not new but the scope and scale of its potential impact for teaching and learning has increased by orders of magnitude over the last few years. We are now at a stage where data can be automatically harvested at previously unimagined levels of granularity and variety. Analysis of this data has the potential to provide evidence-based insights into learner abilities and patterns of behaviour which in turn can provide crucial insights to guide curriculum design and delivery to improve outcomes for all learners, and so contribute to national and European economic and social well-being.
What is the use of learning analytics?
It is still early days for learning analytics but there are huge expectations connected to the technology and the potential is indeed great. Educators can use learning analytics to: monitor the learning process, explore student data, identify problems, discover patterns, find early indicators for success, poor marks or drop-out, assess usefulness of learning materials, increase awareness, reflect and self-reflect, increase understanding of learning environments, intervene, supervise, advise and assist, and improve teaching, resources and the environment.
Learners can use learning analytics to: monitor their own activities, interactions and learning process, compare their activity with that of others, increase awareness, reflect and self-reflect, improve discussion participation, learning behaviour and performance to become better learners.
An important element when developing analytics is timescale. Most current analytics focus on data about the past, reporting what has happened. Other analytics link the present situation with a predicted future; using forecasts and predictive modelling to identify indicators of success, failure or student drop out. A preferable approach, linking learning analytics and learning design, will be the use of analytics to support educators and learners to produce a desired future result.
But, when discussing the great potential in learning analytics, there are some issues that should not be forgotten. Among these is the need for interoperability and standardisation among different digital learning environments, different content providers and learning providers. If the technological systems cannot "talk to each other" and easily exchange data the information will be locked in into different systems and potential of learning analytics will not be realised.
Another issue is the importance of visualisation of the data. If the huge amount of data that is gathered in the systems cannot be visualised in a way that it is understandable also without advanced knowledge in statistics, the data will be of little use for most people. The output must be visualised in a way that the individual learner himself, as well as educators can make use of.
Privacy issues are key
But the most serious issue is about privacy issues, or the right to control what others know about you. Larry Johnson, CEO of the New Media Consortium (NMC), known for their Horizon Trend Reports about the latest trends in educational technology worldwide, have said that "everybody's talking about Big Data and learning analytics, but if you don't solve privacy first it is going to be killed before it has really started." The best way to handle privacy concerns is to give the learner full control over his own data. The Dutch organisation Kennisnet have tried to visualized a possible solution for future management of access to data by the learners themselves. Instead of raising the privacy issue by fear, pointing out potential risks, they have designed a mock-up that naturally raises questions about the current way of dealing with data in education, called "privacy by design". An online dashboard offers transparency about which data is being collected in the process of learning and for what purpose at any time and place. The learner can decide for himself who has access to which data and for how long.
What happens next in learning analytics?
Current developments in learning analytics are focused on three areas: understanding the scope and uses of learning analytics; integrating analytics into existing courses; and expansion of learning analytics to new areas, particularly MOOCs. It is now relatively straightforward to develop data-driven analytics, based on activities that can easily be quantified and counted, such as the distribution of scores for each piece of online assessment. The challenge is to develop analytics that start with questions, not data. What problems could analytics help to solve? What will learners and educators gain? How will the analytics support positive change? These fundamental questions do not emerge from the data. Instead, they stem from models of teaching and learning, from conceptions of knowledge, of how learning takes place and what can be counted as success.
The future development of learning analytics should not be left only to researchers and commercial players. It need to involve educators and, not least, learners. How can we raise the awareness regarding the importance of learning analytics and how can meeting points be established where teachers and learners can have a say and influence the shape of new analytical tools and the development of learning analytics?