From leaky colanders to binding codes: What protection do disabled learners have in England?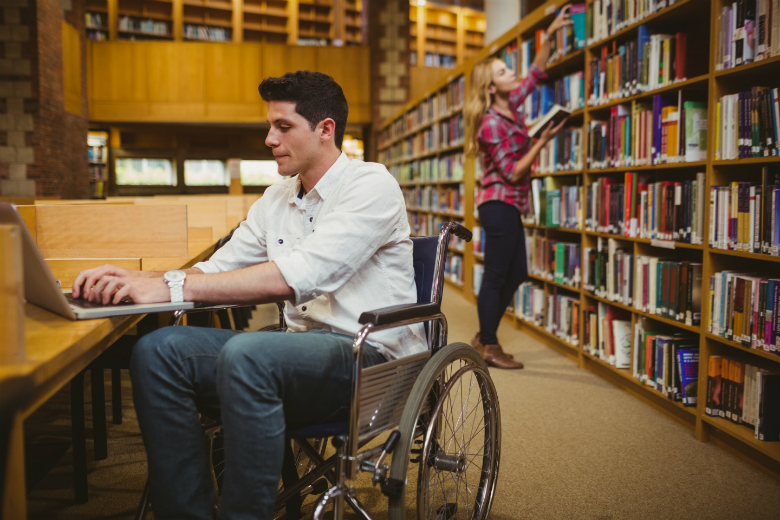 Jo Honigmann, CEO of CPotential, talks about how the law in England protects disabled learners.
When the 1995 Disability Discrimination Act (DDA) came into force it had many critics; Lord Lester described it as being "so full of holes that it is more like a colander than a binding code". The exclusion of the provision of education (other than minor duties concerning the provision of information about facilities for disabled students) was one of the widest holes and it was only plugged by the 2001 Special Educational Needs and Disability Act. The Equality Act 2010 ("the Act") then brought all the existing discrimination legislation into one Act, providing protection to people with 'protected characteristics' in various contexts including education. In theory, therefore, colleges, higher education and adult education settings in England have had many years to understand the need and requirements for provision for disabled students. 
Equality Act 2010
There are nine different characteristics protected under the Act, including disability, not all of which are protected in every context. A person is disabled under the Act if they have a physical or mental impairment that has a substantial, long-term adverse effect on their ability to carry out normal day-to-day activities. Not only has the definition itself come under fire as it is rooted in a medicalised model but its interpretation in tribunals and courts has proved a fertile ground for argument.
The Act provides protection from four different types of discrimination:
direct discrimination
indirect discrimination
and, for disabled people only:
discrimination arising from disability
failure to make reasonable adjustments.
Harassment and victimisation are also unlawful.
In an education context, the duties differ depending on the type of education provider. Examination bodies also have duties and are frequently challenged.
The Act's Further and Higher Education provisions cover most aspects of student life including admissions, exclusions, all activities/facilities and the formal education provided but not the content of the curriculum.
Reasonable Adjustments
The Reasonable Adjustments (RA) duty is the cornerstone of the Act for disabled people as it was (in a slightly different form) of the DDA. It applies differently in different contexts. In an education and service provision context, the duty is anticipatory and ongoing, i.e. it is a proactive duty. A disabled person cannot be charged for the cost of making reasonable adjustments for them; the funding available differs depending on the type of education provider.
In a Further and Higher Education context the RA duty requires education providers to take reasonable steps to:
avoid substantial disadvantage where a provision, criterion or practice puts disabled people at substantial disadvantage (more than minor or trivial); e.g. allowing lectures to be recorded, providing handouts in accessible formats and in advance, granting extensions to library loans and permitting extra time in exams;
provide an auxiliary aid or service where a failure to do so would put a disabled person at a substantial disadvantage; e.g. equipment such as induction loops, audio-visual fire alarms, provision of specialist assistance such as sign language interpreter, note-taker, reader, guide;  
avoid substantial disadvantage to a disabled person caused by a physical feature including removing or altering the feature in question or providing a reasonable means of avoiding it, e.g. removing trip hazards, providing a ramp, permitting students to access through a more accessible staff entrance.
It doesn't apply to 'competence standards' but does still apply to the process by which such standards are assessed.
Public Sector Equality Duty
This duty aims to eliminate discrimination from within a public body. It has two parts - a general duty and specific duties. Under the general duty providers must have regard to the need to eliminate discrimination, advance equality and foster good relations in the exercise of their functions. 
Not all public bodies are subject to both parts of the duty, but the majority of Further and Higher Education institutions in England are, and a failure to comply is increasingly referenced in Equality Act claims.
Positive Action
The positive action provisions in the Act allow education providers to take action (which would otherwise be unlawful) to redress the past or present disadvantage, or discrimination faced by students with protected characteristics. In the case of disability, education providers can focus on people with a particular impairment and not those with other impairments. The irony of positive action is that it has the potential to bring about great change but is voluntary.
For further information about these duties see the Equality and Human Rights Commission's ('EHRC') website.
Has the legislation been effective over time?
Legislation will only be effective if it is known about and understood both by the student and the educational provider. Even then, if it is ignored the onus is largely on individuals to enforce it, which can be challenging and costly.
It is clear that there are frequent misunderstandings about this legislation, for example the DDA rather than the Equality Act is still frequently referred to. Specialist education solicitors report that disability discrimination claims are common in both Further and Higher education contexts. The majority of these could be avoided if responsibilities were understood, encouraged and enforced from the top down. 
There is an urgent need for training about the legal duties and how to implement them to be given sufficient time on teacher training courses. On my teacher training course, other than being told about the "Access for All" section of the Excellence Gateway website, this topic was left until the last day of the course and even then, students were asked to research different disabilities rather than receiving effective training. 
There are advanced diplomas in teaching students with a variety of different disabilities such as dyslexia, but all teachers should be equipped with an understanding of the legislation that effects their day-to-day practice, the variety of learning needs their students may present, the teaching techniques to meet these needs and what to watch out for, especially as many students may have undiagnosed needs, even in adulthood. Newly qualified teachers are notoriously busy and to expect them to effectively identify and support students' additional needs on top of their other pressures is unfair on all concerned, but most of all on students who desperately need timely, effective support. Ongoing training for all involved in supporting disabled students is required so their knowledge remains current and apt.
The first of the EHRC's recommendations in its 2017 Being Disabled in Britain; A Journey Less Equal report, is to "Reduce educational attainment and employment gaps for disabled people". This suggests that despite legislation being in place for many years, a level playing field for disabled people remains elusive. Adult learning is key to contributing to this reduction in attainment. I hope that despite the uncertainties surrounding Brexit, collaborations and discussions will continue around this challenging topic for the benefit of current and future generations of students and that a return to "leaky colanders" of legislation will be avoided.
Jo Honigmann, CEO of CPotential is a former solicitor and consultant specialising in education and discrimination law, former Chair of the Law Society's Mental Health and Disability Committee and former Disabled Students Officer at the University of Hertfordshire.