How to Reduce the Impact of Training on the... Environment?
I believe that today there is no need to convince anyone that environmental protection and eco-conscious behaviour are critical to the sustainability of human society. Also, at this year's trainers' unconference, it was considered important to focus on the environmental issues when analysing adult educators' environmental awareness. The topic of the discussion was "Environmental Awareness of the Trainer and Reduction of the Ecological Footprint of Training" ("Koolitaja keskkonnateadlikkus ja koolituse ökoloogilise jalajälje vähendamine" (link is external) and professionals from various sectors in adult education participated in it, which allowed for a wide range of approaches to this issue. During the efficient and intensive discussion, the main critical themes related to training and environmental protection were mapped. With the same intensity, the participants continued to propose possible solutions to the mapped problems.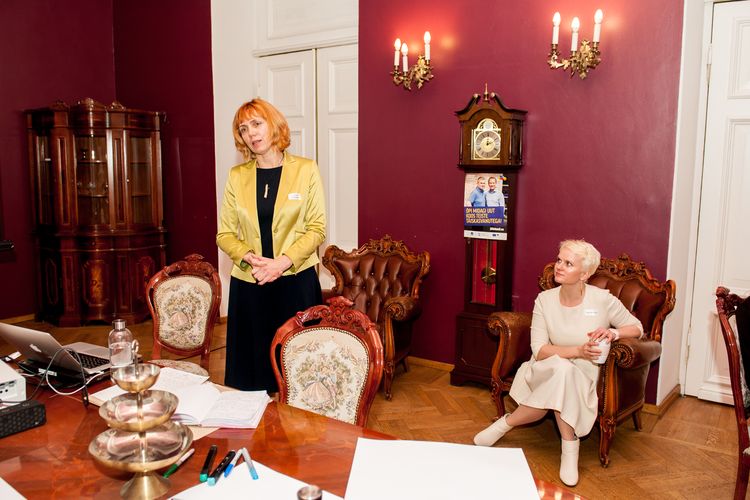 Every single person has the power to change the world. Each one's personal commitment to act more environmental-friendly helps us to achieve our goal – live in a cleaner and healthier environment. However, personal decision-making requires awareness and realization, so it can be said that adult educators and practitioners have a great opportunity to be initiators of change. In this context, adult education practitioners have an important advantage over others because we have direct and personal contact with many members of society.
Environmental Impact of Training
Lots of our current ways of doing things are neither environmental-friendly nor money-saving. We do it because "it has always been like this". However, a little reflection, broader consideration, and deeper thoughts help us act in ways that introduce trainings with a smaller ecological footprint (link is external) and more environmentally-conscious participants.
During the discussion, key areas of focus were identified where the trainer and the training provider could make more environmentally friendly choices. The areas include training facilities, transport, waste management, catering and drinking water, training-related purchases.
Making a difference
During the unconference, we prepared a problem map with the participants, which included the most significant environmental factors during trainings, as well as possible solutions that everyone could propose: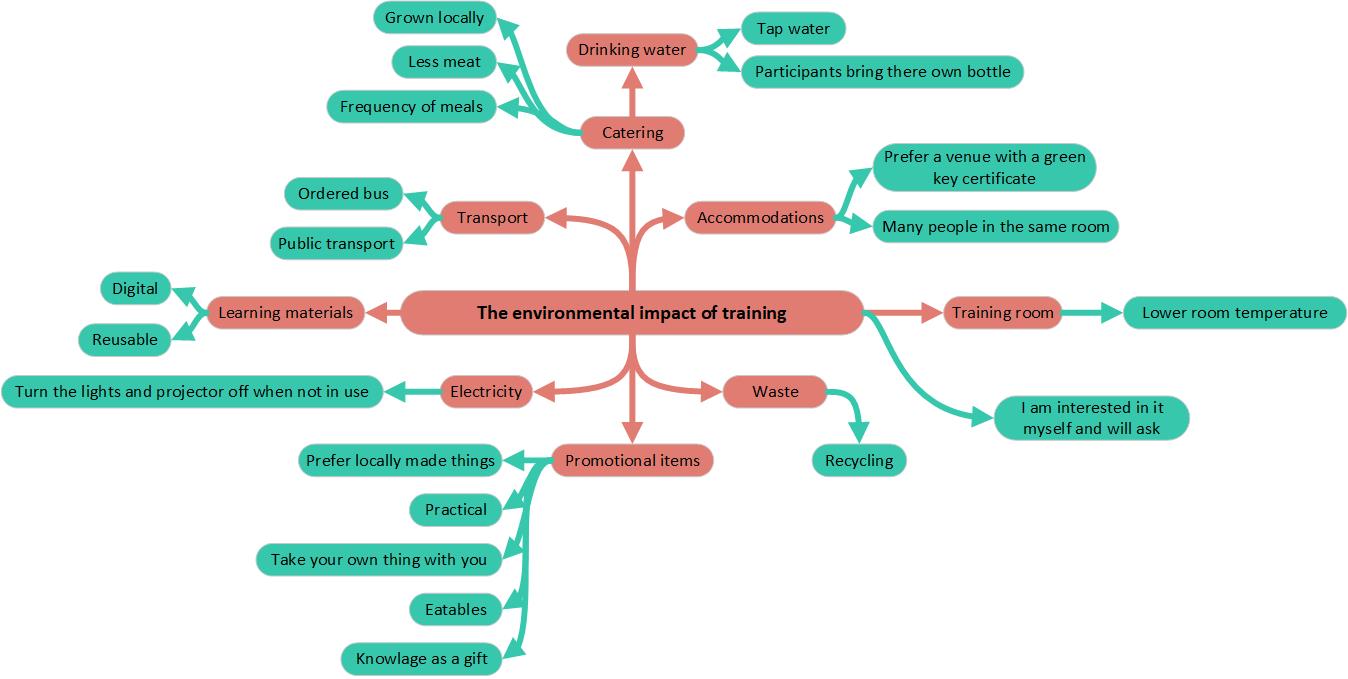 And while the discussion confirmed that we do not always have the freedom to act in an environmentally friendly way, we all can ask. Ask participants how they get to the training site by public transport, ask for tap water for drinking; ask participants whether they can bring their own water bottle, whether the room temperature can be lowered, whether labels or materials can be reused.
Tartu Nature House has developed a guide for organizing eco-friendly events. A thorough guide provides an overview of the key environmental factors in organizing events, many different examples of how to organize green events, and a checklist for organizing them.
The environmentally sustainable behaviour of members of society requires a change in attitudes, and is therefore closely linked to the trainer's daily work. Adult educators reach a very large target audience and, thus, have the opportunity to broaden and update the understanding of many people.
While environmental issues are critical, there is no reason to panic, because big changes start with small things, so we can all do something today to have a healthier and better living environment for ourselves and future generations.
Watch the video below about the trainers' unconference discussion on how to reduce the environmental impact of training. (In Estonian)
You can find an overview of the 5th trainers' unconference "Quality of Training" ("Koolituse headus") and other video recordings here.
--
Veronika Tuul is an educational designer, trainer and EPALE ambassador. As a practitioner, she is interested in expanding technology-based learning opportunities through in-service training and professional development. She has an adult educator's level 7 qualification.