Carry on Nurse - Workplace learning in focus – Interview series
Original language: Hungarian
Reading time approximately eight minutes – read, like, comment!
Workplace learning in focus - Interview with an employee of the Medical Centre of the Hungarian Armed Forces
The Hungarian and German EPALE National Support Services have launched a joint thematic week with a focus on workplace learning. EPALE Ambassador in Hungary Annamária Kiss conducted a series of interviews with five organisations that make great efforts to train their employees.
The following interview took place at the Medical Centre of the Hungarian Armed Forces (Military Hospital) with Captain Edit Kiss who has been working in healthcare for almost 20 years and as a vocational trainer in the institution since 2010. Hospital workers either have military ranks or are employees of the Armed Forces. Responsibilities undertaken at the institution includes military medicine, which has a wide variety of benefits such as enabling colleague to learn about devices and methods that are not always available in civilian medicine.
How does the notion of learning fit with the mindset at the hospital?
I think our hospital provides workers with an encouraging environment in this respect, as we place strong emphasis on offering training opportunities. Each year, we assess the number of employees who want to learn by getting involved in further education and training in their current or a different field. Our hospital supports both secondary and tertiary training courses and we also prepare an enrolment plan. To my current knowledge and experience, there are very few hospitals that provide support for tuition fees; however, we also have a dedicated budget for that purpose.
We conclude study contracts with students, allowing them to have school days and practice days that count towards their working hours. This requires considerable logistical efforts on the part of departments, yet all managers are willing to do this. Of course, we have to remain within reasonable limits. The number of people a department can afford to grant a leave of absence depends on medical needs. In addition, we get many enquiries from people wanting to do research related to their theses or scientific work at our institution. In most of the cases, after extensive consultations on data protection, we can work together as partners.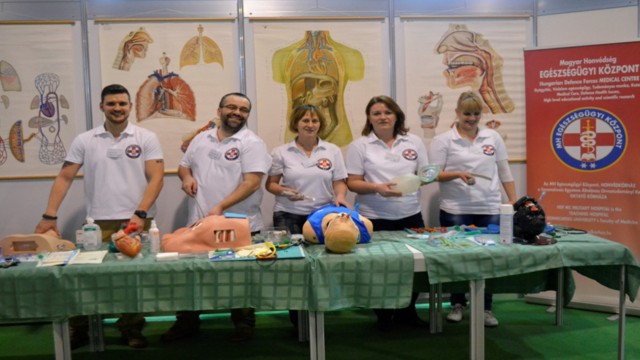 What further opportunities are provided in terms of education and training?
Our hospital also organises both compulsory and optional further training programmes for trade groups[1]. We provide each trade group with further training opportunities. Currently, we have 17 trade groups. I think covering these requires a great deal of work and is an enormous task. Further training programmes not only involve our own employees but also those of various other medical institutions, as these programmes are announced and available for enrolment through a central system called SZAFTEX. Our hospital has a special focus on our employees' intention to be involved in further training.
Are further training programmes offered free of charge to employees?
Compulsory further training programmes for trade groups are free of charge once per training period. There is a wide range of optional programmes as well. The accreditation of further training programmes is subject to strict regulations setting out who can be a lecturer and how many lectures a further training programme must include.
How are employees informed of optional further training programmes?
Via our institution's communication, freely available for use by anyone, as well as through head nurses. The institution's vocational trainers help with implementation.
So, can we say that the organisation has a training unit that organises the training programmes using vocational trainers?
Yes, they have a broad scope of responsibilities as vocational trainers. One of their key responsibilities is organising enrolment and further training programmes. We consider it a very important task to aid the work of those involved in patient care on a day-to-day basis, either at the outpatient clinic or in inpatient care. Our scope of responsibilities is also complemented by military medicine tasks in this case. We contribute to military personnel maintaining and improving their practical expertise. They usually improve their skills at the inpatient departments (emergency, intensive care and burn surgery service) and in the demonstration room. We try to provide each person with specifications depending on the field where they work.
Does the hospital have national coverage?
In terms of further training programmes, yes; however, any accredited institution may organise such programmes with permission. We are in contact and have cooperation agreements with all training institutions providing secondary and tertiary medical training in Budapest as well as all tertiary medical training institutions in Hungary, which is beneficial, because 50% of training programmes usually involve practical training. Thus, our hospital employees have the opportunity to get practice within our institution.
Everyone has already undergone adult training. We organise off-site training in cooperation with training institutions. Training institutions provide the legal framework, while we provide the instructors, venue and equipment. These sessions yielded positive results in many respects. Our healthcare professionals have a chance to educate and share current, up-to-date knowledge. We also endeavour to ensure that whoever visits us to get practice leaves our hospital satisfied and having gained professional expertise.
We had an adult group of 40 that included a wide variety of people from English teachers through policemen to lift operators and they required individual training. Those with a great deal of experience need to be trained differently in practice. You have to find the most efficient way of acquiring knowledge for each person.
What motivational tools does the institution have?
The skills lab[2] itself is a motivational tool. Schools have well-equipped, modern demonstration rooms, but visiting a hospital is crucial. Visiting an institution where real patient care is provided is different. Hospital equipment provides an excellent basis to work with: if a modern medical ventilator or anaesthetic machine is required for training purposes, it can be easily brought to the training room.
The skills lab was opened in 2014. It was set up on the urging of the WHO (World Health Organisation) with the aim of providing a standard set of conditions for practical training and practical examinations. It helps not only with training and further training programmes, but also with maintaining and improving the competences of the institution's employees. Our profession is changing rapidly in terms of equipment, requirements and procedures. Here, we can ensure that our employees have a place to practice when a novel solution arises and provide those who graduated a long time ago with the opportunity to obtain some practice in various nursing procedures such as taking blood samples and providing venous access.
In order for them to be able to do the practical exercises included in the syllabus, we developed a nurse mentoring scheme. The point of this is for every student to have a person responsible for them, mentoring them, helping them during practice and coordinating how they learn the tasks they need to perform for their specific activity. We developed a really good programme to prepare our colleagues on how to engage participants in practice. This includes everything: the role they play besides being "practical", the legal requirements that need to be complied with, the activities they may perform, etc. Introduced one and a half years ago, this scheme has proven to very successful among our students.
What is the basis for your syllabus?
There are so-called professional recommendations for us to follow. When we adapt the professional procedures within our hospital at the institutional level, we then teach accordingly. Furthermore, the heads of hospital departments and outpatient clinics see what causes issues within each department; in such cases, we get indications as to what should be reinforced and then we organise a training session on that subject. We always intend to involve the relevant department's employees so as to gain their cooperation. In any case, we organise training sessions designed to provide assistance.
What other benefits would you mention besides providing workplace learning?
Certainly that healthcare professionals deserve appreciation. We have to support their individual development in any way we can. An individual's professional growth not only promotes personal progress but also yields returns at the institutional level. As we continue to learn during our lifetimes, not only in an organised form but also in various other ways, any training, course or even anything that we read or learn yield returns as all of them result in shaping our personalities. Such development activity will also affect others as employees share their knowledge and experience, thus enhancing not only their own work performance but also that of their co-workers. Last but not least, we will be able to improve patient satisfaction and patient safety as well.
---
[1] Health professionals think in terms of a five-year training period, during which they need to complete a further training programme for a specific trade group worth 30 points and an optional further training programme worth a minimum of 20 points.
[2] A training room for skill development purposes.