Juhani Pörtfors and Matti Sarviranta, a Community Story from Finland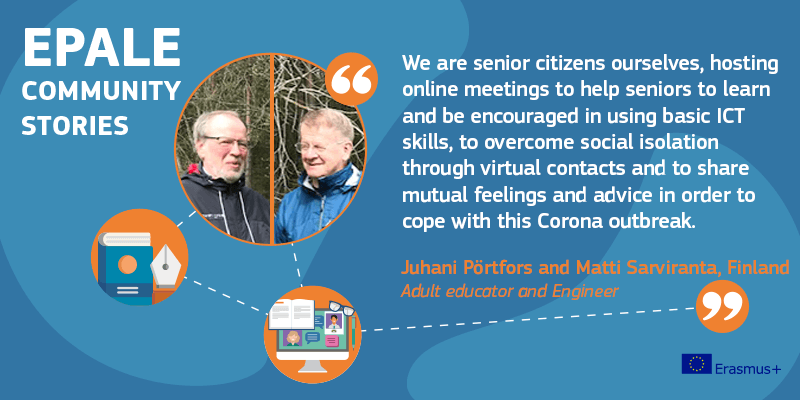 This is a dual-narrative story: Juhani Pörtfors 68 and Matti Sarviranta 70+. We are volunteer workers, digi-guides in a retiree association. Our backgrounds are quite different; Juhani Pörtfors is an adult educator and Matti Sarviranta is an engineer.
We have many years of experience in adult education and our main fields of interest are volunteer work, digi guiding, sports, politics and many others. We are now part of our adult learning organisation which is the Local Retiree Organisation in Turku, Finland.
Our story deals with a lifelong learning model that has been developed during this Corona period
We are a group of 10 digital guides based in Southwest Finland. For three years we have been providing ICT support/guidance to seniors by organising weekly support pop-ups across our city. We are peer tutors and we are trained to work as Digi-guides. All of a sudden we got a message from our retiree organisations that our support points were having to be shut until the end of May and maybe beyond. In Finland, people over the age of 70 and high-risk groups were ordered to live in quarantine-like conditions.
Initially, we sent emails, letters, and Facebook messages to our members to let them know that we could help them by phone, computer, etc. with their mobile phone and computer problems. We soon saw that the corona-restrictions for the elderly could be partially overcome through virtual connections. But only a few contacted us.
Our digital guide team then decided to learn and to test a variety of free video chat apps and platforms on their own, such as Zoom, Teams, Skype, Hangouts, etc. After this initial training period, we invited our members once again to a chat session using Skype. We chose Skype because it is a relatively well-known and widely-used application among the elderly. Since then, we have also received help from our National Retirement Association, which has organised nationwide online classes using a variety of video meeting applications. We have also cooperated with the network built by Turku city and Turku Summer University.
Once again, we informed potential participants about these upcoming Skype-meetings and since then many have been in touch. The tactic was to contact each potential participant individually before the group meeting to test their Skype connection and download the app for them by providing mobile support. The first meeting was on April 16, 2020, and we had 15 attendees. We found that 15 was quite a big group to discuss and share experiences from Corona time. There were two of us hosting the meeting and beforehand we had sketched out a meeting structure, which we have used in other meetings since as well. We contacted each other half an hour before the Skype-meeting and about 10 minutes before the start we both began inviting participants to the session. We had agreed that the participants should open their computers up about 10 minutes before the meeting. There is no limit to the number of participants, but we have noticed that 10 to 14 members is the perfect size.
The meeting ran roughly as follows. Following  a register we had a brief discussion to share experiences and hear from others. To have your say and listen is our motto. After that, we had different types of group quizzes, mainly about spring events such as birds, flowers, but also history, etc. We made use of skills typical of the elderly such as collective memory. At the end of the meeting, we talked about the participants' program suggestions and we also agreed on the next meeting time. During the meeting, we successfully got some participants to share songs, poems, stories, thereby promoting their active participation and empowerment. We have also invited officials from our organisations to discuss the Corona-situation. We have noticed that they are generally willing to attend these meetings. Last time a member of parliament came to our meeting and discussed the decisions made by the Finnish government. To widen our perspective on the Corona-situation and also give feedback to those who are in charge, we have developed our meetings to be more thematic and encouraged participants to get more involved. That being said, participation is enough!
Some additional information and observations so far
Our goals for Skype meetings are: - to help seniors to learn and be encouraged in using basic ICT skills - to overcome social isolation through virtual contacts - to share mutual feelings and advice in order to cope with this Corona outbreak - as facilitators, to learn to host these kinds of meetings with different applications and to share our experiences.
We are senior citizens ourselves, hosting these meetings and meeting online before the Skype discussions to plan the future program. We have a short debriefing after each meeting. We have had over 30 different participants attend our meetings, with more still coming. We will go on for as long as is needed.
On Sunday evenings, after we have planned the upcoming meetings, we send out a message to the participants. We ask them to let us know if they are unable to attend or if they wish to change the day on which they wish to attend. We encourage those who are already involved to invite lonely people to contact us. One of the participants has even set up their own Skype-group. This kind of digital meeting is the first of its kind for many participants and we encourage them to contact us to learn more about the apps, especially how to share photos, etc. We have had only minor issues using Skype for these meetings. There has to be a host who leads the discussion and ensures that everyone can hear the sound and gets their chance to speak. Skype is a very smooth model, even for international use and interaction. Virtual mobility has been a good option to overcome social loneliness and our members have been eager to learn to use Skype and participate in the online meetings.
Senior citizens are now more eager than ever to learn basic ICT skills!
Our experience on EPALE? Juhani Pörtfors signed up to EPALE some years ago. Matti Sarviranta found out about this platform via EAEA.
---
We're looking forward to hearing your story. Share your story today!