IRELAND AONTAS International Women's Day Policy Event
#ErasmusDays2019, the EPALE teams wished to raise awareness about the European Union commitment in adult lifelong learning. They created a digital exhibition with 28 different projects, demonstrating the variety of practices across Europe.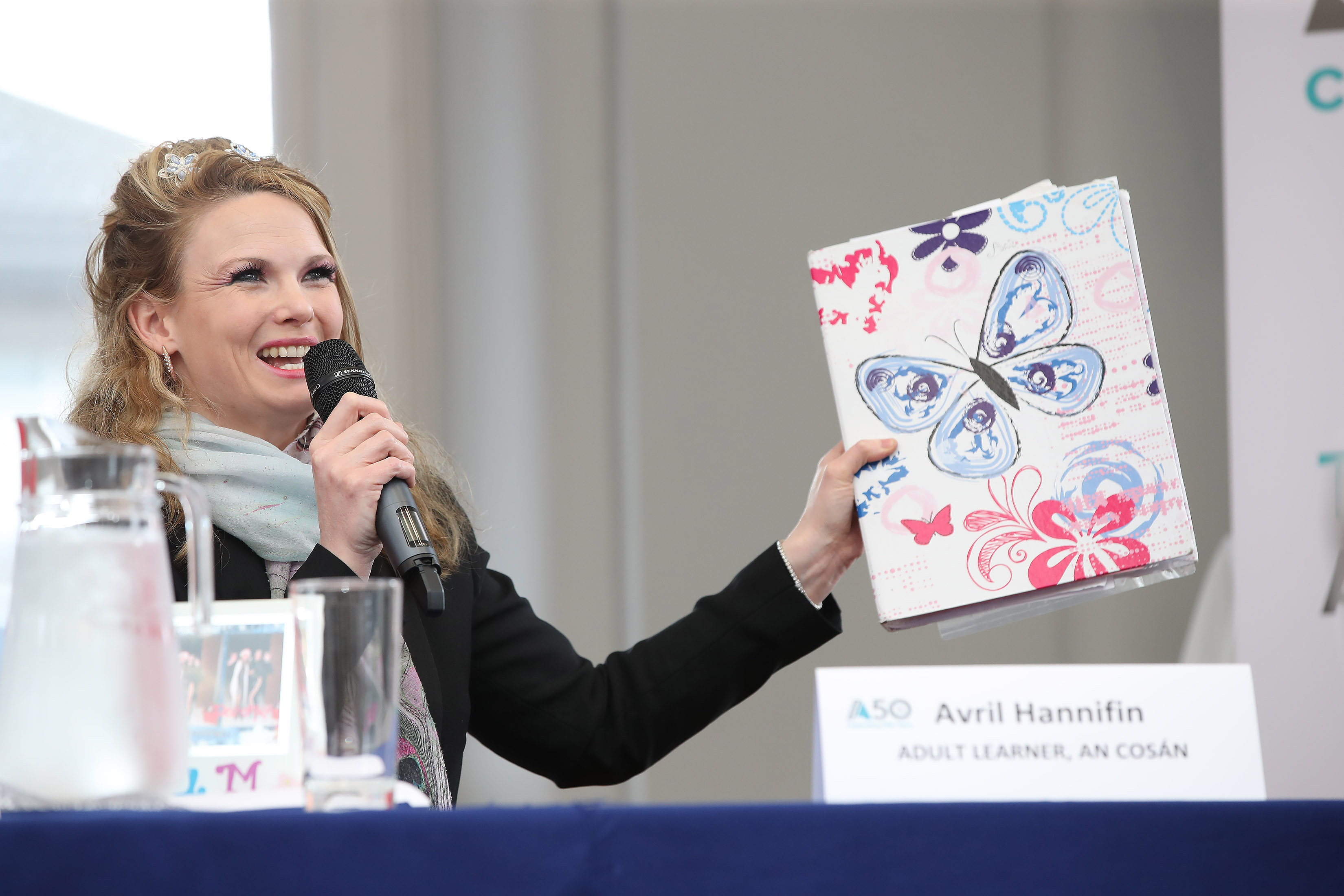 Picture © AONTAS
As the closing event to the 2019 Adult Learners' Festival, AONTAS held an International Women's Day Policy Event: the impact of community education on the lives of women at the Richmond education and event centre in Dublin, Ireland.
The event highlighted the value of community education and fostered discussion around developing a sustainable national funding strategy to ensure the continued support of the most vulnerable people and communities across Ireland.
The day involved a dynamic range of speakers and discussion sessions, including: a panel discussion with four female learners, Avril Hanni n (featured in photo), Maria O'Reilly, Louise Finnegan and Njabuliso Angela Moyo who shared their experiences of community education and the extraordinary impact it has had on their lives; TED Talk-style inputs on benefits and roles of community education from wellbeing to inclusion given by Tara Farrell (Longford Women's Link), Eileen Chan-Hu (CRAICNI), Assumpta Kelly (North Leitrim Women's Centre), Liz Waters (An Cosán), Alice McDonnell (Transformative Recovery College) and Nora Fahy (Roscommon Women's Network); table discussions on developing a national funding strategy; and presentations from Liam McCarthy of SHEP, AONTAS CEO Niamh O'Reilly and Véronique Halbart and Michèle Mombeek of the Fédération Wallonie-Bruxelles in French-speaking Belgium on models of community education and funding from regional, national and European perspectives.
The event succeeded in highlighting the importance of community education in the lives of women, fa- milies and communities and generated engaged dis- cussion between learners, practitioners and policy makers on how we can work towards a sustainable national community education funding strategy. A discussion paper was also developed.
| | |
| --- | --- |
| NAME OF THE PROJECT | Lifelong Learning in Gyula |
| AIM | Highlight the purpose and value of community education for learners |
| TARGET GROUP | Learners, practitioners and policy makers |
| WEB | |
| ORGANISATIONS | • IRELAND: AONTAS, CRAICNI (Cultivate Respect, Appreciate Inclusion in Communities in Northern Ireland), North Leitrim Women's Centre, An Cosán, Transformative Recovery College, Westmeath |
National Support Services IRELAND
Leargas
Read more about the exhibition process and find the table of contents with all the projects : https://epale.ec.europa.eu/en/blog/erasmusdays2019-digital-exhibition