Invitation to the Euroguidance Austria Conference 2018: Lifelong guidance on a dynamic labour market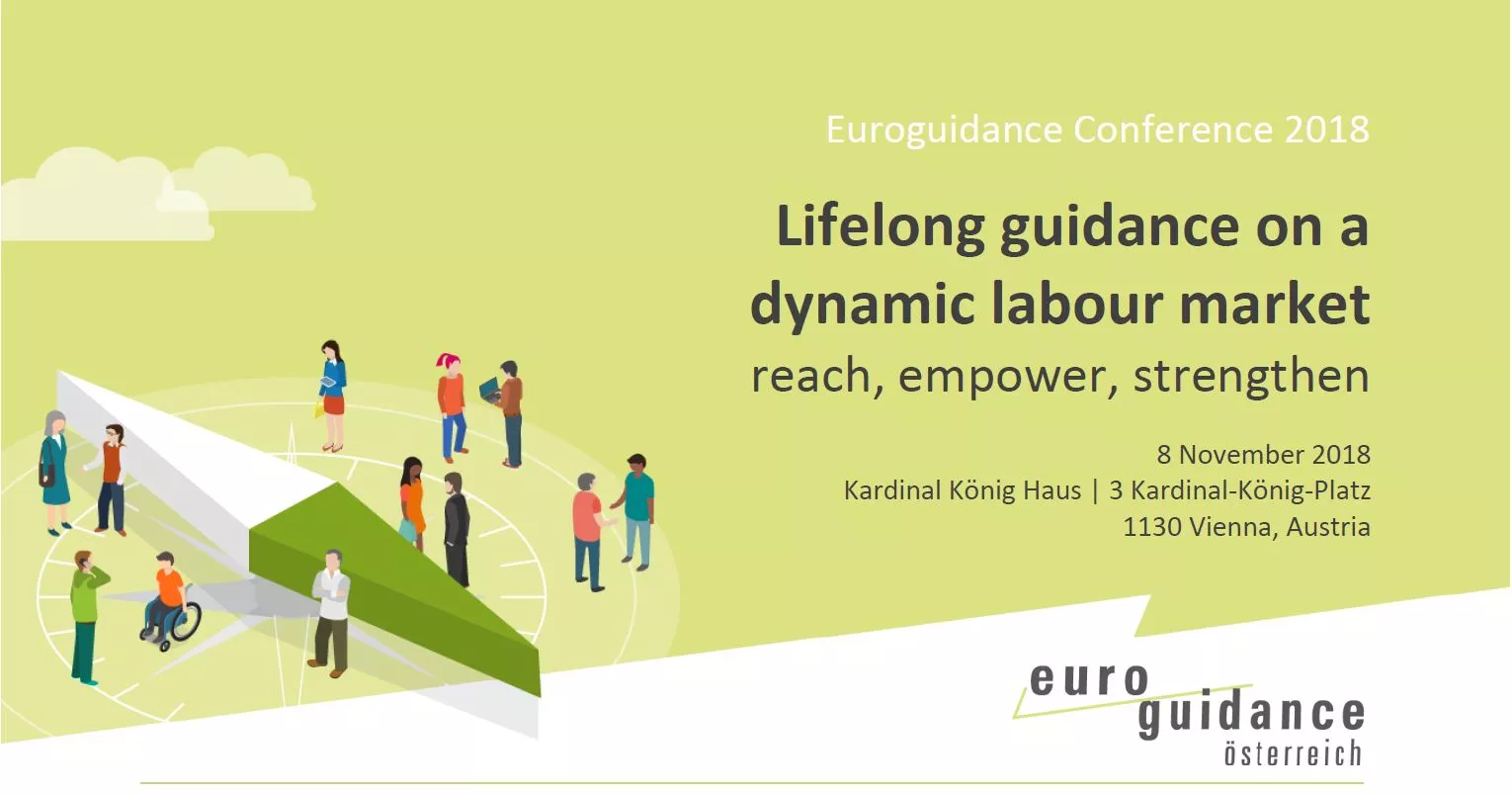 The European labour market is undergoing a period of rapid change. We are facing huge challenges as the job market is becoming more fluid and technology is developing at an astounding pace with no sign of slowing down. This particularly affects those who are disadvantaged and therefore at greater risk of exclusion. Due to the current transitory nature of the job market, the ability to cope with change is an essential skill that workers need to develop in order to enter into it successfully and to fully participate in society.
But how can we reach disadvantaged members of society in particular and how can lifelong guidance – in the sense of sustainable support aimed at working life as a whole from an early stage – help people to deal positively with transitions in the job market?
Alison Crabb, Head of the Skills and Qualifications Unit at the Directorate-General for Employment, Social Affairs and Inclusion at the European Commission, will be talking about the rapidly changing face of the job market and the frequent transitions that arise as a result. She will be offering an insight into the latest strategic developments in Europe, including the 'Upskilling Pathways' strategy and the 'European Pillar of Social Rights'.
Andreas Hirschi, Professor of Work and Organisational Psychology at the University of Bern, will talk about modern approaches to sustainable career development in his keynote speech, during which he will refer to the astounding pace at which conditions on the job market are changing. Careers guidance that takes these conditions into account (rather than focusing solely on 'matching' to find a suitable job or study place) needs to concentrate on achieving and maintaining a status of employability, drawing attention to and encouraging active use of resources (such as social networks), incorporating motivational elements and working on strengthening the ability to deal with change and adaptability as a whole. Taking this approach can help support lifetime career development in a holistic and sustainable manner.
Alongside the plenary discussion, the conference is also running five parallel methods and discussion workshops. There will also be a chance to get to grips with Erasmus+ projects, methods and tools, as well as networking opportunities, as part of a 'methods market'.
The conference is held in German, one workshop is held in English.
Registration is open until 25 October 2018.
We look forward to welcoming you in Vienna!
The team of Euroguidance Auistria and the National Agency for Erasmus+ Education
---
Registration