Introduction to virtual reality (VR/AR/MR)
On a Saturday afternoon, elegantly dressed guests are gathered in the chapel and a slightly apprehensive groom dressed in a black tuxedo is expecting the bride at the altar. After a while, you can hear a round of applause and pictures are taken. There would be nothing exceptional about it, if not for the fact that the bride is an animated character and the ceremony takes place in virtual reality.
And this is not a scene from a science fiction film. Last year, nearly 100 bachelors from Japan wearing special headset, said "yes"  and kissed their virtual brides. This clearly shows that this type of technology is no longer a gadget to play with nor a very advanced niche tool. Statistics show that in 2021 this market will be worth USD 200 billion, which is more than the value of smart TV market.
Grafika 1: Japanese Men Are Now Marrying Anime Characters With Virtual Reality (https://nextshark.com)
Whether we like it or not, technology impacts on our private and professional lives. Even if you have never been a particularly technically oriented person and your company takes its time to introduce new technology, you still need to be familiar with it and think how you can improve or expand your operations thanks to it.
Research results, which clearly show that training using 3D materials is more efficient than traditional one can be an incentive for you. The participants of such training not only learn faster, but also retain new information longer and are more motivated and attentive during classes.
This article is intended to introduce you to the world of virtual technologies. I want to show you that anyone, and not only IT engineers, is able to test and use them in their educational projects. This is yet another tool, which will allow you to increase the efficiency of your training activities (provided they are implemented in a sensible way :) )
What is VR? How does it differ from AR? And how the two relate to MR? Which headset to choose and why? This article provides answers to these questions and presents the latest projects and lots of examples.
Let's get down to business and start with definitions. There are two main categories; VR (virtual reality) and AR (augmented reality) products.
VR or virtual reality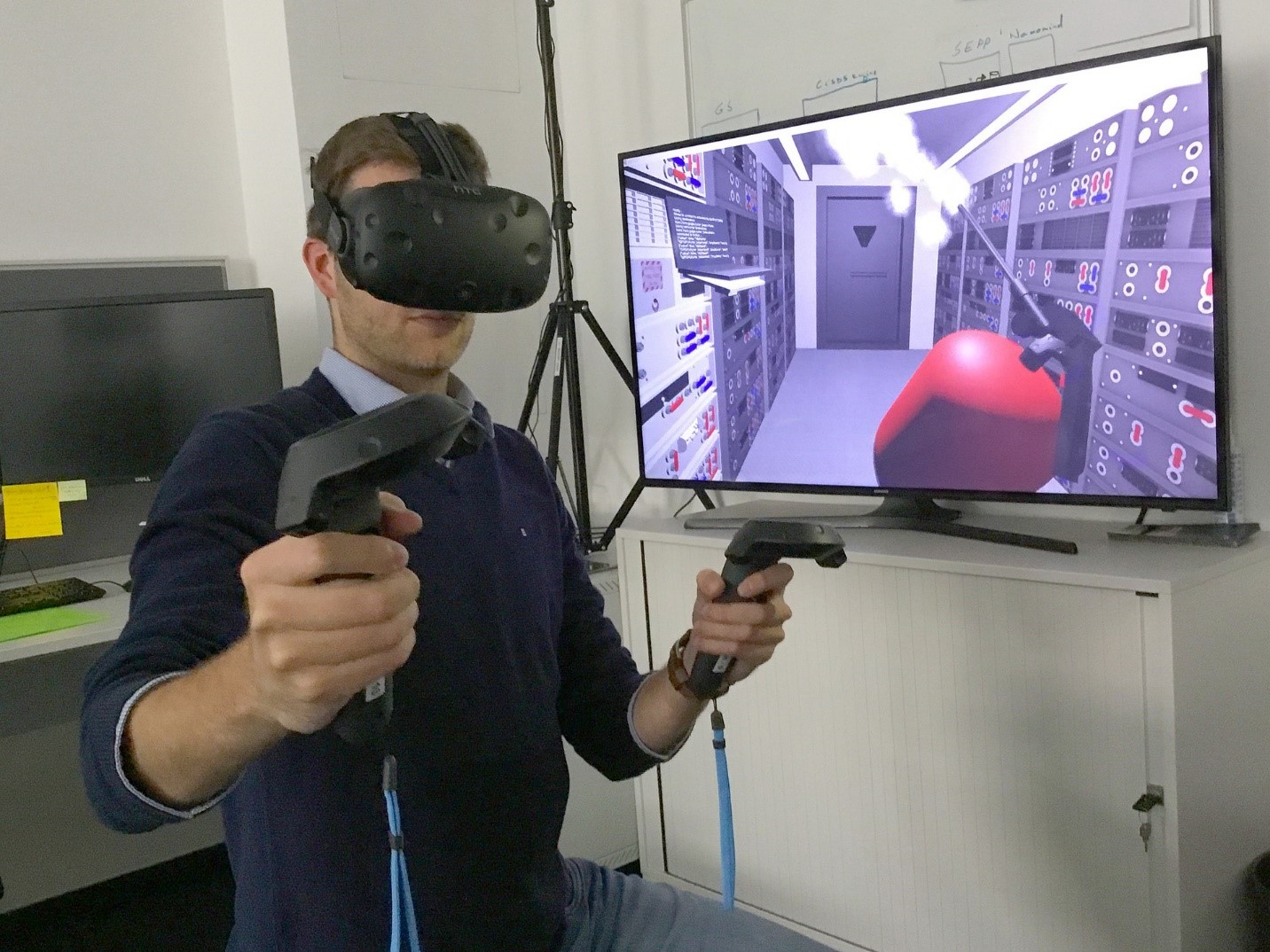 Grafika 2: Researchers with the European Space Agency in Darmstadt, Germany, exploring virtual reality for controlling planetary rovers and satellites in orbit (Wikipedia.org)
This is the most common and the oldest technology presented here. It requires a special headset, which completely obscures the surroundings and deadens the sounds. As a result, you are totally immersed in the virtual world. Imagine that you are sitting in your office, mount the headset and after a while you see a prehistoric jungle and dinosaurs. Digital images are displayed in front of your eyes; animations, videos, games and 3D elements with which you can interact by using special controller kept in your hand. There are a few categories of VR headsets, depending on the level of their technological advancement.
The simplest model (Cardboard) costs a few euro  and consists of a carton box with two lenses, in which you place your smartphone. The image on the phone screen is split in half and sent separately to each eye. The quality is poor, but allows you to have a taste of VR technology without incurring large costs. You can also find plastic glasses, which operate in the same way as the cardboard. They differ not only in terms of the comfort of use, but also the quality of lenses. Some of them include headphones.
Demo: TechCrunch
Examples of devices: Cardboard
Price: starting from 3 USD (+smartphone)
Content: For a start, you can download free applications, like VirtualSpeech or watch one of the many 360-degree videos available on YouTube.
The next category includes headsets supporting specific smartphone models. Here the strongest competitors are Samsung Gear VR  and Google Daydream. In comparison to the Cardboard, we have a quantum leap here as regards the quality of the product and the displayed image. Unfortunately, these headsets only work with selected and more advanced smartphone models.
Demo: Gear VR Demonstration
Examples of devices: Samsung Gear VR, Google Daydream
Price: USD 95-110 (+supported smartphone)
Content: Both devices offer large dedicated application libraries.
The next category offers even better functionalities. It includes autonomous headsets featuring built-in electronics, which are novelty on the market. You do not need a smartphone or connect anything to operate them. These headsets offer much better resolution and refresh rate of the screen as well as improved sound quality. These devices stand a chance of dominating the market due to a very good price/quality ratio, functionalities they offer and their ease of use. You mount a device on your head, press a button and download one of many available applications or videos and embark on a virtual adventure. In addition, we have here a simple controller thanks to which you can move around the virtual world.
Demo: Oculus Go hands-on at GDC 2018
Examples of devices: Oculus Go, Lenovo Mirage Solo
Price: approx. USD 260
Content: Oculus Go is compatible with Samsung Gear VR, so it offers more than 1,000 applications to start with. Lenovo offers several hundred apps from the Daydream catalogue for a start. The libraries are embedded in the headsets. After starting a headset, you search for an application and install it on the headset.
The VR headset top class category features devices, which due to the very high image quality must be connected to a computer (using a cable or a special WiFi adapter). Such devices offer the best image parameters and special controllers simulating the movements of your hands, so you can lift and use various virtual objects. Only this category of devices allows you to move naturally in the virtual world. Special sensors that you set out in the room monitor the position of the user, so when you bend or walk, you get closer to the virtual objects.
Demo: Oculus First Contact Demo
Examples of devices: Oculus Rift, HTC Vive, Playstation VR
Price: approx. USD 400
Content: Oculus and HTC can use an extensive library of games and programmes available on SteamVR, which can be downloaded on your computer with VR headset connected to it). In addition, Oculus has a dedicated platform Oculus Home and Playstation offers games via Playstation Network.
The other technology to be discussed here is AR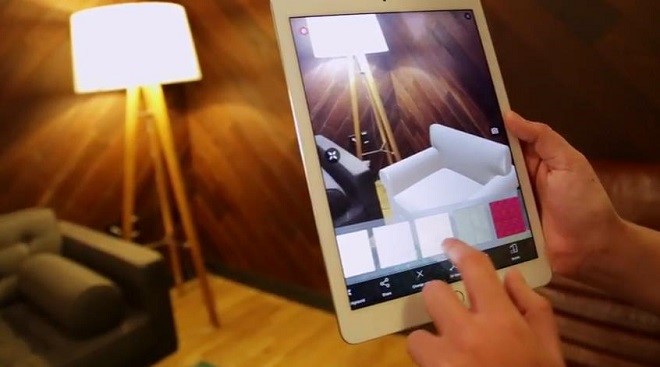 Grafika 3: Augment SDK offers brands and retailers the capability to personalize their customers' shopping experience by embedding AR product visualization into their eCommerce platforms.(Wikipedia.org)
This is augmented reality. Unlike VR, instead of substituting real world with digital images, AR complements it with additional information. Imagine traditional glasses, on which you can see temperature, directions or social media notifications. Yet still this information does obscure the surroundings.
Augmented reality is implemented in two ways.
The first method employs mobile devices like a smartphone or tablet. You start a dedicated application, direct camera to a tag (e.g. QR code) and in its place a pre-defined virtual image is displayed. With these glasses you can see for yourself if an armchair you want to buy fits into your living room or.. catch a Pokemon. If you want to have a taste of AR, download this app Augment.
Last year, two new projects appeared, which made it possible to place virtual objects without the need to print special tags. Apple and Google have made their environments available at the same time. These are (ARKitl) and ARCore. The revolution, which they started consists in the fact that they use cameras and sensors embedded in smartphones to detect vertical and horizontal surface in physical environment and record/store the positioning of individual objects. As a result, you can place a virtual ball on a table, which drops down onto the floor after reaching the edge of the table. Unfortunately, at present only cutting-edge smartphone models allow you to use this technology.
The other, more advanced type of devices, which support augmented reality is a specialised headset. You have probably heard about Google Glass - the first well-known AR project. It looks like a crystal suspended on glasses frames and it displays information sent from your smartphone. It was not exactly a big success on the market, but has paved the way for new devices. Right now, the undisputed AR headsets leader is Microsoft with its device called Hololens.
Hololens are the only wireless smartglasses, which display digital images on transparent lenses right before your eyes. You can control them using pre-defined gestures and voice commands. No keyboards, pad devices or other controllers are needed. Imagine that you are standing in your living room and next to you see a coach who gives you exercise instructions or you view an image and can read a detailed description of it tight next to it. See more possible applications of Holones.
A cheaper alternative for beginner AR users is the latest project of Aryzon, which is a counterpart to VR cardboard mentioned earlier. For about 30 euro you get a simple cardboard foldable headset, in which you place a smartphone and right away you can watch three-dimensional images on your table:)
If you are willing to experiment with new technologies I have one more acronym in store for you.
MR - i.e. mixed reality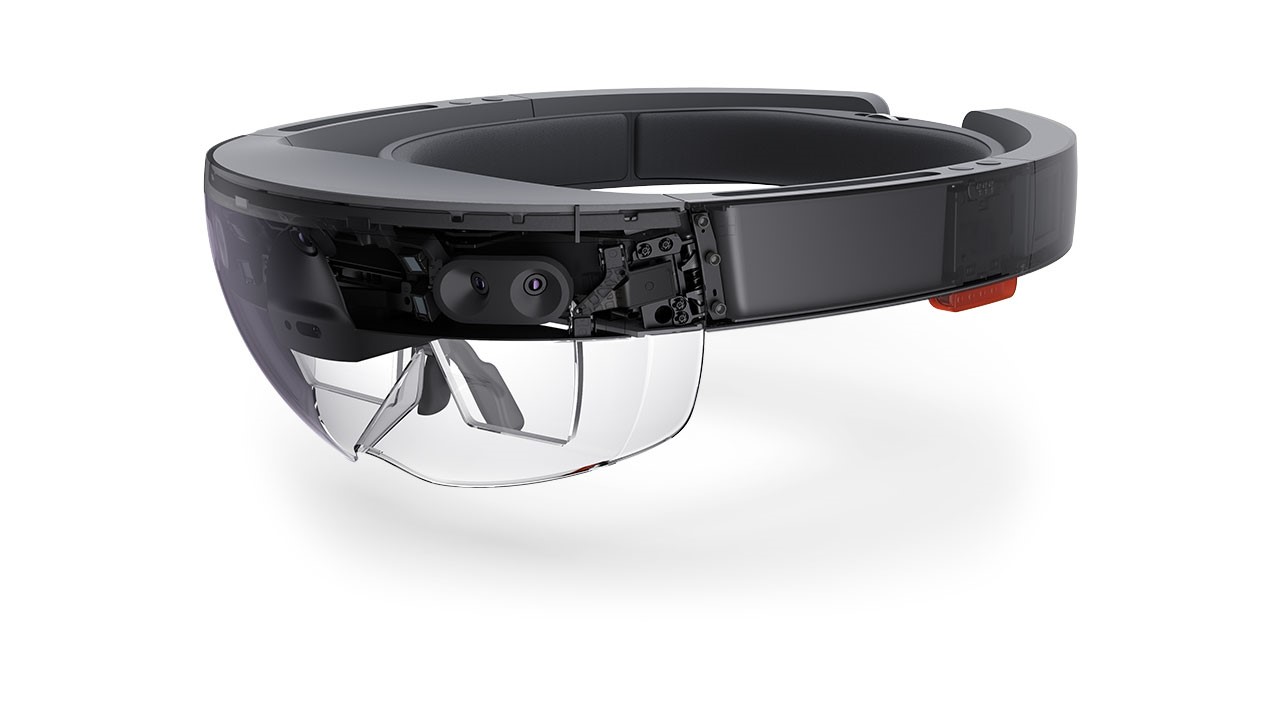 Grafika 4: Microsoft Hololens (Ramadhanakbr Wikipedia.org)
This concept is promoted by Microsoft (they always need to stand out). From a theoretical point of view this is a common name for VR and AR. So MR is in fact a superior category for the two technologies. Yet, an interesting technological approach has been adopted here. In addition to Hololens, Microsoft, in cooperation with Acer, HP, Dell, Samsung and Lenowo, has created Windows Mixed Reality environment and a series of VR headsets, which can be connected to a computer. In contrast to Oculus Rift and HTC Vive, the kit offers a bit poorer parameters, but is less expensive and does not require placing sensors across the room. Cameras installed in the headset scan the surroundings and controllers kept in hands allow for free movement.
To see how it works and what it offers go to: Windows Mixed Reality.
Last, but not least, I would like to present a few examples of VR application in education (so that you do not think that this is all about fun and play). I wish you a lot of nice virtual experiences (not necessarily related to tying the knot) and I look forward to seeing your projects!
https://www.youtube.com/watch?v=GAlD0h9vCEc
https://www.youtube.com/watch?v=QeTqSRt3OZo
https://www.youtube.com/watch?v=0NormS9SIow
https://www.youtube.com/watch?v=akq57Ggzf-E
https://www.youtube.com/watch?v=KmSN3-KG6cg
https://www.youtube.com/watch?v=h8W5Brjcj1c&t=1s
Bartlomiej Polakowski is an observer and commentator of e-learning market. He is passionate about education technology and projects related to commitment building. A business consultant on the implementation of e-learning systems and tools. A board game addict. You can read his blog at bartekpolakowski.wordpress.com
translation NSS Poland