Inter-professional and inter-generational sustainable food house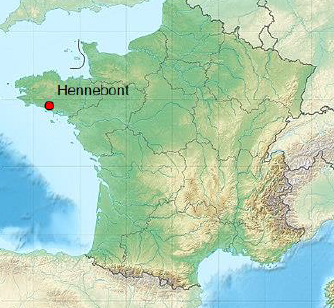 Creating an alternative food system!
With the desire to think sustainable, environment, health, education, the Mady&Co project is being built in South Brittany.
Mady&Co stands for Maison d'alimentation durable interprofessionnelle et intergénérationnelle pour une alimentation durable.
One project, one creator :
Hélène Bourguignon, a business creation consultant for 9 years, has accompanied the setting up of small structures within the Boutique de Gestion (BGE) in the Lorient region. She was also a trainer in business creation and was a project manager at C2SOL (collective of the Social and Economic Economy of the Pays de Lorient).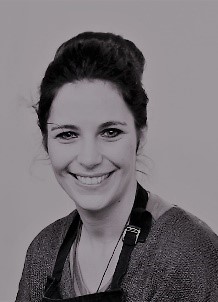 In the food products sector, as she has helped to create small businesses, she has always made the same observation. People want to work with local products, but they end up buying from wholesale suppliers who offer services that are better suited to their organization. When you are alone, as a small business creator, going to producers becomes too complicated.
She also realizes that, very regularly, she accompanies in these projects of creation of activities of the beneficiaries of the social minima. This situation very often leads to blockages at the level of banks when the creator asks for financial aid to set up his activity.
This is how the idea was born: how to encourage the installation of local food structures while at the same time securing the professional path? And how to make food entrepreneurship and short circuit logistics converge to enable entrepreneurs to supply themselves with local products?
As a mother of 2 children, she doubly supports this (increasingly shared) desire to make local products available. She is in the process of wanting to eat healthy, and locally.
Mady&Co began to take shape in 2016, with the idea of setting up shared laboratories.
Today, it is a concept offering entrepreneurs the opportunity to supply themselves with local, quality products thanks to an efficient local supply chain, which ultimately allows the consumer to have access to these local products.
Sustainable environmental education and food/health education: the common thread of the Mady&Co project
Sustainable development is everyone's responsibility. The MADY & Co project aims to develop cooperation between actors, to establish new connections and to act collectively in favour of sustainable food.
Because the cultural domain has media libraries, museums and all other spaces to promote culture; because the sports domain has equipment, gymnasiums or stadiums to encourage the practice of sports; the MADY & Co project proposes to create spaces and tools to promote sustainable food and allow access to quality food for all!

Mady&Co on the European agenda 2030!
Agenda 2030 is "an action plan for people, the planet and their prosperity". Mady&Co is also that :
- Quality education
- Decent work and contribution to favourable economic growth
- Reduced inequality
- Responsible consumption and production
- Fighting climate change
- Peace, justice and effective institutions
This will be achieved through the establishment of learning commercial spaces.
The project is part of this desire to educate and raise consumer awareness through the intervention of professionals in these spaces.
"The first pilot project is a third location that will offer modular spaces with learning shops! and shared kitchen laboratories" Tools will be made available. But also cooking workshops: anti-gaspi for example. Today the project is being built in a priority neighbourhood (in the political sense of the term) and already benefits from facilities compatible with the Mady&Co project's chain of values and activities (such as access to compost and shared gardens). The objective is to create a territorial network of local supply and thus to prefigure other spaces in other areas by adapting the supply chain according to what is already present in the area. The aim is to revitalize the centralities, to give back proximity (redeveloping local shops).
Education and training in the fields of sustainable food / health food / sustainable food entrepreneurship
In connection with the actors of the territory who advise and train entrepreneurs, 4 Mady&Co training courses will be possible :
- DISCOVERY: for young people in apprenticeship or internship and people in social integration, to discover professions and passions through inter-professional and inter-generational transmission. The aim is to help rediscover these craft and/or commercial trades and to bring out new vocations in these trades with high potential in terms of employment.
- THE INCUBATOR: which allows us to accompany business creators/repreneurs in their entrepreneurial project.
- The RUCHE, which allows them to launch and test themselves and to acquire the skills of a company manager.
- The SOLO which gives access to a range of à la carte tools offered by the cooperative.
Looking ahead to 2030, what are the stakes of training in these areas?
MADY & Co wishes to be an actor of the economic, ecological and social transition through this concept of innovative training which should allow :
- Revitalize the centralities thanks to the support of local entrepreneurship through the creation of learning businesses in the city centre, town centre and priority district of the city with a pedagogy based on action training.
- Train and raise awareness among professionals in the food industry and consumers about the challenges of sustainable development and thus encourage and initiate changes in terms of sustainable and responsible purchasing and consumption.
- Remobilise young people in these professions of the future, which are currently struggling to recruit, by bringing a fresh look at these craft trades (butchery, fishmonger's, restaurant, etc.) with training courses that place people and ecology at the heart of the project with a more cooperative, ethical and humane learning approach.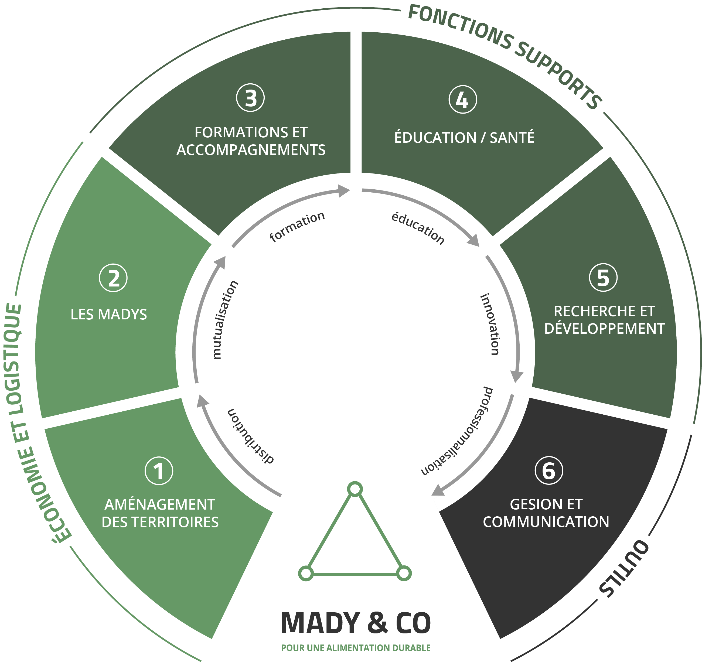 The effects of Mady&Co on the territory of South Brittany?
- To have tools and modular spaces on the territory that promote learning and food entrepreneurship for the benefit of sustainable and responsible food.
- To have efficient local logistics that reduce the ecological impact by sharing space and transport.
- Allow the maintenance or even development of farms and encourage the conversion of farms to organic farming.
- To provide an answer in terms of employment in the food industry under pressure.
Contact: hello@madynco.fr
This article was written and published by Roseline Le Squère, EPALE France coordinator, policy issues, projects and European funding.