Information and communication technologies for the development of orientation skills?
[Translation (French - English) : EPALE France]
Interest in the use of information and communication technologies ("ICTs") in career guidance dates back to the 1960s. The recent health crisis has shown us their potential to transform the field of career guidance. These tools can facilitate access and increase the capacity of career guidance services. They are increasingly used as a complement to existing services, but in some cases also as an alternative to traditional face-to-face services. In any case, they often act as agents of change in the career guidance sector.
Discussion about the role of ICTs in career guidance is far from new. Two contradictory paradigms have been proposed to conceptualize the integration of ICT tools (Watts, 2002), which differ according to the importance attached to the relationship between the individual and the counsellor:
The resource-centred model, in which a range of resources is made available to users - the counsellor being considered one of them. The limitations of this model are clear - it does not leave room for a working relationship, which is a key element in the effectiveness of career guidance work. Furthermore, this paradigm does not take into account the non-cognitive aspects of career development decision making.

The relationship-centred model places the relationship with the counsellor at the centre and views other resources as supporting this relationship. This model is not free of criticism from a methodological point of view (the counsellor as the holder of power, as an expert) and an economic point of view (the cost of deploying the "labour-intensive" model), but as career guidance process are becoming increasingly individualised and multi-modal, professionals are faced with the role as "resource managers", helping individuals to find the means to best meet their needs.
How can these multimodal processes to support career transitions be designed so that they contribute to the development of the person's autonomy? How can they be made accessible, while taking into account the requirements for customizing services in relation to the needs and capacities of the way they are used?
Let's first take stock of the situation. Practitioners use ICTs as a means of sharing information (on jobs, the labour market, available courses, programmes, etc.), proposing automated interactions (particularly in the initial diagnosis or exploration phase, where paper-free systems and the "automation" of certain acts enables professionals to focus on more personalised support) and as a means of communication and interaction (synchronous or asynchronous, individual or collective). However, practitioners often use ICTs to solve fragmented problems and rarely have a coherent strategy for ICT use. ICTs are primarily used to share information: paper resources have been almost completely replaced by electronic resources. The use of social networks in career guidance is becoming increasingly widespread (especially in the Nordic countries) and allows for the application of social learning theories. It shifts the nature of our practice towards more collaborative approaches, in which the boundary between "advisor" and "client" becomes blurred. The motto and "co-careering": an approach in which shared expertise and co-construction regarding career development issues takes place among members of the peer community, and the counsellor must structure and facilitate collective exploration and learning. A true embodiment of constructivist and socio-constructionist approaches in virtual space.
 How effective are ICTs in career guidance?
The impact of ICTs in guidance on the ability to manage one's career remains relatively unexplored. There are few studies on the effectiveness and impact of ICTs on the development of orientation skills, and existing studies are often limited to user satisfaction and the way in which users take ownership of a specific tool. No longitudinal studies exist and few quasi-experimental studies have been conducted. However, the scientific literature seems to indicate that a combined ("blended") use of ICT tools in support pathways can have a positive impact on certain factors related to the ability to manage one's career path: decision-making ability, security of personal decision, knowledge of oneself and satisfaction with one's career prospects. On the contrary, the impact of "self-service" use is limited to the acquisition of knowledge (knowledge of measures, possibilities for support, different measures). The scientific consensus indicates that ICT tools are most effective when used in a blended support context - as part of a coherent process that includes time with the counsellor (face-to-face or remotely, synchronous or asynchronous) and personal use of ICTs.
What factors can enhance the effectiveness of these tools? The impact of ICTs is generally greater when one or more of the following conditions are met:
The use of ICTs is accompanied by personal contact with a counsellor, even if this contact is not face-to-face or even synchronous. The counsellor should have the skills to facilitate the use of ICTs and should have the means to build an individualised plan with the person, follow their progress and give them opportunities to discuss and interpret the results, emerging ideas, etc.

A structured session is proposed to the person ahead of time, to allow them to come to grips with the proposed tools and to check their level of computer skills.

The support process and the different tools are grouped together in a coherent whole that encourages individuals to continue, for example by relying on "fun" activities (progress bars, collecting points or badges, using avatars, etc.). Educational resources are more accessible and effective if they are integrated into a broader experience, such as a serious game.

All information or data is presented in a structured, understandable and visually attractive format. Textual information should be brief and use bullet lists to present the text. If individuals are overwhelmed by information, they may disengage quickly. Poor presentation of data limits its usefulness.

Rich multimedia resources or interactive elements are used, such as videos, quizzes, etc. Learning activities should be varied and draw on the wide variety of possibilities for interaction offered by technology to maintain user engagement and enhance the impact of learning.

The process should propose alternative learning activities and systematically introduce the possibility of making choices: not all modalities work for all audiences. For example, videos are often watched by 50% of users and an alternative format for presenting the content should be proposed.
For a real pedagogical use of ICTs in guidance for transitions
Several theoretical resources can be used to study the pedagogical impact of ICTs in a career guidance and counselling process - including learning theories and models, as well as research in the fields of e-learning.
Kolb's experiential learning theory describes the central role that experience plays in the learning process. Kolb describes a cyclical and non-linear learning process in four phases using four modes of learning: concrete learning, reflective observation, abstract conceptualization and active experimentation. Analogously, Kolb identifies four learning styles based on how a person understands and processes information. Experience (real or "simulated") is also emphasized in some career development theories, such as Krumboltz's learning theory of career counselling. According to this approach, the role of counsellors is to increase clients' exposure to experiences that enable them to develop the skills necessary to make the best use of the professional development opportunities they will encounter in the course of their lives (a "planned happenstance").
The pedagogical value of a "multimodal" guidance process can be reinforced by taking these learning styles into account when selecting the types of activities to be included in a multimodal guidance process. Depending on their learning style, the person may be led to have a concrete experience (watching a video on a trade, a quiz, a case study), produce a personal point of view in the form of a blog, conceptualize their own set of selection criteria for evaluating a career path, and be invited to test their hypotheses in the field, as illustrated in the following graph: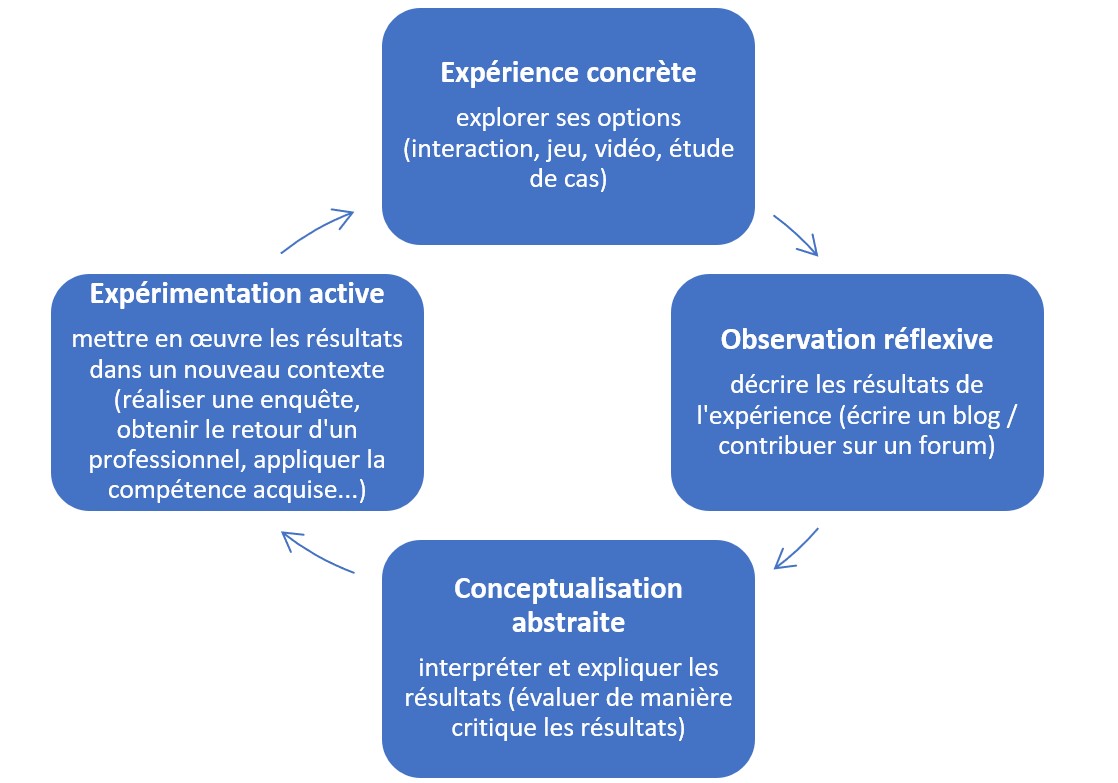 Example of application of Kolb's model in a multimodal support pathway.
Each learner enters a learning situation with pre-existing beliefs and knowledge about the subject of learning. The learning path can be more effective if it does not focus exclusively on introducing new content, but also allows the learner to explore what they already know about the subject, identifying and questioning the origins of their pre-established beliefs before integrating the new content. The effect of learning is enhanced when the learner is introduced to and works with "conflicting" concepts. Highlighting and examining the learner's beliefs and theories, and then integrating the new ones, should be the starting point of the learning process.  For example, a module that introduces the notion of orientation skills could begin with preliminary learning by inviting the learner to analyse a previous work transition experience and identify the resources that enabled them to succeed in this transition.
Other models, such as Gagné's Nine Events of Instruction, allow for the development of design frameworks for the modules and activities of a multimodal journey, as demonstrated for example in "E-tivities" by Gilly Salmon.
| | |
| --- | --- |
| Events of instruction | Possible application of ICTs |
| 1. Gain attention (attention) | Attract the user's attention by presenting a photo, a video, a statistic, a dramatic question, etc. |
| 2. Inform students of the objectives (expectation) | Explain the topic and how it will benefit the individual. |
| 3. Stimulate recall of prior learning (recovery) | Evoke previous experience with the topic. Establish links with the activity and things they already know. |
| 4. Present the content (selective perception) | Organize information in a logical and easy-to-understand manner, using a variety of media and styles. |
| 5. Provide learning guidance (semantic coding) | Provide alternative approaches to illustrate the learning objective, including examples, case studies, stories or analogies. |
| 6. Elicit performance (answer) | Give participants the opportunity to use the new skills. Ask questions. Quiz at the end of the activity. Role-playing. |
| 7. Provide feedback (reinforcement) | Provide feedback and advice on possible mistakes made by learners so that they can correct them. |
| 8. Assess performance (recovery) | Test, questionnaire, commentary, blog, etc. |
| 9. Enhance retention and transfer (generalization) | Provide clues on the possibilities of transferring the results to real-life situations. Connect them with real life. Stimulate action planning. |
Example of the application of Gagné's Nine Events of Instruction in the design of ICT activities and modules in a multimodal learning process.
Group dynamics to enhance learning effects can also be strengthened by using online learning platforms. However, this requires the implementation of structured processes to promote, develop and maintain group dynamics. Moreover, it presents practitioners with a real challenge: to take ownership of their new role as "e-moderators": encourage interaction, facilitate online socialisation, support participants in the use of learning materials, stimulate reflection and transfer of learning to new contexts.
Conclusions
Information and communication technologies have become a transformative agent in the career guidance sector. However, in order to avoid potential drifts or a shift towards a model based solely on "self-service" use, it is important to manage this transformation by drawing on research into the factors of effectiveness of these tools, as well as on existing pedagogical models.
It is hard to imagine that ICTs can replace the relationship with a counsellor in co-constructing meaning, reflexivity or maintaining motivation to make a professional transition. But by respecting the basic principles and applying clear learning models, it is possible to develop multimodal support pathways that meet the main objective of guidance work: developing people's autonomy.
The study on the use of ICTs in the field of career guidance was carried out within the framework of the Elais project. The project was financed with the support of the European Commission. This publication reflects the views of the author only, and the Commission cannot be held responsible for any use which may be made of the information contained therein. For more information on the project and to see the full study, please visit the project website: