Informal Learning in a Museum Setting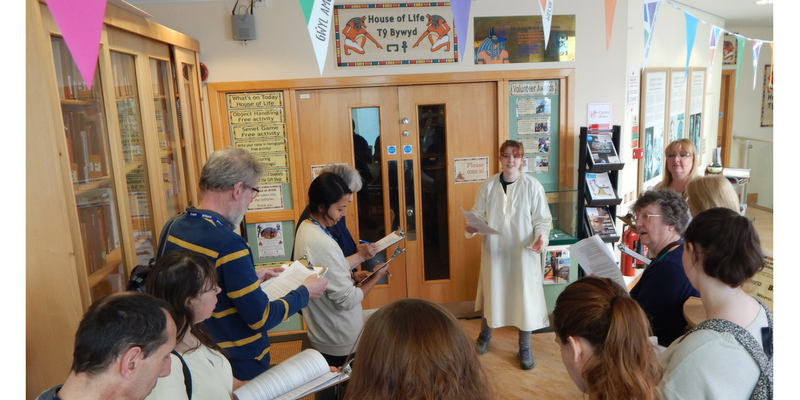 Author: Syd Howells, Museum Volunteer Manager at Egypt Centre Museum of Egyptian Antiquities, Swansea University
The Egypt Centre, Museum of Egyptian Antiquities at Swansea University holds the largest collection of ancient Egyptian artefacts in Wales. Whilst the collection has been present at the University since 1971, 1998 saw the construction of a purpose built museum on its Singleton Campus, which remains to this day. As a University Museum, the University is heavily engaged in the formal teaching of adult students. However, here I will concentrate upon informal learning.
The Egypt Centre is committed to the breaking down of barriers between the university and the wider public. It does this through a number of different methods; through teaching adult volunteers of differing abilities, ethnicities, social backgrounds etc. to work with schools and other groups; through teaching volunteers about heritage work, shop work etc. as well as Egyptology; through teaching volunteers to train other volunteers; and finally through educating our general visitors and those attending special workshops.
Schools, from as far away as England, visit the museum to learn about ancient Egypt and to experience a variety of related activities such as music, mummification, clothing etc. The museum's volunteer group provides these activities.
The Egypt Centre works closely with the local community, with many of our volunteers hailing from Swansea or surrounding areas. The current age range of our volunteers is from 9 to 91 and the group encompasses a wide variety of backgrounds and experiences.  Several of our volunteers hail from not only the United Kingdom but also countries wider afield such as France, Spain, Morocco and Egypt. The museum also offers workshops to children from schools in disadvantaged areas, allocating 22 Saturdays a year to these. 
Volunteers at the Museum are able to undertake several roles. Besides our Gallery Assistants tasked with guiding volunteers around the museum, those wishing to gain teaching experience can become Education Leaders and Assistants who demonstrate activities to visiting school groups etc. We have a number of other roles relating to careers in heritage and museums, as well as opportunities in retail within the museum shop and administrative work. The Egypt Centre welcomes work placements both from the UK and overseas and has hosted a number of Erasmus Plus students in recent years. The museum also works with vulnerable adults, boosting their confidence through volunteering and helping them to improve their potential employability.
At the museum, transferable skills can be acquired and used as building blocks for careers either within or outside the heritage sector. Training at the museum can be both peer and formal, with current volunteers preparing new volunteers for life at the Egypt Centre. Formal training courses include; preventative conservation, customer care, health and safety, key skills etc. as well as a number of Egyptological and heritage based topics.
Recent years have seen a number of our former adult volunteers move on to studying an M.A in Museum Studies at Leicester University as well as begin teacher-training courses. Other volunteers have found jobs within the heritage sector in places such as the Cardiff Story, Cynon Valley Museum and the Bodleian Library in Oxford. Many volunteers have moved on to paid employment in other areas, including teaching and local government.
All visitors to the museum are able to experience the following public activities; mummification, the ancient Egyptian board game Senet and also the material handling board where visitors can handle genuine ancient Egyptian artefacts. This latter activity is unusual in museums. Visitors are also able to view the artefacts on display and if they wish to use the various interpretative guides. We also hold special events for adults which have both an educational and entertainment value. Recently these events have included photography, handling objects associated with death in ancient Egypt and a Murder Mystery.
In return for the adult education, which we provide, volunteers give a great deal of their time and skills. The musuem is free to visit but some special events are charged at a small fee. Educational activities for both visitors and volunteers are usually of the non-formal type, they are designed to engage different abilities and learning styles and crucially involve learning through objects. Object Centred Learning not only helps our learners feel special but it also introduces a sense of magic into the learning process.
Find out more by visiting the Egypt Centre website by clicking the link here.
Author:
Syd Howells BA (Hons). MA. Museum Volunteer Manager at Egypt Centre Museum of Egyptian Antiquities, Swansea University.
Syd Howells has worked within the voluntary sector since 1989 and is the current Volunteer Manager at the Egypt Centre. A history graduate of Swansea University and holder of an MA in Museum Studies from Leicester University his interests include improving the volunteer experience within museums, and expanding the access of marginalised groups to the heritage sector.
Contact: l.s.j.howells@swansea.ac.uk