The importance of Outreach in Community Education - Part 1
This webinar was part of the Community Education webinar series, hosted by EPALE Ireland and The Three Pillar group. It was joined by guest speakers Josephine Finn, Brigid Quilligan and Breda Murphy, with a graphic harvest provided by Eimear McNally.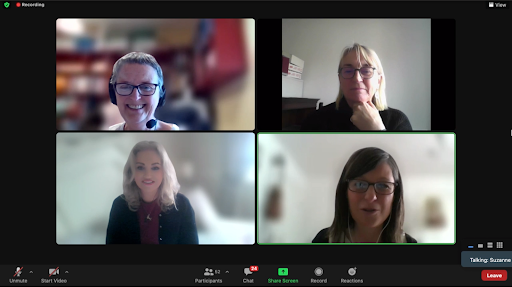 Today's webinar looks at the importance and meaning of outreach in adult education. Previous webinars in this series include reasserting the politics of community education, becoming an anti-racist practitioner and community education and climate justice.
Create connections with EPALE
This webinar is introduced by Manika-Nia Dixon from EPALE Ireland. Manika-Nia gives the attendees a brief overview of EPALE, the Electronic Platform for Adult Learning in Europe.
EPALE is the largest hub for adult learning in Europe, allowing members to connect, collaborate and innovate with other education practitioners. As an Erasmus+ programme and pan-European initiative, EPALE has national agencies and support services in over 37 countries. The national agency in Ireland is Léargas.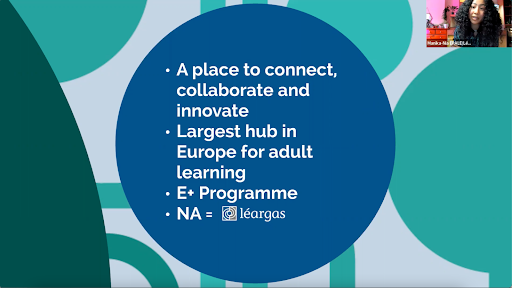 EPALE's online hub of resources offers members a wealth of information provided by experts and education practitioners covering a range of topics through news, blogs, and events. Become an EPALE member today.
Manika-Nia thanks participants for their responses to the prompt that asked what outreach in community education means to them. These insights were collated into a word cloud as a jumping off point for today's webinar and resource for EPALE members.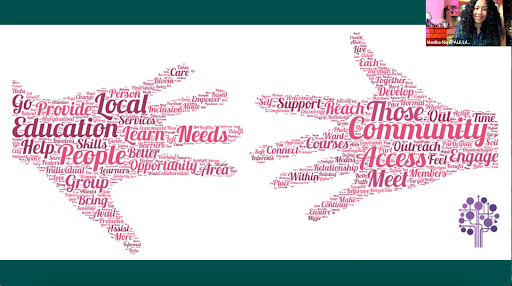 Manika-Nia introduces Suzanne Kyle, Senior Community Education Officer at AONTAS. Suzanne thanks participants for their responses and welcomes them to the webinar.
Construct new understanding
Suzanne begins with a quote from American author and social activist bell hooks on the importance of conversations:
'Conversations are powerful as we turn them this way and that. They help us to look at complicated matters from different perspectives whilst driving to construct new understanding.'
Suzanne believes that this quote is a powerful reminder of the objective of the community education webinar series. "That's the purpose of these webinars, to have these conversations and to look at different subjects from different perspectives and to develop new understanding."
Illuminate an approach to community education
Suzanne gives participants a brief overview of The Three Pillar Group who are hosting this webinar in collaboration with EPALE Ireland.
The Three Pillar Group is a working group consisting of three community education stakeholder pillars; practitioners, advocates and academics. This group also supports CEFA (Community Education Facilitators' Association), AONTAS, CEN (Community Education Network) and Maynooth University.
Their aim is to illuminate and preserve an approach to community education that is participative, democratic, consciousness-raising and hands on.
Suzanne highlights the group's Charter for Community Education that was illustrated by Eimear McNally and launched in the first webinar of this series. (Download the Charter from the attachment below by logging in on EPALE)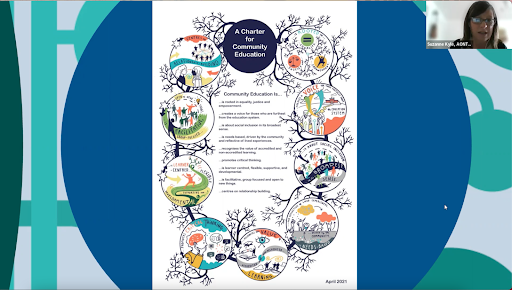 Suzanne introduces guest speakers, Breda Murphy, Brigid Quilligan, and Josephine Finn.
Breda Murphy has been active in community development and education in Waterford since the 1980s. She is one of the founding members of Waterford Women's Centre and has worked there for over 25 years, firstly as a development outreach worker, then coordinator. The centre is now a member of the NCCWN (National Collective Community based Women's Networks), providing community education opportunities and childcare support in Waterford.
Dr. Brigid Quilligan is a womens' and Travellers' rights activist from Kerry. In 2017, she received an honorary doctorate from University College Cork in recognition for her contribution to the rights of Traveller women and her work around the state recognition of Traveller ethnicity. Brigid has worked locally, nationally and internationally in the areas of Traveller community development and human rights.
Josephine Finn has been studying and working in the area of education for over 30 years. She began her career as a freelance adult educator. In 2000, she worked within the Department of Adult and Community Education in Maynooth University as Coordinator of Continuing Education. She was then appointed Head of the Adult and Community Education Department until 2019, where she retired and resumed freelancing as an adult educator.
Suzanne thanks the guest speakers and hands over to Breda Murphy to begin the discussion.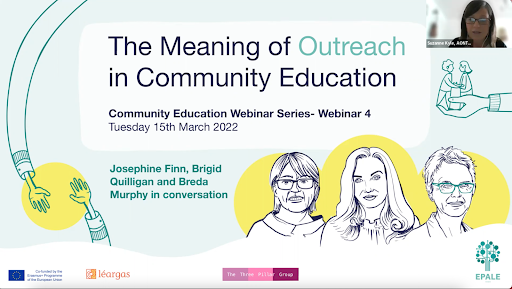 Combat isolation through outreach
Breda begins by welcoming attendees to the webinar. She then begins by explaining her background in community outreach and the important role it has played in her life.
"In the early 1980s, I got married and I had children. I lived in the same rural community that I live in now," explains Breda. "But my experience after I was married with children was very different to my experience as a single woman who was working and had my own transport and was able to do whatever I wanted to do. When I found myself in the mid 1980s, in the same community, I felt so isolated."
"I didn't have transport during the day, my husband and I had one car, and he used that for work. And I was at home full time with young children." Breda reflects on the isolation she felt during this period, "I internalised that as 'I'm not doing it right. I'm a bad mother.'"
"When I'd look around me, I'd see other young mothers and they looked like they had it all together. They were managing the whole lot. They were looking great. I was just the opposite to that."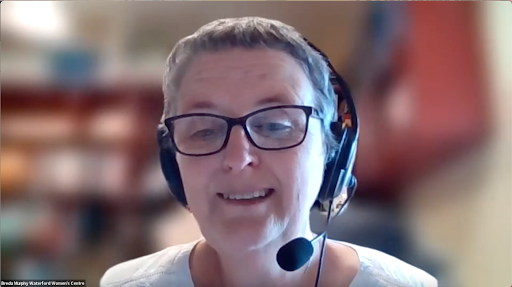 Create big impacts through small actions
During this time, Breda was approached by a woman in her community who suggested she join a women's support group. "I jumped at the chance. I thought, that sounds good." Breda initially felt that the fact she was breastfeeding her young child may hold her back, but the women's group allowed children to come with their mothers.
The woman offered to pick Breda up to attend the group with her, a gesture that Breda would come to realise was so important. "I was nervous about the idea of walking into a group of strangers. But it meant she would be walking in with me, and all these things now that I recognize are essential when you're outreaching."
"And so we went and one woman led the group and introduced topics like feminism, reproductive rights, internalized oppression, sexism, all things that I had heard maybe discussed on the radio. I'd never been involved in a discussion about any of it. So it was absolutely amazing."
Not only did her first women's group meeting allow Breda to open up to new topics and people, but it was the first step in allowing her to start appreciating herself. "I remember one of the first meetings we had been asked at the end of the session to say something positive about myself. I couldn't think of anything good to say about myself." She notes that this is common and a lot of women find this difficult. "I see that all the time still with women, we find it so hard to appreciate ourselves."
In the following few years, Breda's increased confidence spurred her on to create a similar group in her own village.
"My children were in school at that time. And I went to the local school and I suggested to some of the women, would you be interested in maybe setting up, as I called it, a women's education group? I thought 'women's support group' sounded a bit too radical."
However, Breda was initially met with unease from the women, who told her that they were not interested in setting up a group for themselves. "I felt like I was being judged. I was a selfish woman to think that I was going to set up something that would support myself for two hours a week. I felt really devastated, but at that time 1985 in rural Ireland, that was the tone."
This rejection took its toll on Breda's confidence. The fact that these women were neighbours and friends of Breda's only worsened how she felt. She relayed the response back to her support group and gave up trying to form a local women's group. "I said, I'm never putting my foot out there again, I've had it. I was deeply hurt by it."
Recognise that everyone is on their own journey
But Breda's own support group helped her to reframe the situation not as rejection, but as a reflection of internalised oppression. "I was supported to not judge, and to not take it personally. Instead, to think positively about the other women and also to understand how internalised oppression operates and how it tells us as women we don't deserve it, we don't deserve that time." The group's support helped Breda to bounce back and not to give up. "I picked myself up and I went back again."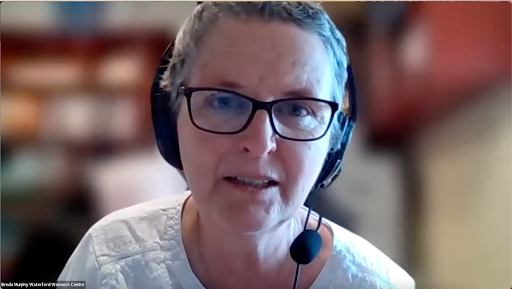 Her determination to reach out to these women paid off, and a year later thirty women from all walks of life attended their first women's group meeting, which continued on for ten years. "We had a wonderful time and I made great friends across all sorts of divides. And as any of you who live in rural areas will know, class divisions are not as easy to spot in rural areas."
Breda's group went from strength to strength, becoming affiliated with Waterford City Group and networking with women's groups all over the county. The group also applied for and received an annual grant of £300. Through their affiliation with the Women's Federation, Breda was nominated as a representative onto the First Board of Access 2000, which later became The Women's Centre.
Breda recognises the profound impact that outreach has had on her personally and professionally. "I know I was one person being brought in, but the impact of me being asked to join that group did spur me to start the group and allow me to be on a board that began The Women's Centre, which I have remained with for 27 years."
Suzanne thanks Breda for her story, highlighting how important it is to hear stories that contextualise issues that a lot of people face in returning to education and what we all need to be mindful of when working in the sector.
Brigid begins by reflecting on Breda's story.
"I'm struck by how different we might think people are, but really how the issues that women face in general, no matter what background you're from, are very similar, or even the same."
Contextualise experiences
Brigid starts delving into her experiences of outreach and its meaning.
"I'm a Mincéir woman. In our language that's 'Irish Traveller'." When I was preparing for today, I thought it was really important to give context, and I thought, to do that, I might bring my mother and nieces into the mix."
"My mother is a very strong, powerful woman," explains Brigid. "She was born in the early 1950s and married very young. She had a terrible experience in education and came from a very strong trading family, so a privileged family in the south here."
Brigid details her mother's experience of education as a Traveller.
"She was beaten. The ribbons were ripped off her hair in school because she didn't fit the stereotype of the poor, dirty Traveller child. She was a very smart woman, but she never really had the opportunity to learn, to read, or write."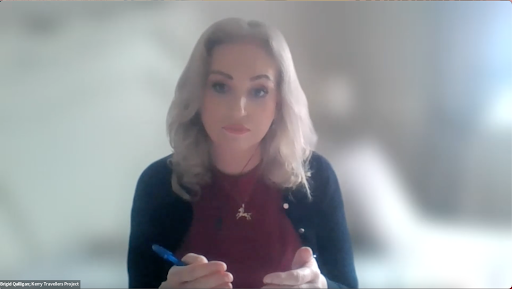 Her mother's poor experience of education made her determined that her own children would not face her struggles.
"She had this thing inside her when she got married that we were going to have full access to an education and she was going to be our advocate. And she was."
Brigid's experience in education was vastly different from her mother's. She began early childhood education and developed her reading skills quickly, which she credits to her mother.
"She always said to the schools, 'She is a Traveller, very proud of her identity, but that shouldn't be a factor in her education. I don't want that to hold her back in life. So I'm sending her here to be educated.'"
Advocate for the those without a voice
Her mother continued to advocate for Brigid's education, particularly when she was placed into a separate class for Travellers.
"I still remember her walking into the school with three small children saying to the principal, 'I'm sending my child here to be educated, not to comb teacher's hair, not to draw aimlessly and not to be brushing floors. I want her and  the rest of my children to be educated.'"
This memory had a great impact on Brigid. "That was the first time in my life—I was four years old—thinking, am I different? Why is my mother doing this? And feeling very powerful, as a child even, that my mother was standing up to the principal. And of course the principal was lovely. He said, 'Absolutely'."
However, Brigid notes that this behaviour was accepted at the time.
"Travellers were put into separate classes, not taught Irish, not taught maths very well and put at the back of the classroom in most cases. Because the impression was that Travellers don't value education. They don't want to be educated. They have their own way. They were basically saying, we can't educate them and they don't want it. So let's not even try."
"And that's not true in every case, but it is true for the majority of my peers, my cousins, my colleagues, my friends, thus education is a very traumatic experience and a trigger for most Travellers of my age and even younger."
Brigid highlights the common factor affecting the education experience of herself, her mother and her nieces. "We can't take out the issue of trauma. And that's really important in how we engage people and how we see people and view people. Because most of the Traveller community would have had in their family, traumatic and triggering experiences of the education system."
Support advocacy through education
Throughout her life, Brigid's family have always supported and encouraged her education.
"We're traditional Travellers, but if you go into a bad marriage, you need to be able to know business, to be able to keep yourself going, have education, to be able to maybe get a job based around your children."
Brigid thinks that receiving an education through the support of her family was something that stood to her when times became tough.
"I became a single parent in 2007 after my marriage broke up and I was very privileged to be in a job and to be able to support my son and have a supportive family and leave my marriage, which was very unusual at the time. So education for me has been a life saver."
However, Brigid notes that her story is not the norm for Traveller women.
"I've very much had a straight path, because I was very supported and nourished and nurtured in my school environment. Both my primary, my secondary, and my third level education, I always had people looking out for me, but I was also confident enough to accept any support that was brought my way."
Although Brigid's education journey was relatively straightforward, she didn't take it for granted. When her son started preschool, she began to get involved in the community sector again. Prior to this, she completed an Outreach Certificate in UCC in Youth and Community Development.
When her son and other children faced a discriminatory incident at their local community childcare service, Brigid felt compelled to join the board of management. From there, she became the chair of the Family Resource Centre.
"I had to upskill myself. So I went back and repeated my certificate in Youth and Community Development. And I went on to do the diploma and so on, but I suppose that opened my eyes at the time."
Develop skills through activism
Brigid notes this period as the time when she realised the importance of activism when it comes to further education.
"In order to bring education to people, it really has to be tailored to—you have to sell it to people. They have to know exactly what they're getting involved in. It has to be something that speaks to people, that has a use for people. So for us, community development and advocacy, activism was something really important to us."
During this period, Brigid and those around her were advocating for change, picking up the skills they needed along the way, such as organising collective action and setting down frameworks to be agreed upon.
"We didn't have the language for it, but bit by bit, we were learning the language."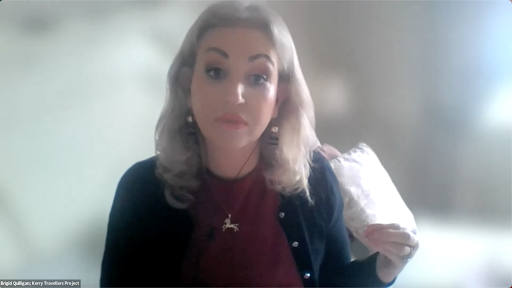 Through this activism, they highlighted other issues that needed to be addressed.
"We were discovering that some people didn't have basic literacy skills. It wasn't very important in our own world because we were traders. We were mothers. We were dependent on our husbands for income. But in the late eighties, nineties, you had to be able to read and write. You had to be able to do things that your mother mightn't have had to do before."
From here, a movement for women's education and development within the Traveller community began.
"It really was about innovation, empowerment, bringing ourselves out of poverty, bringing ourselves out of domestic violence, bringing ourselves out of oppression." Brigid notes that this movement brought the same struggle of internalised oppression Breda had mentioned earlier. "That's something that years later we're still dealing with."