The importance of accredited online training in cultural awareness for trainers working with ethnic minority groups
Context
After eighteen months of online discussion and debate in a shared collaborative space that we initiated through EPALE, our transnational partnership involving OikoPoli (Greece), Nazilli (Turkey), I Training 2000 (Italy), MAPS (Scotland) and CRAICNI (Northern Ireland) received the good news last Spring 2018 that we had been awarded an Erasmus+ grant for a two year project commencing in September of that year. The project is entitled: Cultural Awareness Support Training for Innovation (CAST4Innovation). Each of our organisations is deeply involved in community adult education, and tries to address the learning needs of newcomers which may include improving their spoken and written resident country language as a second language, their welfare rights, their knowledge and understanding of their new communities, the functioning of their wider societies, their opportunities for employment, and the development of their skills of citizenship to help them to interact effectively. At the same time, the countries of each of our partners have experienced inner social conflict and turbulence, causing tensions within local communities. This can be manifested in bigoted and fearful reactions taking the form of verbal and sometimes physical abuse. In Northern Ireland, sectarian strife led to the creation of literally physical walls of division between districts, particularly in Belfast. Thanks to the 'Good Friday' political agreement of 1998, a 71% majority support in a referendum, and subsequent proactive policies to foster 'good relations', the overall atmosphere is calmer with greater acceptance of the importance of shared space in all senses. Indeed, this has been helped by the growing numbers of newcomer families migrating to Northern Ireland, particularly over the last twenty years. According to the 2011 Census, the population of Northern Ireland was 1,810,863 within which were 0.31% Chinese, 0.07% Irish Traveller, 0.34% Indian, 0.09% Pakistani, 0.01% Bangladeshi, 0.28% other Asian, 0.02% Black Caribbean, 0.05% Black Other, 0.33% Mixed. Among 'usual' residents, 39.89% described themselves as British only, 25.26% as Irish only, 20.94% as British and Irish only, and 6.17% as British and Northern Irish only. A total of 2.69% other Europeans were described as from 'Other EU' (2.64%) and 'Non EU' (0.05%) countries. Unfortunately, no detail is provided about the specific European countries of origin. However, under main languages, other than English, these are 1.02% Polish, 0.36% Lithuanian, 0.24 Irish (Gaelic), 0.13% Portuguese, 0.13%. Slovak, 0.06% Chinese, 0.11% Filipino, 0.07% Latvian, 0.07% Russian, 0.07% Malayalam and 0.06% Hungarian. Among the total population, 2.13% did not have English as their main language. (NI Census: 2011)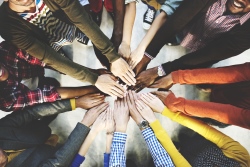 Almost 122,000 long term international migrants are estimated to have arrived in Northern Ireland between 2000 and 2010. The main increases began in 2000 with the arrival of Portuguese workers and nurses from India and the Philippines. In May 2004, the EU expanded from 15 to 25 countries with the accession of eight central and Eastern European (A8) countries, along with Malta and Cyprus. The A8 Accession proved to be a trigger for an unprecedented wave of migration. A relatively significant proportion of migrating Polish citizens came to Northern Ireland, alongside others from A8 countries, increasing the A8 origin population to 39,000 by 2009. (Migration in Northern Ireland: an Update, Research and Information Paper, N.I Assembly. 2012). Newcomers from A8 countries tend to be relatively highly educated and qualified. Currently, because of the political uncertainty in the UK, there is understandable anxiety about future residency and job tenure.   
According to the charity Embrace, there were about 600  people seeking asylum in NI and living in officially supported accommodation in August 2015. Applications have come from China, Nigeria, Somalia, Sudan, Zimbabwe, Algeria, Syria, Iran, South Africa, and Albania. (embraceni.org).  
Full details of the population and migration statistics within the other four project partner nations, Scotland, Italy, Greece and Turkey, are currently being prepared, and will be contained in the introductory contextual material of the e-learning platform. Issues common to all include: asylum seeker support; adaptation to the home language; guidance in relation to seeking employment and advancing careers; knowledge and understanding of legal and welfare rights; development of citizenship skills to enable interaction and inclusion; awareness-raising about diversity among local 'usual' communities; the need for strategies to resolve conflicts of opinions and perceptions; challenges to hatred and bigotry in the workplace.
Establishing the aims and infrastructure of the Project
Given our mutual shared ground, socially and historically, our five transnational partners concluded that we would like to develop an accredited online course in cultural awareness which would equip existing and new trainers with high levels of competencies, and, as a result, enable our courses to be offered using blended learning approaches (online and face-to-face) to an expanding range of beneficiaries. These would range from public, private and voluntary organisation staff, local community groups either separately or mixed, employers, and individuals and associations from ethnic minority backgrounds.    
Since the commencement of the project in September 2018, crucial groundwork and research has taken place, mapping out  key competencies which our qualified trainers will require and identifying examples of existing good practice. A comprehensive literature search has also taken place to ensure that our definitions of key terms and concepts are accurate and substantial. Initial work has begun on the criteria for accreditation of the course across Europe, including clear descriptions of learning outcomes. 
Intellectual Output Progress
We are pleased to confirm that our Erasmus+ project is now reaching the exciting point of an emergent e-learning platform, specially designed to house our accredited course for trainers in cultural awareness. Over the next few weeks, the platform framework will be populated with module material recently developed in a transnational workshop in Belfast. After this, they will be piloted in a series of exercises with trainers selected by the five partners in Greece, Turkey, Italy, Scotland and N. Ireland. The aim is to have a course implemented and freely accessible by August 2020. Accompanying the course will be a handbook for the guidance of the trainers. Crucial to its success will be the involvement of stakeholders in the evaluation and quality assurance of the content and delivery. We would be pleased to hear from anyone interested in engaging with us over the next year as potential stakeholders from the statutory, private or voluntary sectors. Ideas would always be welcome about ways to disseminate information about access to the course materials and participation by potential trainers. Being a flexible modular course, it can be tailored to suit the needs of individuals at their own pace. One-to-one support can also be arranged if needed. Participants may already be involved in workshop training but may feel that they want to add to their understanding, competency and expertise in the area of cultural awareness. The course is designed to train trainers across Europe to encourage our societies to prosper by celebrating diversity and promoting social inclusion.
 #craicni #Cast4Innovation #Erasmus+ #EPALE #socialinclusion
CRAICNI
+44(0)7716064784
Facebook: CAST4innovation
Dr. Brian Caul
Twenty-seven years of Brian's career were spent in higher education, as an academic and then Director of Student Services. He has been a Board Chair of F&HE Colleges and the RNID (now Action on Hearing Loss), for whom he still acts as a volunteer. Since November 2015, he has been Chair of the Board of Directors of CRAICNI, a vibrant training organisation, the aims of which are summed up in its acronym - cultivate respect, appreciate inclusion on communities in Northern Ireland. It's unique feature is that the trainers and facilitators are all from minority ethnic backgrounds. His main personal interest is music. Recently he completed a music degree, is editor of a classical music magazine, and presents a programme on Causeway Hospital Radio. He is married with two daughters and three granddaughters and lives near the beautiful north coast of Northern Ireland.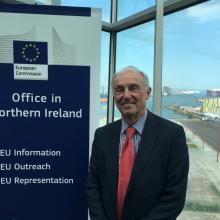 You might also be interested in: