Hanna Urbanovich: contributing to the intergenerational bridge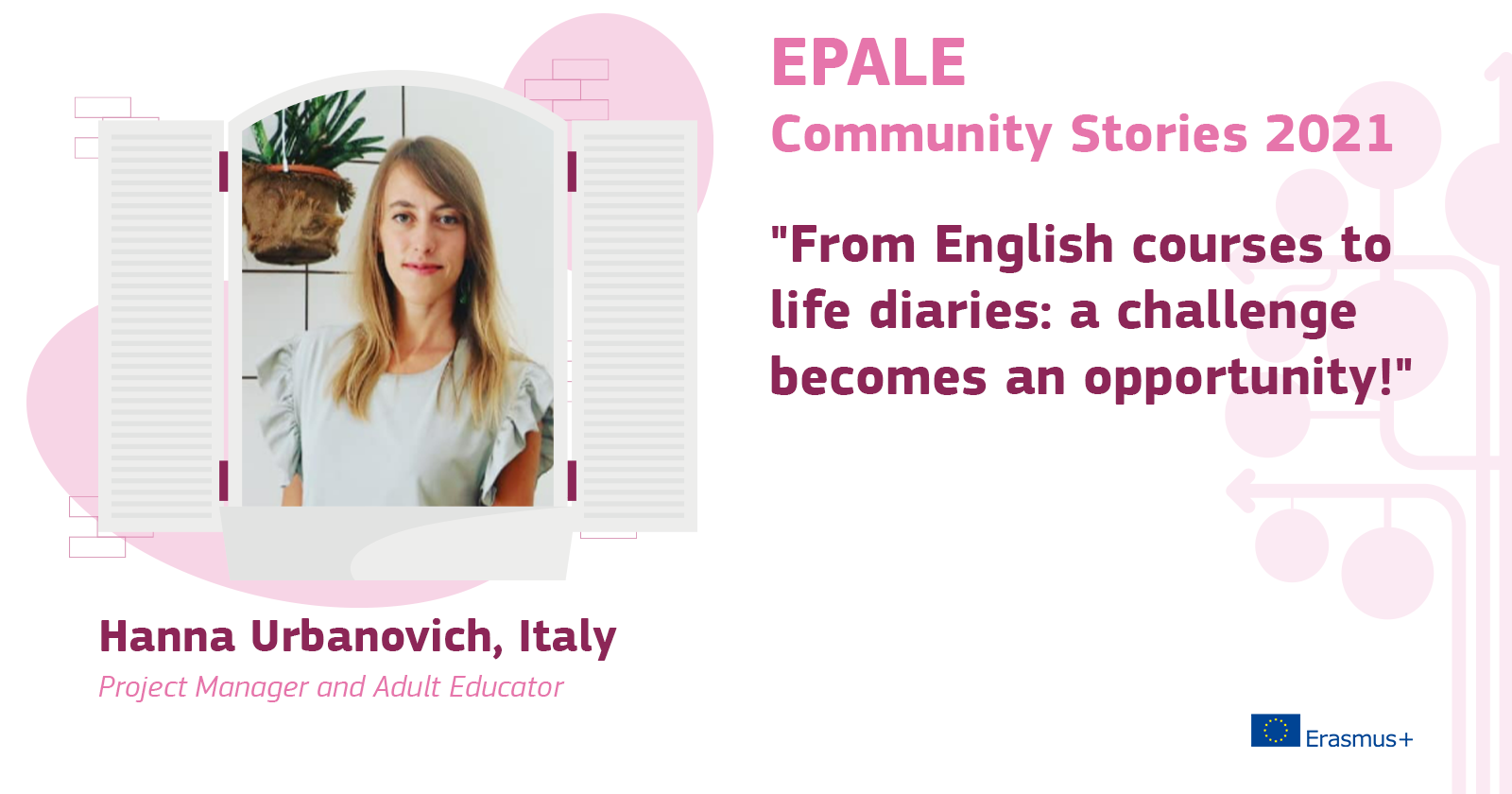 Short bio
I am a 31-year-old Project Manager and Adult Educator from Belarus. I currently live in Italy. I am the co-founder of EduVita, Centre for Lifelong Learning in Lecce, Italy. I am the former assistant director at the Institute for Adult Education and the University of the Golden Age in Belarus. I have a master's degree in Pedagogy. My particular fields of interest are non-formal education, lifelong learning, adult education and intercultural communication.
My EPALE
I explored EPALE while doing my master's degree in Pedagogy at the University of Salento, Italy. Since then, I have regularly used EPALE materials for my work in adult education. I have taken part in online conferences on Lifelong and Intergenerational Learning. I used EPALE for searching the first Erasmus+ partners for EduVita, - our recently formed organisation - and then participated in Collaborative Space to create more ideas for our educational projects.
My Story
FROM ENGLISH COURSES TO LIFE DIARIES: a challenge becomes an opportunity
When the Covid pandemic broke out, EduVita was a recently established cultural association. We immediately saw the risk that all of our projects and plans for adult learning might dematerialise under the looming threat of a global tragedy. Yet time, patience, and creative resilience have revealed the opposite to be true.
Last year, we decided to reformulate our language courses for seniors and offer them in hybrid mode, thus guaranteeing alternate attendance, using a more dynamic model than entirely online teaching. We have equipped our office with the necessary technology for this transition (video projector, microphones) and adapted the curriculum to allow for a blended interaction. We noticed that this new approach engaged and motivated our 50+ students. They were given the opportunity to practice English and profit from the cutting-edge technological experience.
After the first phase of experimentation, in order to make the blended-mode lessons more interactive and rewarding, we invited young volunteers from a local association, Vulcanicamente. Alternating, Anais from Belgium, Carlos from Spain and Pille from Estonia took the role of adult educators, helped by the support and enthusiastic mentoring of Hanna, English teacher and adult educator. The results were remarkable.
From this stimulating mutual understanding between generations, the idea for a new intergenerational initiative was born. Inspired by the well-known model of the Human Library. It motivated students who wish to share with international young people. Hanna plans to organise video-interviews. Cecilia (78 years old), Rosemarie (70) and Maria Grazia (61), will tell their stories and talk about their passions, daily challenges, ambitions to the younger generation. This exchange, in English, will reach and inspire young people the world over. Learners and volunteers welcomed the proposal with great enthusiasm and immediately set to work. They brainstormed and asked questions, either in face-to-face interviews or on Zoom, and filmed and made videos. After a few weeks, the initiative was given a name: Vita-Diaries.
Vita-Diaries is an educational model of lifelong learning that involves the senior learner in a multidimensional learning process, from linguistic to emotional, from logical-narrative to intercultural, finishing at the crucial pivot of intergenerational dialogue. The educational process is mutual because the young interviewers have the opportunity to go to the heart of the world's history, while being inspired by stories of another generation.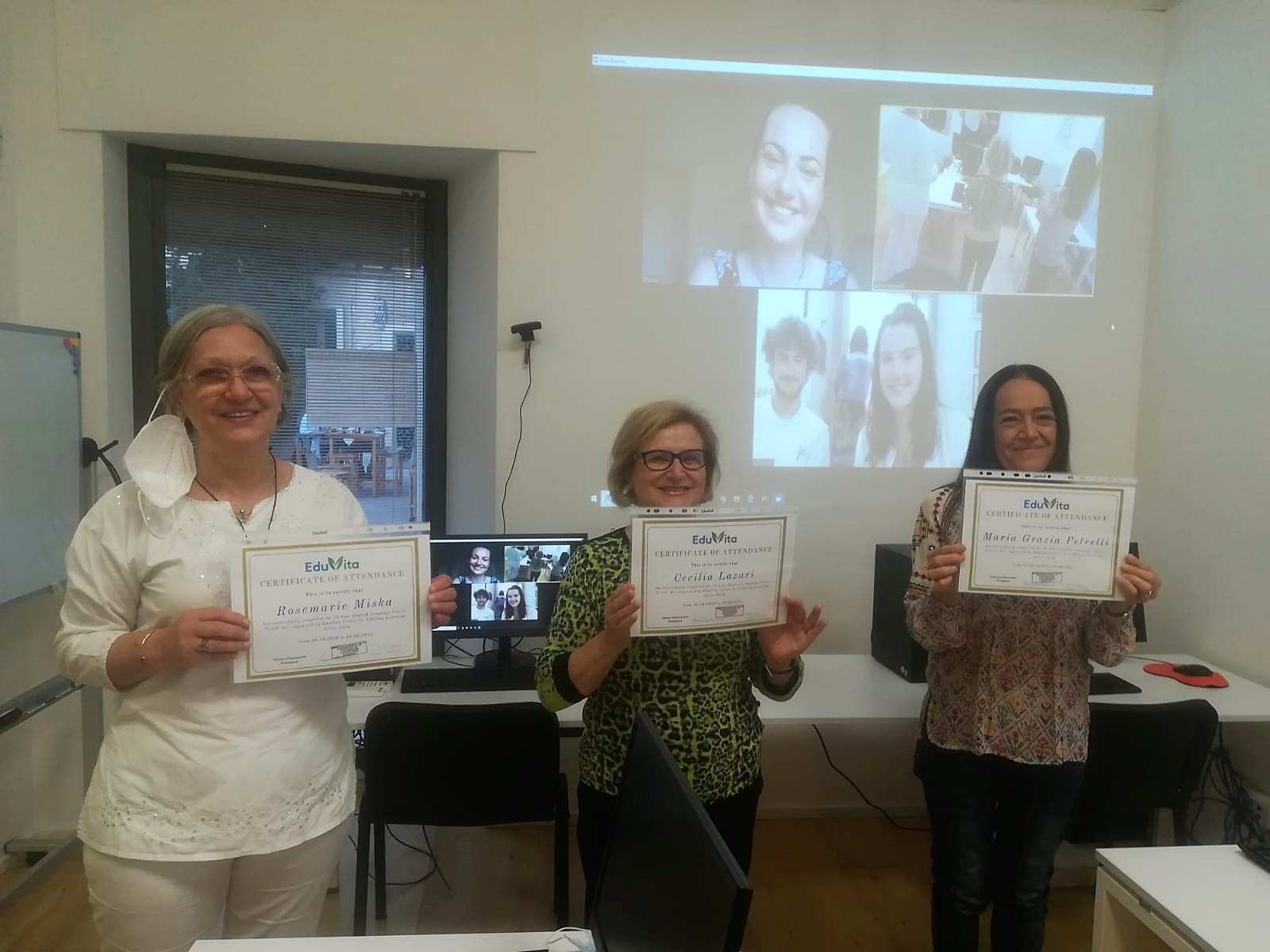 We will present Vita Diaries to the partners of the Erasmus + KA2 Connect To Create project, coordinated by EduVita, as a good practice for intergenerational education and an alternative model for inclusive lifelong education, which sees every learner of any age as the protagonist of the learning process.
Thanks to the videos and articles on the site and on social networks, the initiative has begun to gain visibility. More life-long learners are wanting to share their experiences, while the younger ones are fascinated by intergenerational experiences. And so, from the need to innovate language teaching, an even more surprising opportunity emerged. To contribute to the intergenerational bridge, locally and internationally, to widen the space of inclusion that young people and adults, educators and learners need, and to enrich each other and explore new ways of providing and facilitating lifelong learning.
---
This story has been collected and written by Filomena Locantore.