A good education: the wb-web portal to improve teacher professionalism is now online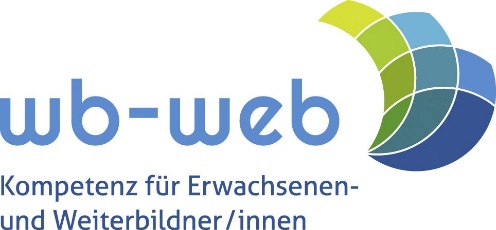 Teaching staff working in adult and further education can now use wb-web, an online platform which was recently launched in Germany. Following on from the blog project initiated in April 2015 outlining information about the concept and the team behind it – see Brandt blog entry from 5th May 2015 – wb-web can now be presented in its entirety.
What is wb-web? Wb-web is an information and networking platform for teachers working in adult education and further training, which has been established by the Bertelsmann Foundation and the German Institute for Adult Education – Leibniz Centre for Lifelong Learning. Over the course of a two-year development phase, an interdisciplinary team of academics, practical experts and IT consultants continuously worked to improve the platform's content and technical implementation until the portal finally reached maturity. The infrastructure is equipped with free-to-use and primarily publicly licensed educational resources, offering the target audience a versatile range of support options for creating their course content. Here, "target audience" refers to freelance and part-time teachers and trainers as well as seminar leaders and team members who should be addressed across all fields of further education.
Why wb-web? Whilst the pedagogical work of adult education staff is an important factor in guaranteeing the success of further education, quality concepts that have been implemented up to now have only improved the further education organisations and not the teaching and learning processes themselves. Wb-web therefore deliberately focusses on this target audience of teachers and developing their professionalism and also poses the question, what do teachers working in adult and further education need in order to design courses that are high-quality, efficient, sustainable and successful? A study of needs carried out by Tübingen University commissioned by the Bertelsmann Foundation and the German Institute for Adult Education forms the foundation of this work. Numerous teachers took part in this study and expressed their requirements. This made clear that there was a definite interest in a range of information that emphasized basic theoretical knowledge, practical materials and networking opportunities. Combined with the typical demands that teachers have to face and how these manifest themselves in the everyday planning and execution of the further education courses; thus the conceptual basis of wb-web was born.
What does wb-web offer? All users are given access to information and advice with regards to the field of further education and pedagogical practices. Whether it's the latest news from the world of adult education and further training, practical help for using the newest methods and tools for teaching or the opportunity to discuss ideas across departments and regional borders. Intuitive navigation gives fast access to easy-to-understand expert knowledge and material relating to adult education, which also includes downloadable files so that it can be used offline too. Members from the editorial team at the German Institute for Adult Education develop and identify these targeted materials.   
Wb-web provides the following content and tools for teachers working in the field of adult education and further training:
latest news about practical, academic and political topics from the world of adult education,
quick access to relevant basic theoretical and practical knowledge using coherently prepared learning modules,
easy-to-implement guidelines and checklists, which make the everyday work of further education much easier in the long-term,
well-founded information about various different topics, such as the use of digital media and free educational materials in further education,
tools such as an online case laboratory with video cases and a methods app to help planning courses (prototype),
a clearly laid out calendar with an overview of relevant advanced training courses for further education and
secure networking opportunities using profiles for teachers working in adult education across different faculties, providers and regions.
All content is publicly available with a Creative Common licence and can be used or edited for the user's own professional (and commercial) use. Alongside this, wb-web also supports users with partnerships between key stakeholders from the field of further education. These content and/or marketing partners act in an advisory capacity, whereby other content from different sectors of further training can also be added to the process. EPALE is one of these partners with which wb-web can and will form high-quality content and viral synergies.
Wb-web focusses on its target audience: Teachers can not only find information and discuss ideas on the platform, but they can also get involved themselves. Authentic reports on experiences of applying certain methods or blog entries about recent events are what make wb-web particularly interesting. Users are also invited to take part in surveys to evaluate the platform. The wb-web team welcomes your suggestions and active participation at www.wb-web.de.