Georgia Nicolaou: combining therapeutic art with restorative justice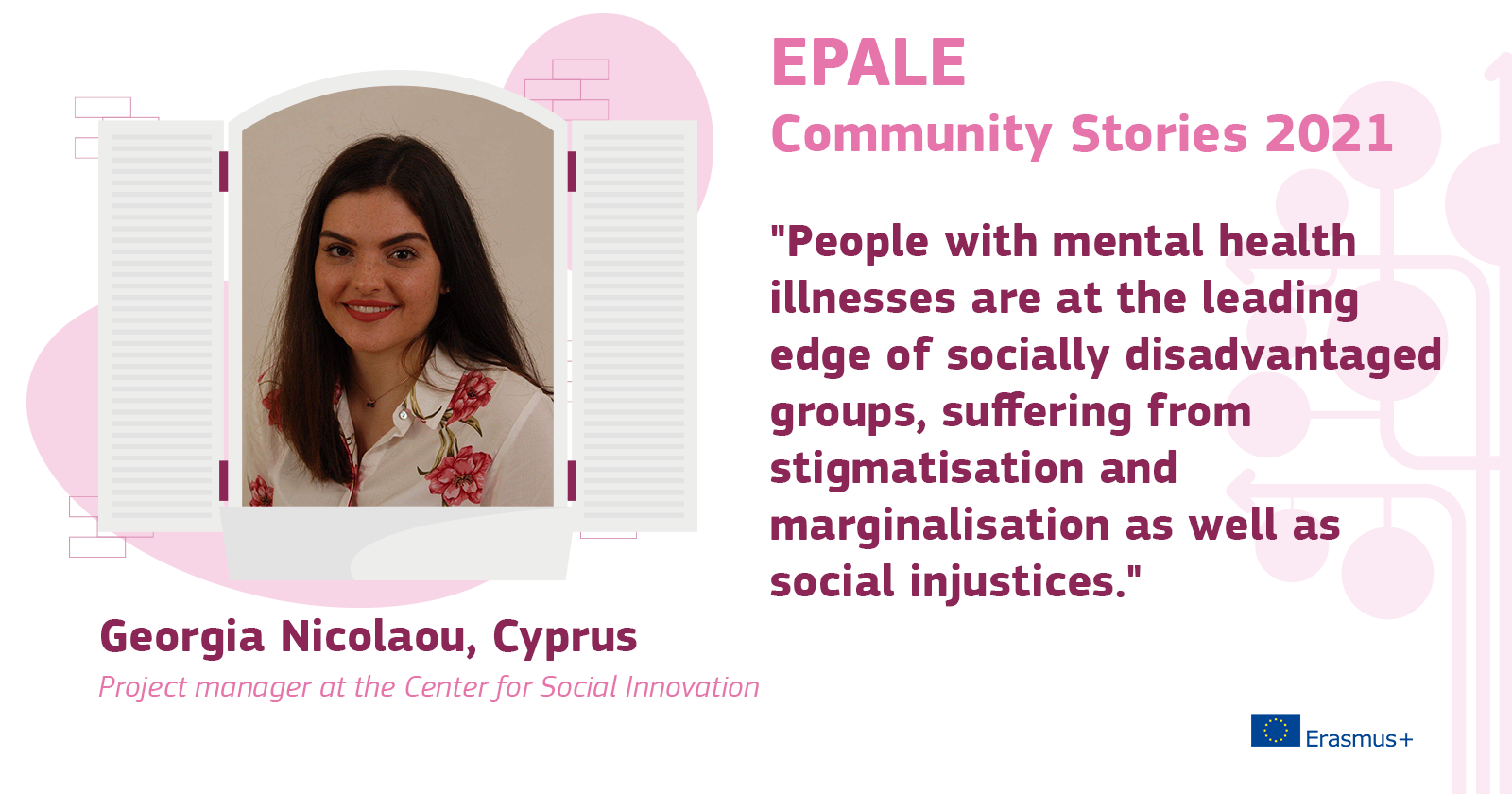 Short Bio
I am Georgia Nicolaou and I am an EU project manager at the Center for Social Innovation, Cyprus. I have a BA degree in Primary Education from the University of Cyprus and an MSc in Museum Education from the University of Glasgow. I am also working as a museum education freelancer aiming to develop meaningful and engaging museum and cultural heritage experiences for various audiences online or in real life!
My EPALE
EPALE is a very beneficial platform for VET trainers and trainers of adult education. I personally use it to get information, exchange best practices and get inspired by new ideas from colleagues around the EU. This is the second time that I have published something on the platform and I have to admit that it is very user friendly and a great way to promote change through innovative actions!
My Story
As part of my role as a project manager at CSI Cyprus I am currently managing MHM – Mental Health Matters through Restorative Art. An Erasmus+ project which brings together a cross-sector, strategic partnership of 6 organisations to support innovation in the field of adult education and to create innovative tools that enhance the healthcare provision and self-representation of those who live within mental health structures in the participating countries (the UK, Cyprus, Greece, Spain, Hungary) and across Europe.
This will be based on a methodological approach which puts together the benefits of art therapy with the values of restorative justice. Mental health should be treated as everyone's responsibility as it does not only affect the lives of people living with mental health disorders and their carers but society as a whole.
People with mental health illnesses and particularly those living in mental health structures are at the leading edge of socially disadvantaged groups, suffering from stigmatisation and marginalisation as well as social injustices.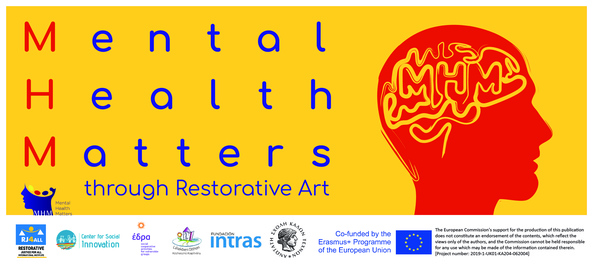 One of the ways to restore the balance in mental health settings and facilitate the reintegration of mental health users into the society is by using restorative art approaches in therapy. This is one of EPALE's 2021 Thematic Focuses and it is also highly advocated by the World Health Organisation. Restorative art serves as another language and has an inherent ability to help people of all ages explore emotions and beliefs, reduce stress, resolve problems and conflicts, and enhance their sense of well-being. Now more than ever there is an evident need for more contemporary approaches which will reduce the use of medicines and help to restore the balance in mental health structures.
MHM is all about translating restorative arts potential and benefits of combining therapeutic art with restorative justice into educational material and programmes aimed at mental health and restorative justice professionals as well as emerging and established artists. In order to develop the learning material for the two e-learning platforms, a transnational study was undertaken by the partners and featured in the form of an e-book acting as a Training Manual on the use of restorative art in mental health structures. The study reflects on the use of art in mental health structures among the participating countries as well as on certain ways in which art is being exploited in these structures.
The training manual led to the development of the two interactive online learning courses which are the main service of the project and are provided free of charge through the official website https://mentalhealthmatters.eu/e-learning/. The user can also find information about the results and work of the project, as well as the complete educational knowledge and skills delivery material. The educational material of the platform, as well as the other services of the project are provided in four languages (Greek, English, Spanish, Hungarian).
The main impact of the MHM project on the wider community (local, national and international) is the improvement of knowledge, competences and attitudes of mental health professionals, emerging artists and restorative justice practitioners. Over 10,000 individuals and organisations are expected to be reached through the project's activities. In addition, MHM aims to use its findings to inform EU integration, healthcare and other relevant policies. Thus, the achievement of the project's objectives will be a step towards WHO/Europe priorities for mental health. For more information about the MHM project visit the official website, its official social media pages (Facebook, Instagram, YouTube) or contact me at CSI.
---
Did you get inspired by this story? Let us know below in the comments and get the chance to win an EPALE unique gift!
5 users per month (May-November 2021) from those commenting on a 2021 Community Story will be picked at random and will receive a gift. Comments must be relevant and related to the topic to be eligible.