Gameplay for Inspiring Digital Adoption (GIRDA) International Multiplier event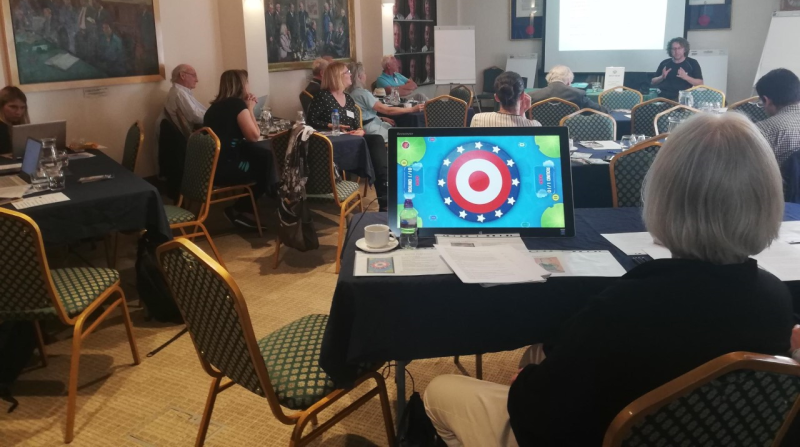 The ERASMUS KA2 funded project Gameplay for Inspiring Digital Adoption (GIRDA) held its international multiplier event in London on July 1 2019. Speakers from four partner countries presented key aspects of their work, ranging from investigative and proof-of-concept studies with older citizens, to the development of guides for mentors, and the application of the approach in community-based training and the care sector. 
Ezeni Brzovska from Ss Cyril and Methodius University in Skopje, North Macedonia, reported a study in which pairs of older citizens played a sequence of games on a large touch table. The aim of the study was partly to observe the extent of mutual cooperation and support during play. Progress in acquisition of basic skills (tap, drag and rotate) and their ability to learn without outside help was observed.  
The results showed that simple touch gestures can be intuitive with rapid skill acquisition. The potential of social interactions between players for enhancing the learning effects was strong, with numerous examples of learning through co-discovery and observation / copying of partner action. The players mostly reported enjoyable experiences both of the games and the social experience of playing, with most declaring an interest in playing again.  
Mihaela Orozel from Ljudska Univerza Velenje in Slovenia reported work linking early exposure to games with pathways to further learning. In the first phase of investigation they used a similar approach to the study in Skopje, also reporting strong evidence of intuitive learning, partner cooperation and high satisfaction levels. In the second phase they used informal courses / workshops focusing on the needs of the target group. The approach emphasised a tailored programme for learners. Instead of planning topics ahead, learners met and discussed issues and then worked together with mentors, finding solutions and learning how to use mobiles / apps.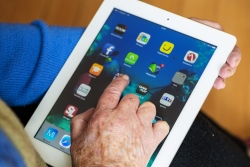 Sabrina Oppl from Johannes Keppler Institute at the University of Linz in Austria reported studies that provided contrasting conditions, using smaller tablet devices. The satisfaction rates and enthusiasm from participants was high in immediate post-play feedback. The study monitored learners from initial gameplay sessions longitudinally, with interviews three months after the session. Most reported that they felt more positive towards using tablets and mobile devices. In particular, many had engaged with more functionality on their smartphones, finding it more enjoyable without fear of making errors. Four respondents reported improvements in their interactions with railway ticket machines and six had bought their own tablets. A protocol for helping mentors guide new learners to adoption using games was developed from this work. 
Suzette Keith from Middlesex University UK described a series of visits to two care homes in which tablet interaction was introduced to the residents through social games, and drawing and colouring exercises. The sessions provided two benefits. One was the acquisition of foundational skills-based goals of touch gestures. Several of the learners became skilled in dragging objects across the screen to a target, pinching and zooming on an object, and undoing an action. There were numerous examples of learners making the journey from a general fear and resistance to awareness and fascination for a range of digital services such as online shopping, leisure and social interaction.   
The sessions provided valuable knowledge for the GIRDA approach, including accessibility issues such as low memory load, tremor or weakness of touch in finger-based interaction, and the effects of diminished memory capacity on learners. Further insights into the dos and don'ts of choosing games included avoiding games with aggressive advertising or premiums, and aggressive or gambling games. 
James Richardson from Good Things Foundation UK (GTF) described the development of an advice booklet for those interested in playing the role of mentor to individuals or groups of older citizens trying digital technology for the first time, entitled 'Your guide to using games to teach tablet skills'. This includes introducing games as a learning tool, assessing learner skills & motivation, choosing appropriate games, managing group dynamics and moving on from games to other digital utilities.  Another GTF-authored booklet was presented, entitled 'your guide to helping older people use the internet', containing advice on devices and connections, staying safe online and introducing various applications such as social media and hobbies.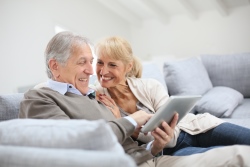 Participatory discussions were carried out in breakout groups including future directions for applying play and gaming-based digital skills training in practice and research. A key theme was how to move on from game-based introductory learning. It was suggested, for example, that suppliers could encourage older people to engage online via discounts.  
It was suggested that many potential but reluctant adopters have a limited and specific agenda. If they were given pathways to things they wanted to do, that would be of more interest than general digital adoption. Developing games that have a more dedicated theme (for example that resembled a shopping experience) can support this. Gamification can bridge the gap from basic skills learning through pure games, on to more complex online activities. 
For more information about the GIRDA project, go to http://www.girda.eu/.
An electronic copy of the GIRDA booklet 'Your guide to using games to teach tablet skills' can be found here. 
For further information contact Mark Springett at m.springett@mdx.ac.uk or James Richardson at james.richardson@goodthingsfoundation.org. 
For information about the GIRDA structured protocol for helping older citizens towards digital adoption contact Sabrina Oppl at sabrina.oppl@jku.
An electronic copy of the Good Things Foundation's guide to helping older people use the internet can be found here.  
Mark Springett
Dr Mark Springett is a member of the Interaction Design Centre and the Design-for-All research group at Middlesex University. is leader of the EU Erasmus project 'Gameplay for Inspiring Digital Adoption' investigating the potential of games to improve digital engagement and quality of life for older citizens. He is a member of the Usability Professionals Association. He was Vice-Chair of COST Action IC0904 'Towards the Integration of Trans-sectorial IT Design and Evaluation' between 2009 and 2013. He has over 30 years' experience of working in the area of Human-Computer Interaction in academia and industry, with an emphasis on evaluation theory and practice. He has a specialist interest in the evaluation and modelling of user experience, and factors affecting acceptance and take-up of new technology. His recent published research includes studies of the relationship between affective factors, learnability and technology acceptance. Dr Springett's background is in theoretical and practical aspects of HCI design, particularly design for inclusion. He has a specialist interest in the evaluation and modelling of factors affecting technology adoption, including rational and affective aspects of trust. He was previously vice-chair of EU COST Action IC0904 'Towards the Integration of Transectorial IT Design and Evaluation'.
You might also be interested in: